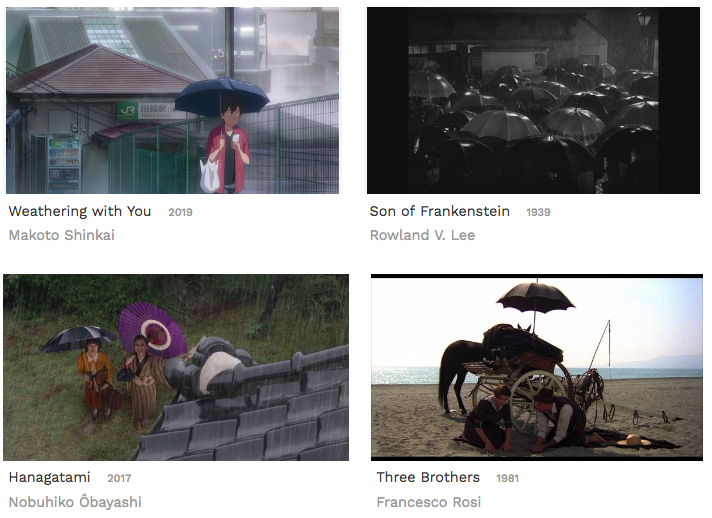 There was a time when cinephile short­hand con­sist­ed most­ly of quo­ta­tions from movies — from movies' dia­logue, to be pre­cise. The dis­tinc­tion mat­ters these days, now that the inter­net has enabled us to com­mu­ni­cate just as eas­i­ly with visu­al quo­ta­tions as ver­bal ones. While some of us go the extra mile by man­u­al­ly comb­ing through our film col­lec­tions and tak­ing the screen­shots that best reflect our per­son­al sen­ti­ments, most of us have long relied on the results, how­ev­er approx­i­mate, served up by search engines like Google Images.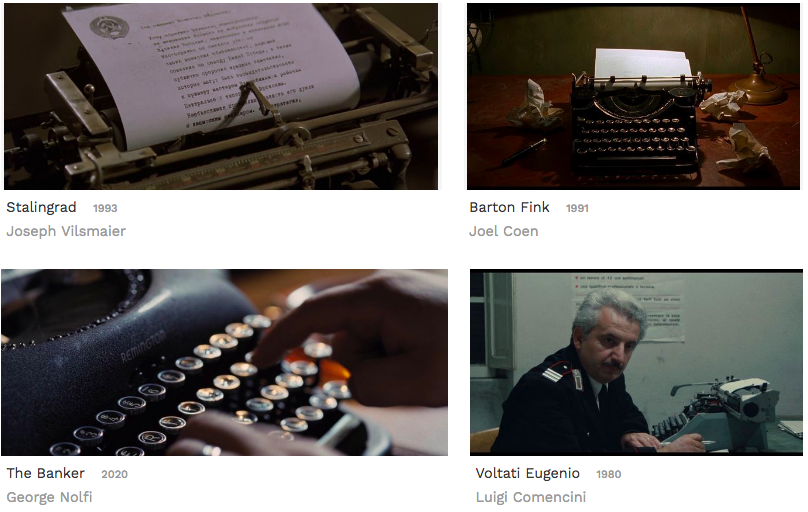 Now a promis­ing new solu­tion has emerged, called Flim (not to be con­fused with "film"). Described on its about page as "a con­stant­ly evolv­ing data­base of HD screen­shots," with a claim of 50,000 pro­vid­ed dai­ly, Flim uses arti­fi­cial intel­li­gence to per­form col­or analy­sis and detect "objects, clothes, char­ac­ters, etc."
This means that when you enter terms like "tree," "gui­tar," "tuxe­do," or "piz­za," you get a selec­tion of images includ­ing trees, gui­tars, tuxe­dos, and piz­zas, all tak­en straight from a range of motion pic­tures wide enough to include The Night­mare Before Christ­mas and An Amer­i­can Were­wolf in Lon­don, Easy Rid­er and Wayne's World 2, Mélo and Wed­ding Crash­ers.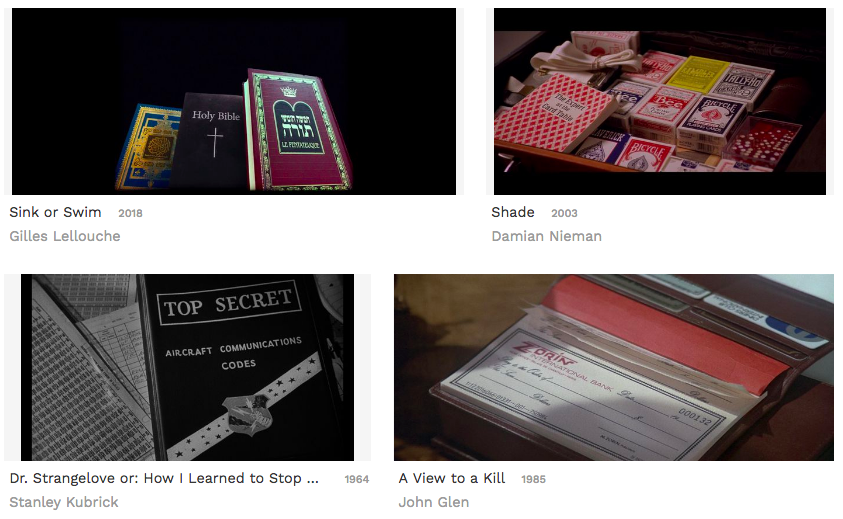 Arti­fi­cial intel­li­gence has come a long way in recent years, espe­cial­ly in its capac­i­ty to rec­og­nize the con­tent of images. The one dri­ving Flim does seem to have com­mit­ted the occa­sion­al amus­ing mis­file, but it's still ear­ly days. And though cinephiles will be quick to notice the omis­sions in its data­base, they'll find a great deal of visu­al mate­r­i­al from the work of their favorite auteurs: more than 100 screen­shots from that of David Lynch, more than 300 from that of Éric Rohmer, more than a thou­sand from that of Stan­ley Kubrick, and near­ly 1,500 from that of Alfred Hitch­cock.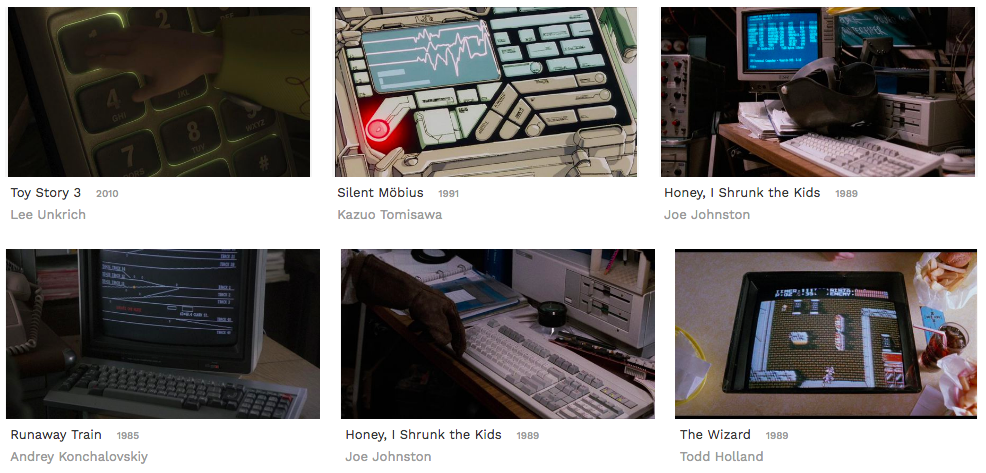 "I would love for the screen­shot detail pages to include time­codes," sug­gests Jason Kot­tke. It would make this an amaz­ing tool for cre­at­ing super­cuts, film analy­sis videos, and oth­er sorts of media. Imag­ine how much eas­i­er Chris­t­ian Marclay's job would have been with 'clock' and 'watch' search­es on Flim." Cer­tain­ly I could have used it while mak­ing my own video essay on Los Ange­les' Bonaven­ture Hotel, a notable film-shoot loca­tion over the past few decades — though as yet the Bonaven­ture's name returns no results, nor do the names of any oth­er real-world build­ings that come to mind.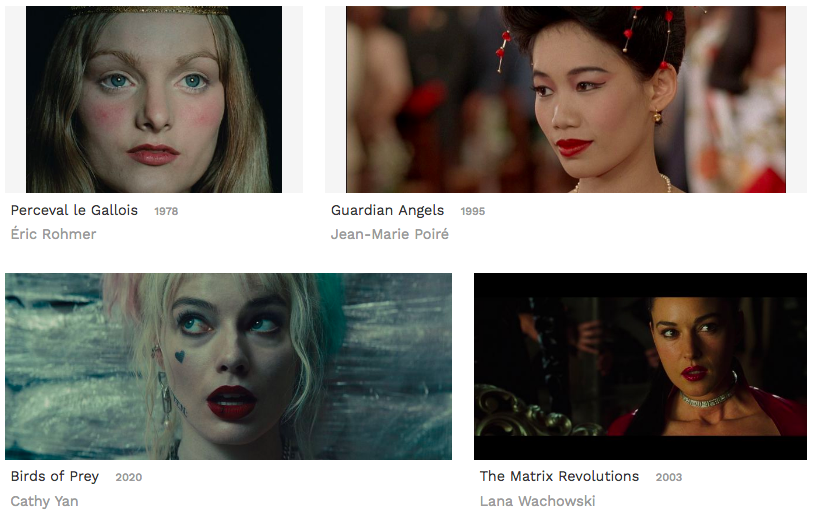 Still, if Flim expands apace, it will become a valu­able resource for cinephiles and non-cinephiles alike, as well as film­mak­ers them­selves: No Film School's Jason Heller­man describes it as a poten­tial­ly rev­o­lu­tion­ary aid for the assem­bly of "mood boards" and "look­books," indus­try-stan­dard ele­ments of pitch pre­sen­ta­tions for "music videos, fea­tures, and com­mer­cials." As with any new­ly devel­oped tool of this kind, though, the most inter­est­ing uses will sure­ly be the least obvi­ous ones. In time, Flim could even prove to be a trust­ed source of read­ing rec­om­men­da­tions.
via Kot­tke
Relat­ed Con­tent:
Stu­dio Ghi­b­li Makes 1,178 Images Free to Down­load from My Neigh­bor Totoro, Spir­it­ed Away & Oth­er Beloved Ani­mat­ed Films
The 100 Most Mem­o­rable Shots in Cin­e­ma Over the Past 100 Years
Down­load 6600 Free Films from The Prelinger Archives and Use Them How­ev­er You Like
Down­load for Free 2.6 Mil­lion Images from Books Pub­lished Over Last 500 Years on Flickr
25 Mil­lion Images From 14 Art Insti­tu­tions to Be Dig­i­tized & Put Online In One Huge Schol­ar­ly Archive
Cre­ative Com­mons Offi­cial­ly Launch­es a Search Engine That Index­es 300+ Mil­lion Pub­lic Domain Images
Based in Seoul, Col­in Mar­shall writes and broad­casts on cities, lan­guage, and cul­ture. His projects include the Sub­stack newslet­ter Books on Cities, the book The State­less City: a Walk through 21st-Cen­tu­ry Los Ange­les and the video series The City in Cin­e­ma. Fol­low him on Twit­ter at @colinmarshall or on Face­book.