Tik­Tok, the short-form video-shar­ing plat­form, is an are­na where the young dom­i­nate — last sum­mer, The New York Times report­ed that over a third of its 49 mil­lion dai­ly users in the US were aged 14 or younger.
Yet some­how, a ful­ly grown medieval peas­ant has become one of its most com­pelling pres­ences, breezi­ly shar­ing his yoga reg­i­men, above, his obses­sion with tas­sels and ornate sleeves, and the Met­ro­pol­i­tan Tran­sit Authority's plans to upcy­cle his era's tor­ture devices as New York City sub­way exit gates.
30-year-old Brook­lyn-based artist Tyler Gun­ther views his cre­ation, Greedy Peas­ant, as "the man­i­fes­ta­tion of all the strange medieval art we now enjoy in meme form":
Often times medieval his­to­ry focus­es on roy­als, wars, popes and plagues. With this peas­ant guide, we get to expe­ri­ence the world through the lens of a queer artist who is just try­ing to make sure every­one is on time for their cos­tume fit­tings for the East­er pageant.
Ear­li­er, Gunther's medieval fix­a­tion found an out­let in comics that he post­ed to Insta­gram.
Then last Feb­ru­ary, he found him­self quar­an­ti­ning in an Aus­tralian hotel room for 2 weeks pri­or to per­form­ing in the Ade­laide Fes­ti­val as part of The Plas­tic Bag Store, artist Robin Fro­hardt's alter­nate­ly hilar­i­ous and sober­ing immer­sive super­mar­ket instal­la­tion:
My quar­an­tine plans had been to work on a mas­sive set of illus­tra­tions and teach myself the entire Adobe Cre­ative Suite. Instead I just wan­dered from one cor­ner of the hotel room to the next and stared at the office build­ing direct­ly out­side my win­dow. About 4 days in, Robin texted, "Now is your time to make a Tik­Tok." I had avoid­ed it for so long. I always had an excuse and I was gen­uine­ly con­fused about how the app worked. But with no alter­na­tives left I made a few videos "just to test out some of the fil­ters" and I was instant­ly hooked.
Now, a green screen and a set of box lights are per­ma­nent­ly installed in his Brook­lyn stu­dio so he can film when­ev­er inspi­ra­tion strikes, pro­vid­ed it's not too steamy to don the tights, cowls, wigs and woolens that are an inte­gral part of Greedy Peasant's look.
One of Gunther's most eye pop­ping cre­ations came about when Greedy Peas­ant answered an ad post in the town square seek­ing a Spi­der Man (i.e., a man with spi­ders) to com­bat a bug infes­ta­tion:
As a for­mer cos­tume design stu­dent, I'm intrigued by how super­hero uni­forms fit with­in the very con­ser­v­a­tive world of West­ern men's fash­ion. We're sup­posed to believe these col­or blocked body­suits are ath­let­ic and high tech. These man­ly men don't wear them just because they look great in them, they wear them for our pro­tec­tion and the greater good. But what if one super­hero did val­ue style over sub­stance? Would he still retain his author­i­ta­tive qual­i­ties if his super suit was embroi­dered and bead­ed and drip­ping with tas­sels? This medieval­ist believes so.
About that tas­sel obses­sion…
To me tas­sels rep­re­sent orna­men­ta­tion for ornamentation's sake at its peak. This dec­o­ra­tive con­cept is so maligned in our cur­rent age. 21st cen­tu­ry design trends are so sleek and smooth, which does make our lives prac­ti­cal and effi­cient. But soon we'll all be dead. Medieval arti­sans seemed to under­stand this on some lev­el. I think if iPhones were sold in the mid­dle ages they would have 4 tas­sels on each cor­ner. Why? Because it would look very nice. A tas­sel looks beau­ti­ful as a piece of sta­t­ic sculp­ture. It adds an air of author­i­ty and pol­ish to what­ev­er object it is attached to. If that were all they pro­vid­ed us it would be enough. But then sud­den­ly you give your elbow a lit­tle flick and before you know it your sleeve tas­sels are in flight! They are per­form­ing a per­son­al bal­let with their lit­tle strings going wher­ev­er the chore­og­ra­phy may take them. It's a gift.
Gunther's keen eye extends to his green screen back­grounds, many of which are drawn from the Met­ro­pol­i­tan Muse­um of Art's online image col­lec­tion.
He also shoots on loca­tion when the sit­u­a­tion war­rants:
Espe­cial­ly in New York City, where it seems like every neigh­bor­hood has at least one build­ing dressed up to look as if it sur­vived the Black Plague. I love this bla­tant­ly false illu­sion of a hero­ic past. We American's know it's a façade. We know the build­ing was built in 1910, not 1410, but some­how it still pleas­es us. Even when I went home to Arkansas to vis­it fam­i­ly, we were con­stant­ly scout­ing film­ing loca­tions which looked con­vinc­ing­ly medieval. Our great­est find were the back rooms and the choir loft of a beau­ti­ful goth­ic revival church in our town.
While Gun­ther is obvi­ous­ly his own star attrac­tion, he alter­nates screen time with a group of "reli­quary ladies," whose main trio, Brid­gette, Aman­da and Susan are the queen bees of the side aisle. Even before he used a green screen fil­ter to ani­mate them with his eyes, lips, and a hint of mus­tache, he was drawn to their hair­dos and indi­vid­ual per­son­al­i­ties dur­ing repeat vis­its to the Met Clois­ters.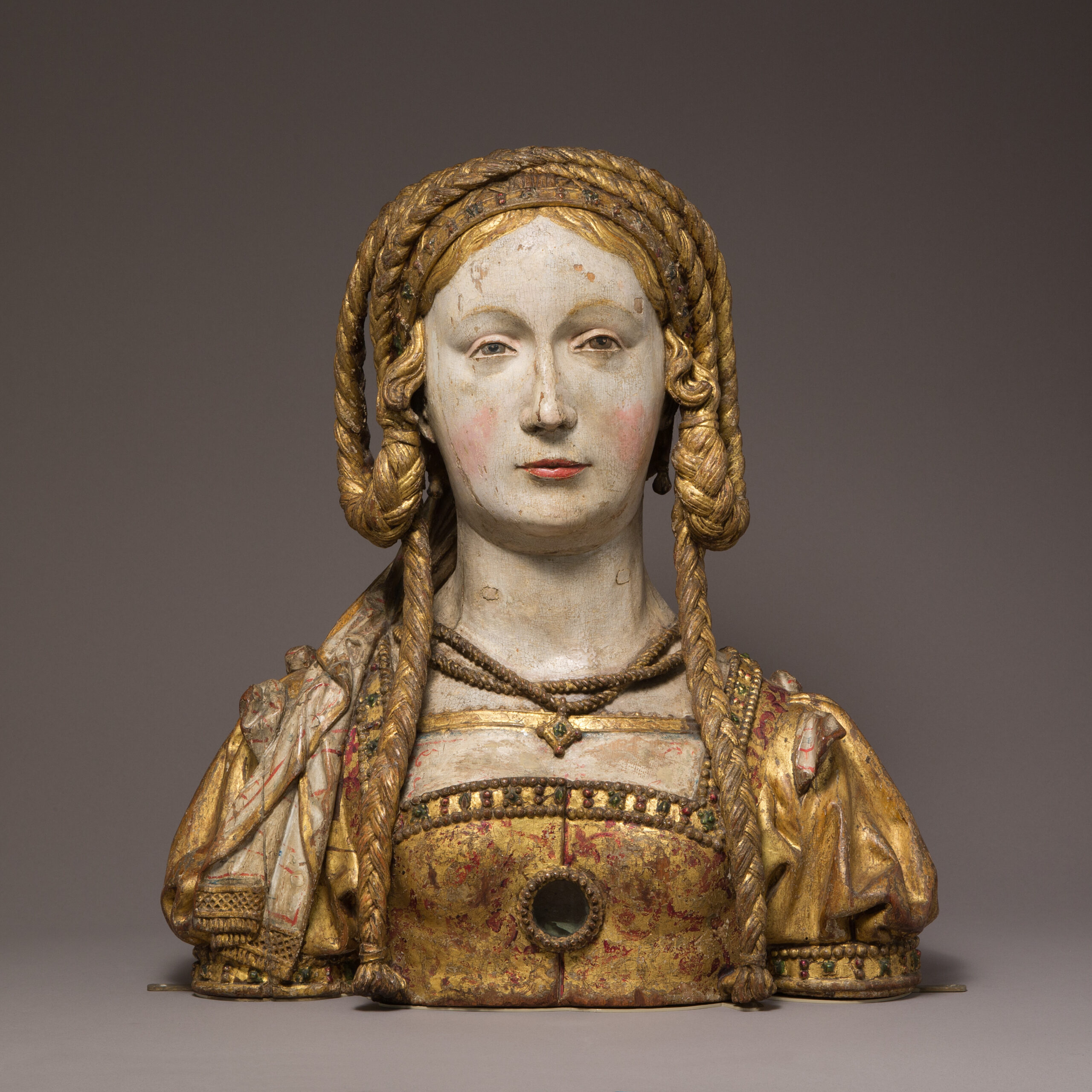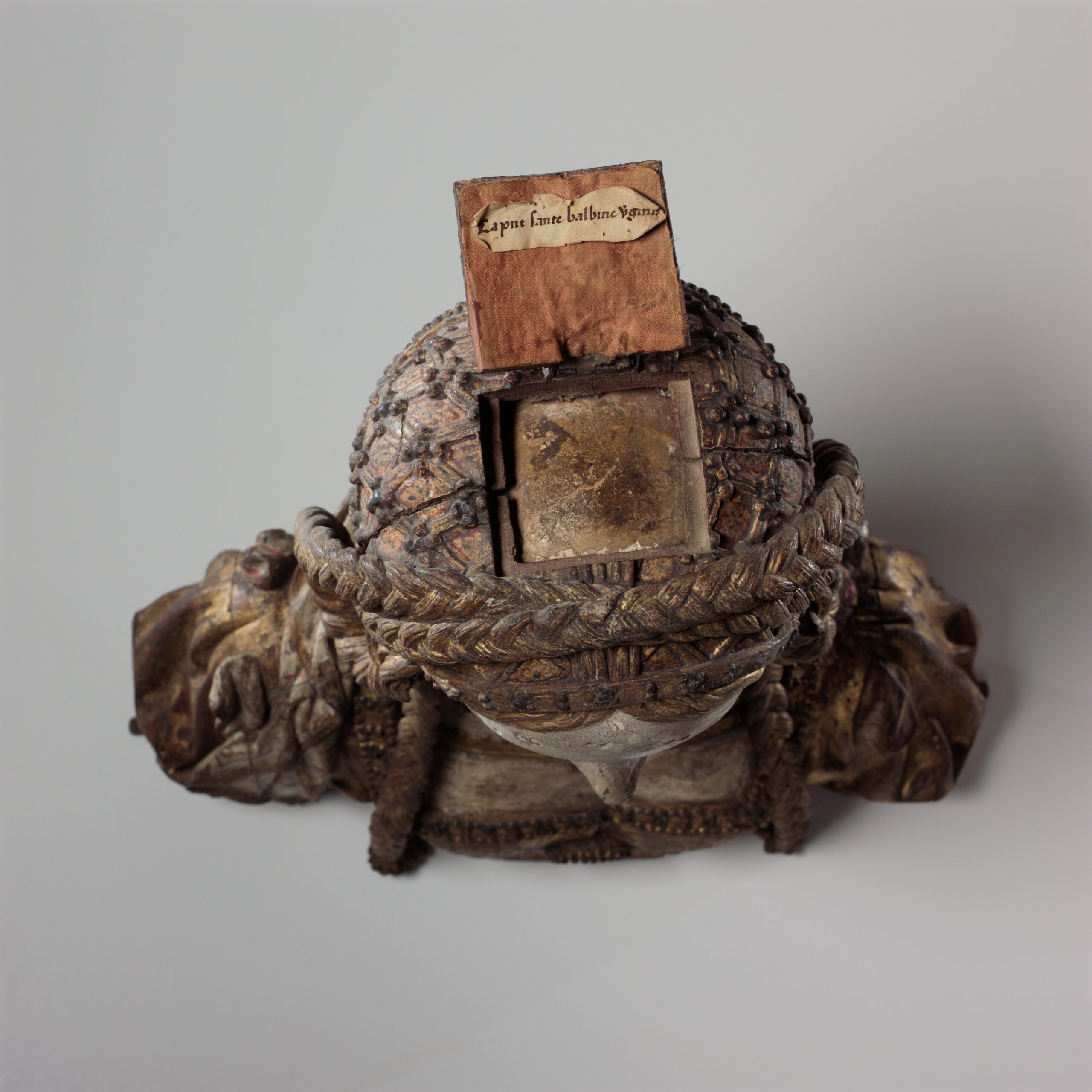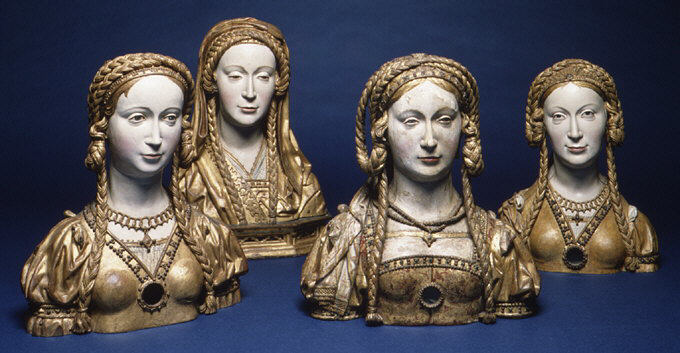 "As reli­quar­ies, they embody such a spe­cif­ic medieval sen­si­bil­i­ty," he enthus­es. "Each housed a small body part of a deceased saint, which peo­ple would make a pil­grim­age to see. This com­bi­na­tion of the sacred, macabre and beau­ti­ful includes all my favorite medieval ele­ments."
Get to know Tyler Gunther's Greedy Peas­ant here.
Relat­ed Con­tent:
160,000 Pages of Glo­ri­ous Medieval Man­u­scripts Dig­i­tized: Vis­it the Bib­lio­the­ca Philadel­phien­sis
A Free Yale Course on Medieval His­to­ry: 700 Years in 22 Lec­tures
Killer Rab­bits in Medieval Man­u­scripts: Why So Many Draw­ings in the Mar­gins Depict Bun­nies Going Bad
Ayun Hal­l­i­day is an author, illus­tra­tor, the­ater mak­er and Chief Pri­ma­tol­o­gist of the East Vil­lage Inky zine. Fol­low her @AyunHalliday.