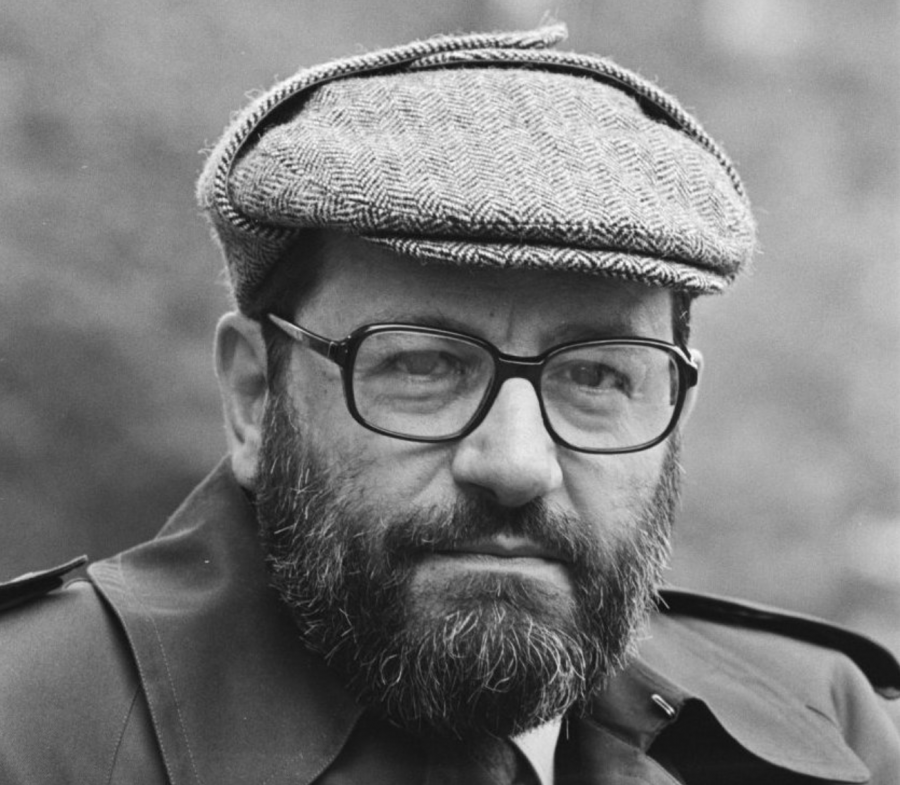 Creative Commons image by Rob Bogaerts, via the National Archives in Holland
Umberto Eco knew a great many things. Indeed too many things, at least according to his critics: "Eco knows everything there is to know and spews it in your face in the most blasé manner," declared Pier Paolo Pasolini, "as if you were listening to a robot." That line appears quoted in Tim Parks' review of Pape Satàn Aleppe, a posthumous collection of essays from La Bustina di Minerva, the magazine column Eco had written since 1985. "This phrase means 'Minerva's Matchbook,'" Parks explains. "Minerva is a brand of matches, and, being a pipe smoker, Eco used to jot down notes on the inside flap of their packaging. His columns were to be equally extemporaneous, compulsive and incisive, each as illuminating and explosive as a struck match."
At the same time, "the reference to the Roman goddess Minerva is important; it warns us that in the modern world we may struggle to distinguish between divinities and bric-a-brac." This was as true, and remains as true, in the realm of letters as in any other. And of all the things Eco knew, he surely knew best how to use words; hence his La Bustina di Minerva column laying out 40 rules for speaking and writing.
This meant, of course, speaking and writing in Italian, his native tongue and the language of which he spent his career demonstrating complete mastery. But as translator Gio Clairval shows in her English rendition of Eco's rules, most of them apply just as well to this language.
"I've found online a series of instructions on how to write well," says Eco's introduction to the list. "I adopt them with a few variations because I think they could be useful to writers, particularly those who attend creative writing classes." A few examples will suffice to give a sense of his guidance:
Avoid alliterations, even if they're manna for morons.
Avoid clichés: they're like death warmed over.
Never generalize.
Hold those quotes. Emerson aptly said, "I hate quotes. Tell me only what you know."
Don't write one-word sentences. Ever.
Recognize the difference between the semicolon and the colon: even if it's hard.
Do you really need rhetorical questions?
Be concise; try expressing your thoughts with the least possible number of words, avoiding long sentences– or sentences interrupted by incidental phrases that always confuse the casual reader– in order to avoid contributing to the general pollution of information, which is surely (particularly when it is uselessly ripe with unnecessary explanations, or at least non indispensable specifications) one of the tragedies of our media-dominated time.
Don't be emphatic! Be careful with exclamation marks!
No need to tell you how cloying preteritions are.
Not only does each of Eco's points offer a useful piece of writing advice, it elegantly demonstrates just how your writing will come off if you fail to follow it. In the event that "you can't find the appropriate expression," he writes, "refrain from using colloquial/dialectal expressions." To this he appends, of course, a colloquial expression, Peso el tacòn del buso: "The patch is worse than the hole." However clichéd it sounds in Italian, all of us would do well to bear it in mind no matter the language in which we write. (And if you write in Italian, be sure to read Eco's original column, which contains additional rules applying only to that language: Non usare metafore incongruenti anche se ti paiono "cantare," for instance. Sono come un cigno che deraglia.)
You can read all 36 of Eco's English-relevant writing rules at Clairval's site. If you'd like to hear more of his writing advice, watch the Louisiana Channel interview clip we featured after his death in 2016. And elsewhere in our archives, you can compare and contrast Eco's list of rules for writing with those drawn up by the likes of Walter Benjamin, Steven Pinker, Stephen King, V.S. Naipaul, Friedrich Nietzsche, Elmore Leonard, and George Orwell. Though Eco could, in his writing, assume what Parks calls an "immeasurably superior" persona, he surely would have agreed with the final, thoroughly English point on Orwell's list: "Break any of these rules sooner than say anything outright barbarous."
Related content:
Umberto Eco Dies at 84; Leaves Behind Advice to Aspiring Writers
Umberto Eco's How To Write a Thesis: A Witty, Irreverent & Highly Practical Guide Now Out in English
Umberto Eco Explains Why We Make Lists
Watch Umberto Eco Walk Through His Immense Private Library: It Goes On, and On, and On!
Based in Seoul, Colin Marshall writes and broadcasts on cities, language, and culture. His projects include the Substack newsletter Books on Cities, the book The Stateless City: a Walk through 21st-Century Los Angeles and the video series The City in Cinema. Follow him on Twitter at @colinmarshall or on Facebook.