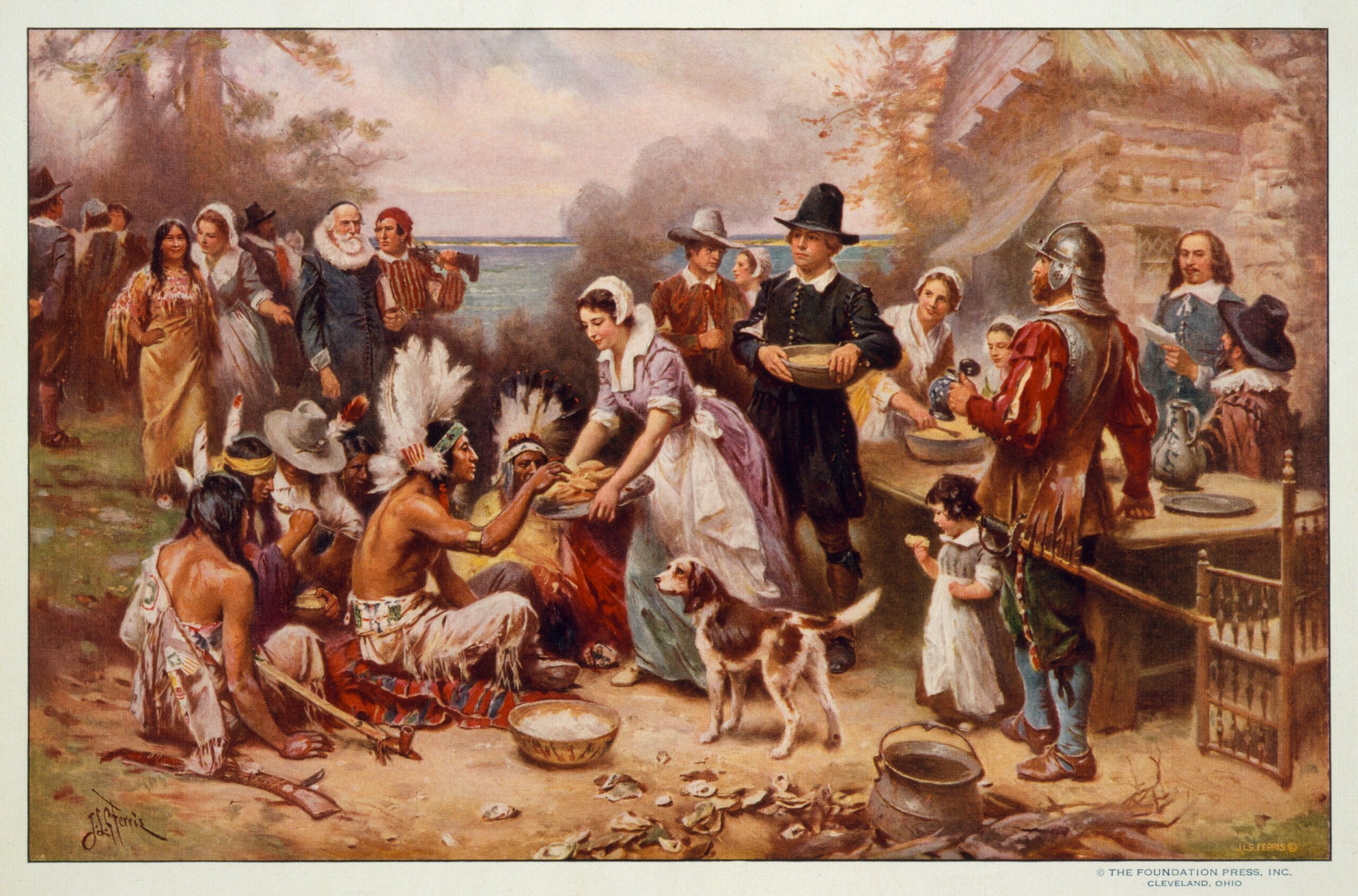 On Thanksgiving Day, Americans make the (sometimes arduous) effort to gather for an enormous traditional meal and for many, a now equally traditional viewing of televised football. But even when stretched to their maximum length, these activities occupy only so many hours. What to do with the rest of the day? You might consider heading over to the Internet Archive and filling it with some holiday-appropriate reading. Last year that site's librarian Brewster Kahle tweeted a suggestion to "check out 700 Thanksgiving books! (from delightful to dated to a little weird)" in their online collection, a collection that has since risen to more than 900 digitized volumes.
There, especially if you sort by popularity, you'll find a wealth of Thanksgiving-themed children's books, from Wendi Silvano's Turkey Trouble and Mark Fearing's The Great Thanksgiving Escape to Charles Schulz's A Charlie Brown Thanksgiving and Norman Bridwell's Clifford's Thanksgiving Visit (whose titular big red dog features at this very moment in his own major motion picture).
But there are also selections for grown-up readers. Take, for example, Laurie Collier Hillstrom's The Thanksgiving Book: a Companion to the Holiday Covering its History, Lore, Traditions, Foods, and Symbols, Including Primary Sources, Poems, Prayers, Songs, Hymns, and Recipes: Supplemented by a Chronology, Bibliography with Web Sites, and Index — the length of whose title belies its publication in not the 19th century, but 2008.
Or perhaps you'd prefer to accompany the digestion of your Thanksgiving feast with a holiday-appropriate work of fiction. In that case your choices include Thanksgiving Night by literary examiner of modern family life Richard Bausch; Thankless in Death by murderous-thriller powerhouse J.D. Robb (alter-ego of prolific romance novelist Nora Roberts); and even Truman Capote's "The Thanksgiving Visitor," collected in one volume along with his stories "A Christmas Memory" and "One Christmas." That last book will give you a head start on the rest of the holiday season to come, wherever in the world you may live. And if that happens to be Canada, you can give your kids a head start on next year's Canadian Thanksgiving while you're at it. Enter the collection here.
Related Content:
The Illustrated Version of "Alice's Restaurant": Watch Arlo Guthrie's Thanksgiving Counterculture Classic
William S. Burroughs Reads His "Thanksgiving Prayer" in a 1988 Film By Gus Van Sant
Bob Dylan's Thanksgiving Radio Show: A Playlist of 18 Delectable Songs
Marilyn Monroe's Handwritten Turkey-and-Stuffing Recipe
F. Scott Fitzgerald's 13 Tips for What to Do with Your Leftover Thanksgiving Turkey
Based in Seoul, Colin Marshall writes and broadcasts on cities and culture. His projects include the book The Stateless City: a Walk through 21st-Century Los Angeles and the video series The City in Cinema. Follow him on Twitter at @colinmarshall or on Facebook.