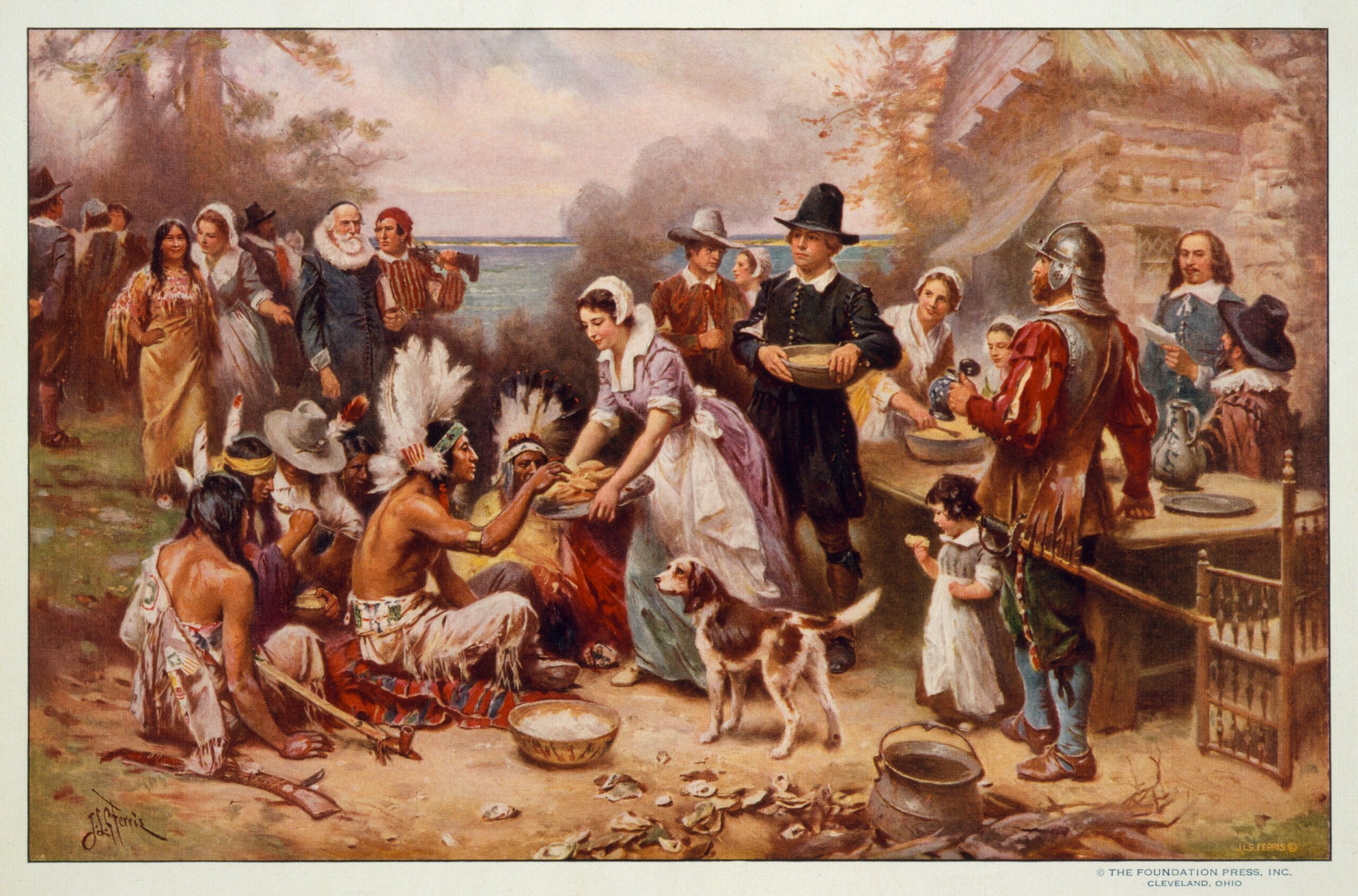 On Thanks­giv­ing Day, Amer­i­cans make the (some­times ardu­ous) effort to gath­er for an enor­mous tra­di­tion­al meal and for many, a now equal­ly tra­di­tion­al view­ing of tele­vised foot­ball. But even when stretched to their max­i­mum length, these activ­i­ties occu­py only so many hours. What to do with the rest of the day? You might con­sid­er head­ing over to the Inter­net Archive and fill­ing it with some hol­i­day-appro­pri­ate read­ing. Last year that site's librar­i­an Brew­ster Kahle tweet­ed a sug­ges­tion to "check out 700 Thanks­giv­ing books! (from delight­ful to dat­ed to a lit­tle weird)" in their online col­lec­tion, a col­lec­tion that has since risen to more than 900 dig­i­tized vol­umes.
There, espe­cial­ly if you sort by pop­u­lar­i­ty, you'll find a wealth of Thanks­giv­ing-themed chil­dren's books, from Wen­di Sil­vano's Turkey Trou­ble and Mark Fear­ing's The Great Thanks­giv­ing Escape to Charles Schulz's A Char­lie Brown Thanks­giv­ing and Nor­man Brid­well's Clif­ford's Thanks­giv­ing Vis­it (whose tit­u­lar big red dog fea­tures at this very moment in his own major motion pic­ture).
But there are also selec­tions for grown-up read­ers. Take, for exam­ple, Lau­rie Col­lier Hill­strom's The Thanks­giv­ing Book: a Com­pan­ion to the Hol­i­day Cov­er­ing its His­to­ry, Lore, Tra­di­tions, Foods, and Sym­bols, Includ­ing Pri­ma­ry Sources, Poems, Prayers, Songs, Hymns, and Recipes: Sup­ple­ment­ed by a Chronol­o­gy, Bib­li­og­ra­phy with Web Sites, and Index — the length of whose title belies its pub­li­ca­tion in not the 19th cen­tu­ry, but 2008.
Or per­haps you'd pre­fer to accom­pa­ny the diges­tion of your Thanks­giv­ing feast with a hol­i­day-appro­pri­ate work of fic­tion. In that case your choic­es include Thanks­giv­ing Night by lit­er­ary exam­in­er of mod­ern fam­i­ly life Richard Bausch; Thank­less in Death by mur­der­ous-thriller pow­er­house J.D. Robb (alter-ego of pro­lif­ic romance nov­el­ist Nora Roberts); and even Tru­man Capote's "The Thanks­giv­ing Vis­i­tor," col­lect­ed in one vol­ume along with his sto­ries "A Christ­mas Mem­o­ry" and "One Christ­mas." That last book will give you a head start on the rest of the hol­i­day sea­son to come, wher­ev­er in the world you may live. And if that hap­pens to be Cana­da, you can give your kids a head start on next year's Cana­di­an Thanks­giv­ing while you're at it. Enter the col­lec­tion here.
Relat­ed Con­tent:
The Illus­trat­ed Ver­sion of "Alice's Restau­rant": Watch Arlo Guthrie's Thanks­giv­ing Coun­ter­cul­ture Clas­sic
William S. Bur­roughs Reads His "Thanks­giv­ing Prayer" in a 1988 Film By Gus Van Sant
Bob Dylan's Thanks­giv­ing Radio Show: A Playlist of 18 Delec­table Songs
Mar­i­lyn Monroe's Hand­writ­ten Turkey-and-Stuff­ing Recipe
F. Scott Fitzgerald's 13 Tips for What to Do with Your Left­over Thanks­giv­ing Turkey
Based in Seoul, Col­in Mar­shall writes and broad­casts on cities and cul­ture. His projects include the book The State­less City: a Walk through 21st-Cen­tu­ry Los Ange­les and the video series The City in Cin­e­ma. Fol­low him on Twit­ter at @colinmarshall or on Face­book.