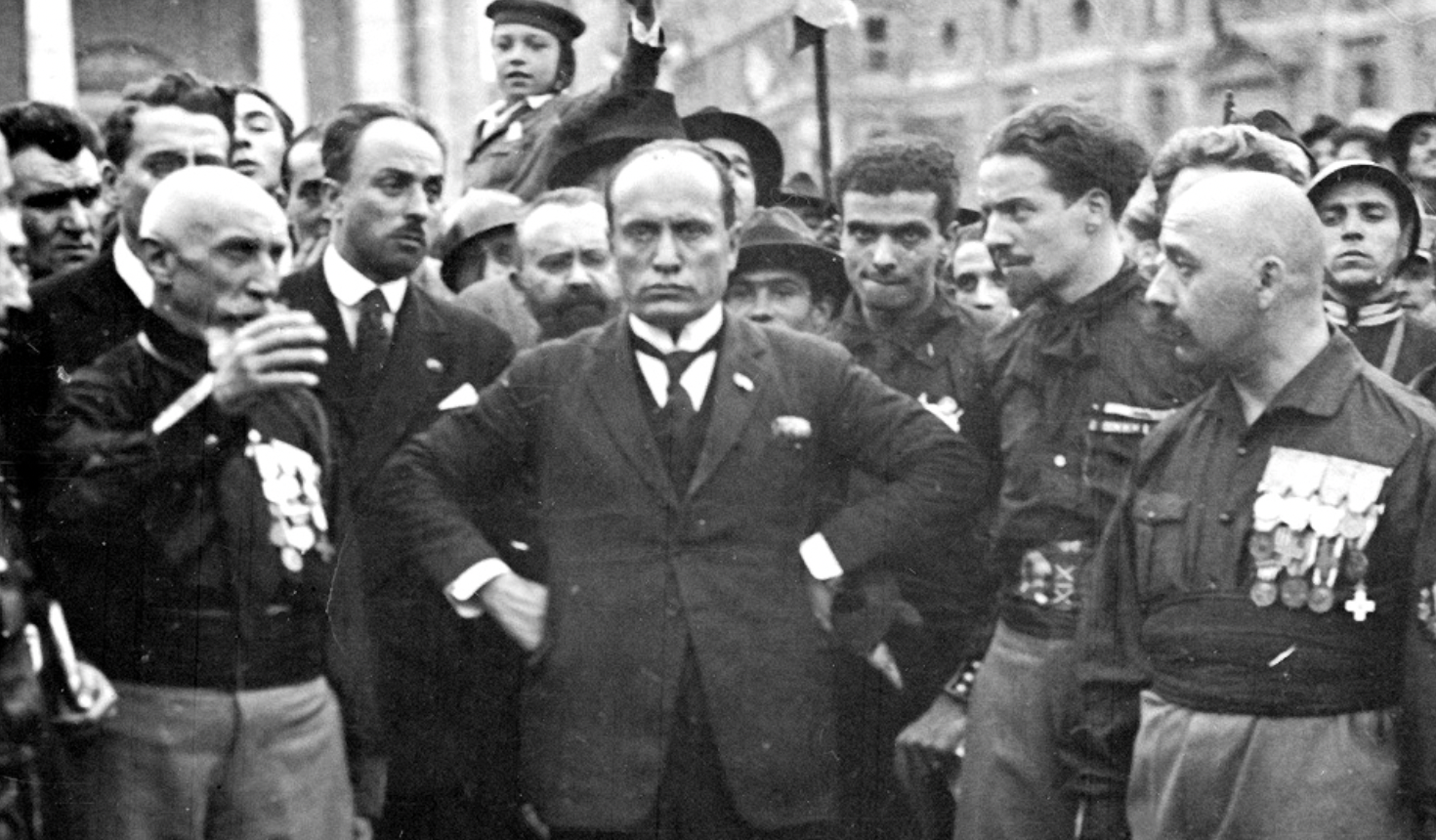 A man of var­i­ous accom­plish­ments, Theodor Adorno is per­haps most wide­ly known as the very image of the mid­cen­tu­ry Euro­pean intel­lec­tu­al in exile. After his Jew­ish back­ground got him forced out of Nazi Ger­many, he spent fif­teen years in Eng­land and the Unit­ed States. Despite his geo­graph­i­cal dis­tance from the trou­bles of the Con­ti­nent — and even after the end of the Sec­ond World War — he under­stand­ably remained very much con­cerned with the nature of not just Hitler him­self but all those who sup­port­ed him. This led to such stud­ies as his 1947 essay "Wag­n­er, Niet­zsche and Hitler" as well as (in col­lab­o­ra­tion with Berke­ley researchers Else Frenkel-Brunswik, Daniel Levin­son, and Nevitt San­ford) the 1950 book The Author­i­tar­i­an Per­son­al­i­ty.
The Author­i­tar­i­an Per­son­al­i­ty's best-known tool to diag­nose the tit­u­lar per­son­al and social con­di­tion is a quan­ti­ta­tive sys­tem called the "Cal­i­for­nia F‑scale" — the F stands for fas­cism — which pro­duces a score based on a sub­jec­t's response to a set of propo­si­tions. "To cre­ate a per­son­al­i­ty test that actu­al­ly revealed latent author­i­tar­i­an­ism, the researchers had to give up on the idea that there's a strong link between anti-Semi­tism and author­i­tar­i­an­ism," writes Ars Tech­ni­ca's Annalee Newitz. "Though their expe­ri­ences with the Holo­caust sug­gest­ed a causal con­nec­tion between hatred of Jews and the rise of fas­cism, it turned out that peo­ple with author­i­tar­i­an ten­den­cies were more accu­rate­ly described as eth­no­cen­tric."
These would-be author­i­tar­i­ans also, as Adorno and his col­lab­o­ra­tors' research found, "tend­ed to dis­trust sci­ence and strong­ly dis­liked the idea of using imag­i­na­tion to solve prob­lems. They pre­ferred to stick to tried-and-true tra­di­tion­al meth­ods of orga­niz­ing soci­ety." Oth­er ten­den­cies includ­ed "super­sti­tion, aggres­sion, cyn­i­cism, con­ser­vatism, and an inor­di­nate inter­est in the pri­vate sex lives of oth­ers." All these find­ings informed an F‑scale test which con­sist­ed of the state­ments below. For each state­ment, par­tic­i­pants had to select one of the fol­low­ing options : "Dis­agree Strong­ly," "Dis­agree Most­ly," "Dis­agree Some­what," "Agree Some­what," "Agree," or "MostlyA­gree."
Obe­di­ence and respect for author­i­ty are the most impor­tant virtues chil­dren should learn.
A per­son who has bad man­ners, habits, and breed­ing can hard­ly expect to get along with decent peo­ple.
If peo­ple would talk less and work more, every­body would be bet­ter off.
The busi­ness man and the man­u­fac­tur­er are much more impor­tant to soci­ety than the artist and the pro­fes­sor.
Sci­ence has its place, but there are many impor­tant things that can nev­er be under­stood by the human mind.
Every per­son should have com­plete faith in some super­nat­ur­al pow­er whose deci­sions he obeys with­out ques­tion.
Young peo­ple some­times get rebel­lious ideas, but as they grow up they ought to get over them and set­tle down.
What this coun­try needs most, more than laws and polit­i­cal pro­grams, is a few coura­geous, tire­less, devot­ed lead­ers in whom the peo­ple can put their faith.
No sane, nor­mal, decent per­son could ever think of hurt­ing a close friend or rel­a­tive.
Nobody ever learned any­thing real­ly impor­tant except through suf­fer­ing.
What the youth needs most is strict dis­ci­pline, rugged deter­mi­na­tion, and the will to work and fight for fam­i­ly and coun­try.
An insult to our hon­or should always be pun­ished.
Sex crimes, such as rape and attacks on chil­dren, deserve more than mere impris­on­ment; such crim­i­nals ought to be pub­licly whipped, or worse.
There is hard­ly any­thing low­er than a per­son who does not feel a great love, grat­i­tude, and respect for his par­ents.
Most of our social prob­lems would be solved if we could some­how get rid of the immoral, crooked, and fee­ble­mind­ed peo­ple.
Homo­sex­u­als are hard­ly bet­ter than crim­i­nals and ought to be severe­ly pun­ished.
When a per­son has a prob­lem or wor­ry, it is best for him not to think about it, but to keep busy with more cheer­ful things.
Nowa­days more and more peo­ple are pry­ing into mat­ters that should remain per­son­al and pri­vate.
Some peo­ple are born with an urge to jump from high places.
Peo­ple can be divid­ed into two dis­tinct class­es: the weak and the strong.
Some day it will prob­a­bly be shown that astrol­o­gy can explain a lot of things.
Wars and social trou­bles may some­day be end­ed by an earth­quake or flood that will destroy the whole world.
No weak­ness or dif­fi­cul­ty can hold us back if we have enough will pow­er.
It is best to use some pre­war author­i­ties in Ger­many to keep order and pre­vent chaos.
Most peo­ple don't real­ize how much our lives are con­trolled by plots hatched in secret places.
Human nature being what it is, there will always be war and con­flict.
Famil­iar­i­ty breeds con­tempt.
Nowa­days when so many dif­fer­ent kinds of peo­ple move around and mix togeth­er so much, a per­son has to pro­tect him­self espe­cial­ly care­ful­ly against catch­ing an infec­tion or dis­ease from them.
The wild sex life of the old Greeks and Romans was tame com­pared to some of the goings-on in this coun­try, even in places where peo­ple might least expect it.
The true Amer­i­can way of life is dis­ap­pear­ing so fast that force may be nec­es­sary to pre­serve it.
You can take the test your­self here. But don't take it too seri­ous­ly: the F‑scale "has been heav­i­ly crit­i­cized by many psy­chol­o­gists because it is a bet­ter indi­ca­tor of con­ser­vatism, an old-fash­ioned out­look, and a ten­den­cy to say 'yes' to any­thing rather than as a mea­sure of author­i­tar­i­an­ism," write Fer­di­nand A. Gul and John J. Ray in their 1989 paper "Pit­falls in Using the F Scale to Mea­sure Author­i­tar­i­an­ism in Account­ing Research." That aside, any rea­son­ably intel­li­gent sub­ject can eas­i­ly fig­ure out the motives of the test itself. Nev­er­the­less, as Giz­mod­o's Esther Inglis-Arkell writes, it offers an occa­sion to con­sid­er whether "you're super­sti­tious, con­formist, or any oth­er awful thing that will cause you to go out one morn­ing and annex some­thing" — no less a con­cern now, it seems, than it was in Adorno's day.
Relat­ed con­tent:
An Ani­mat­ed Intro­duc­tion to Theodor Adorno & His Cri­tique of Mod­ern Cap­i­tal­ism
Theodor Adorno's Rad­i­cal Cri­tique of Joan Baez and the Music of the Viet­nam War Protest Move­ment
Hear Theodor Adorno's Avant-Garde Musi­cal Com­po­si­tions
Theodor Adorno's Phi­los­o­phy of Punc­tu­a­tion
Toni Mor­ri­son Lists the 10 Steps That Lead Coun­tries to Fas­cism (1995)
Umber­to Eco Makes a List of the 14 Com­mon Fea­tures of Fas­cism
Based in Seoul, Col­in Mar­shall writes and broad­casts on cities, lan­guage, and cul­ture. His projects include the Sub­stack newslet­ter Books on Cities, the book The State­less City: a Walk through 21st-Cen­tu­ry Los Ange­les and the video series The City in Cin­e­ma. Fol­low him on Twit­ter at @colinmarshall or on Face­book.