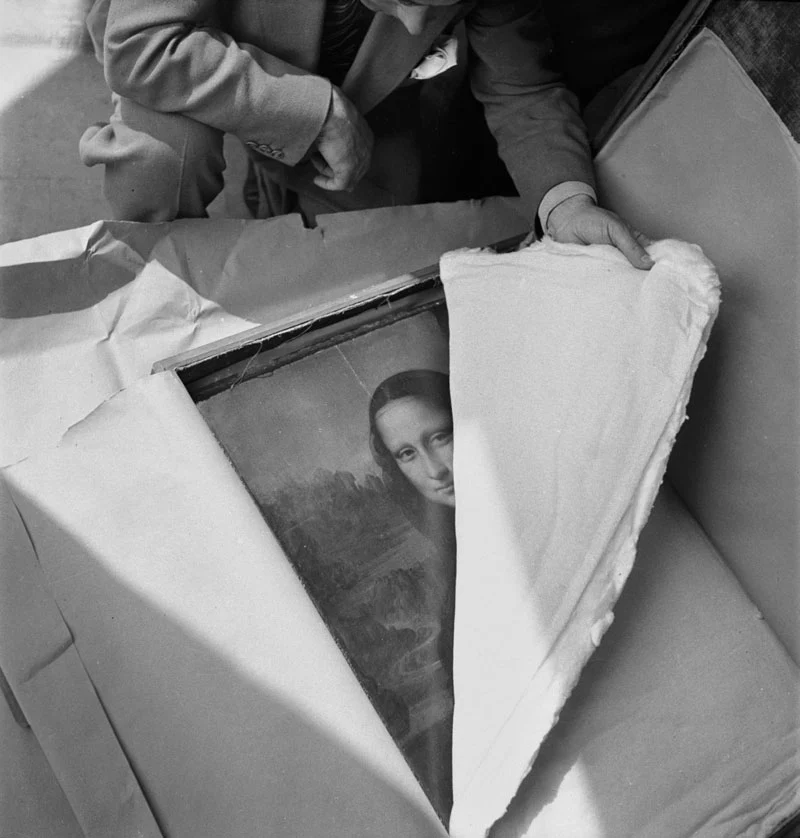 Pho­to­graph by Pierre Jahan/Archives des museés nationaux

Twice, we've brought you posts explain­ing how the Mona Lisa – the most famous paint­ing in the world – went from near obscu­ri­ty to glob­al noto­ri­ety almost overnight, after an employ­ee of the Lou­vre pur­loined and tried to hide it in 1911. Accu­sa­tions flew – includ­ing very pub­lic accu­sa­tions against Pablo Picas­so; sala­cious rumors cir­cu­lat­ed; the enig­mat­ic smile of Lisa del Gio­con­da — the Flo­ren­tine silk merchant's wife depict­ed in the paint­ing – appeared in black and white pho­tographs in news­pa­pers around the globe. When she returned to the muse­um, vis­i­tors couldn't, and still can­not, wait to see her in per­son. As great as that sto­ry is, what hap­pened a few decades lat­er under the Nazi-con­trolled Vichy gov­ern­ment makes for an even bet­ter tale.
By the 1930s, the Mona Lisa was deemed the most impor­tant work of art in France's most impor­tant muse­um. With due respect to the Mon­u­ments Men (and unsung Mon­u­ments Women), before the Allies arrived to res­cue many of Europe's price­less works of art, French civ­il ser­vants, stu­dents, and work­men did it them­selves, sav­ing most of the Lou­vre's entire col­lec­tion. The hero of the sto­ry, Jacques Jau­jard, direc­tor of France's Nation­al Muse­ums, has gone down in his­to­ry as "the man who saved the Lou­vre" — also the title of an award-win­ning French doc­u­men­tary (see trail­er below). Men­tal Floss pro­vides con­text for Jau­jard's hero­ism:
After Ger­many annexed Aus­tria in March of 1938, Jau­jard… lost what­ev­er small hope he had that war might be avoid­ed. He knew Britain's pol­i­cy of appease­ment was­n't going to keep the Nazi wolf from the door, and an inva­sion of France was sure to bring destruc­tion of cul­tur­al trea­sures via bomb­ings, loot­ing, and whole­sale theft. So, togeth­er with the Lou­vre's cura­tor of paint­ings René Huyghe, Jau­jard craft­ed a secret plan to evac­u­ate almost all of the Lou­vre's art, which includ­ed 3600 paint­ings alone.
On the day Ger­many and the Sovi­et Union signed the Nonag­gres­sion Pact, August 25, 1939, Jau­jard closed the Lou­vre for "repairs" for three days while staff, "stu­dents from the École du Lou­vre, and work­ers form the Grands Mag­a­zines du Lou­vre depart­ment store took paint­ings out of their frames… and moved stat­ues and oth­er objects from their dis­plays with wood­en crates."
The stat­ues includ­ed the three ton Winged Nike of Samoth­race (see a pho­to of its move here), the Egypt­ian Old King­dom Seat­ed Scribe, and the Venus de Milo. All of these, like the oth­er works of art, would be moved to chateaus in the coun­try­side for safe keep­ing. On August 28, "hun­dreds of trucks orga­nized into con­voys car­ried 1000 crates of ancient and 268 crates of paint­ings and more" into the Loire Val­ley.
Includ­ed in that haul of trea­sures was the Mona Lisa, placed in a cus­tom case, cush­ioned with vel­vet. Where oth­er works received labels of yel­low, green, and red dots accord­ing to their lev­el of impor­tance, the Mona Lisa was marked with three red dots — the only work to receive such high pri­or­i­ty. It was trans­port­ed by ambu­lance, gen­tly strapped to a stretch­er. After leav­ing the muse­um, the paint­ing would be moved five times, "includ­ing to Loire Val­ley cas­tles and a qui­et abbey." The Nazis would loot much of what was left in the Lou­vre, and force it to re-open in 1940 with most of its gal­leries stark­ly emp­ty. But the Mona Lisa — at the top of Hitler's list of art­works to expro­pri­ate — remained safe, as did many thou­sands more art­works Jau­jard believed were the "her­itage of all human­i­ty," as Inge Laino, Paris Muse Direc­tor, says in the France 24 seg­ment above.
Relat­ed Con­tent:
How the Mona Lisa Went From Being Bare­ly Known, to Sud­den­ly the Most Famous Paint­ing in the World (1911)
How Did the Mona Lisa Become the World's Most Famous Paint­ing?: It's Not What You Think
The 16,000 Art­works the Nazis Cen­sored and Labeled "Degen­er­ate Art": The Com­plete His­toric Inven­to­ry Is Now Online
The Louvre's Entire Col­lec­tion Goes Online: View and Down­load 480,00 Works of Art
Josh Jones is a writer and musi­cian based in Durham, NC. Fol­low him at @jdmagness