When Halloween comes around this year, consider playing a round of hyakumonogatari. You'll need to assemble a hundred candles beforehand, but that's the easy part; you and your friends will also need to know just as many ghost stories. In early nineteenth-century Japan, "participants would sit in a candlelit room and take turns telling frightening tales. After each one was shared, a candle would be extinguished until there was no light left, in the room. It was then that the yōkai ["strange apparitions") would appear." So says Youtuber Hochelaga (who's previously covered the Biblical apocalypse and long-ago predictions of the future) in the video above, "The Ghosts of Hokusai."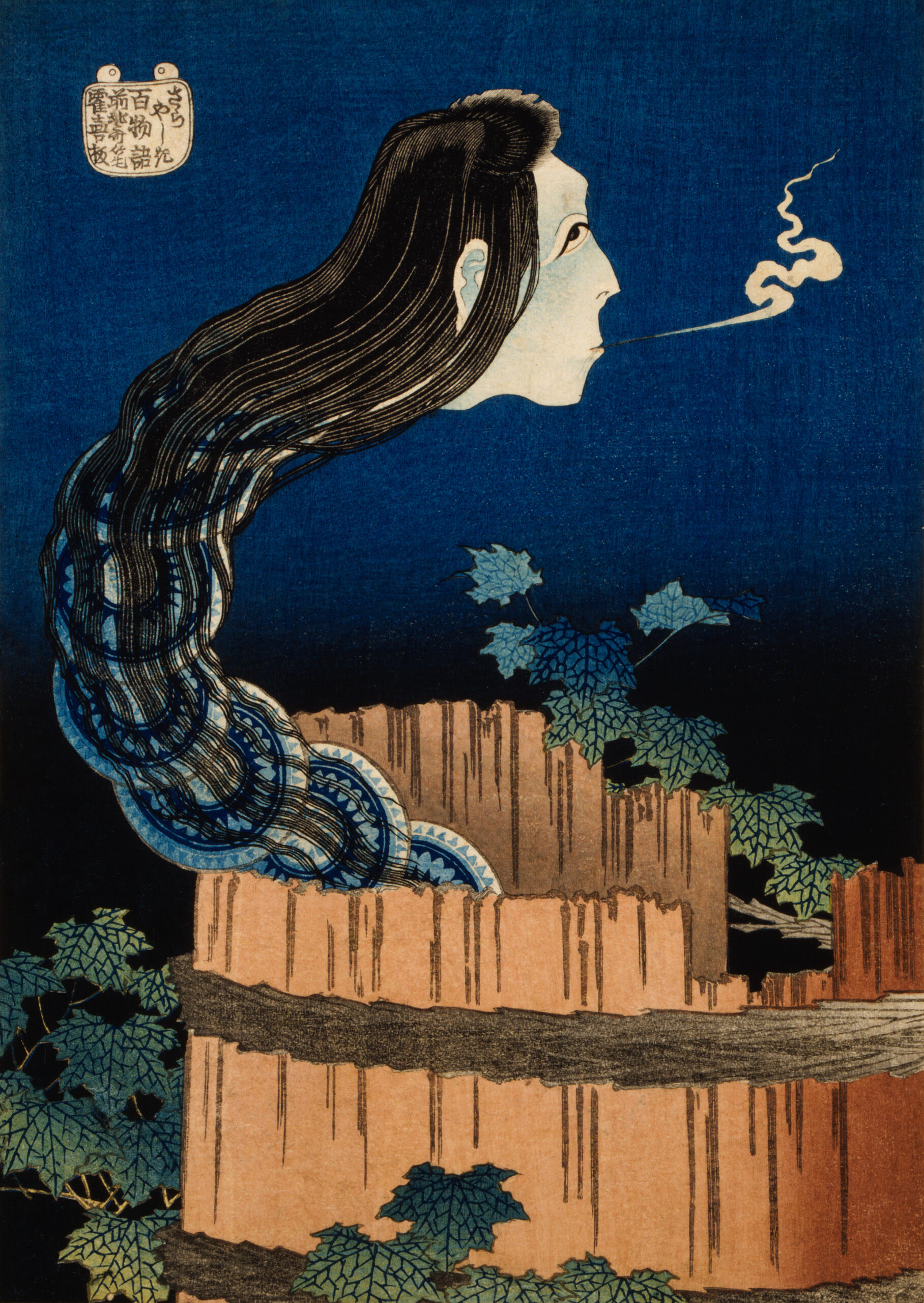 We all know the name of Katsushika Hokusai, the most widely renowned master of the traditional Japanese woodblock-print art called ukiyo-e. In a lifetime spanning the mid-eighteenth to the mid-nineteenth century, Hochelaga notes, Hokusai created around 30,000 unique pieces of art, including The Great Wave off Kanagawa, part of Thirty-Six Views of Mount Fuji.
But before executing that triumphant late series, Hokusai made his own Hyakumonogatari (literally, "hundred tales") — or rather, he rendered in his distinctive style five of those traditional ghost stories' tragic, grotesque, and often humorous protagonists.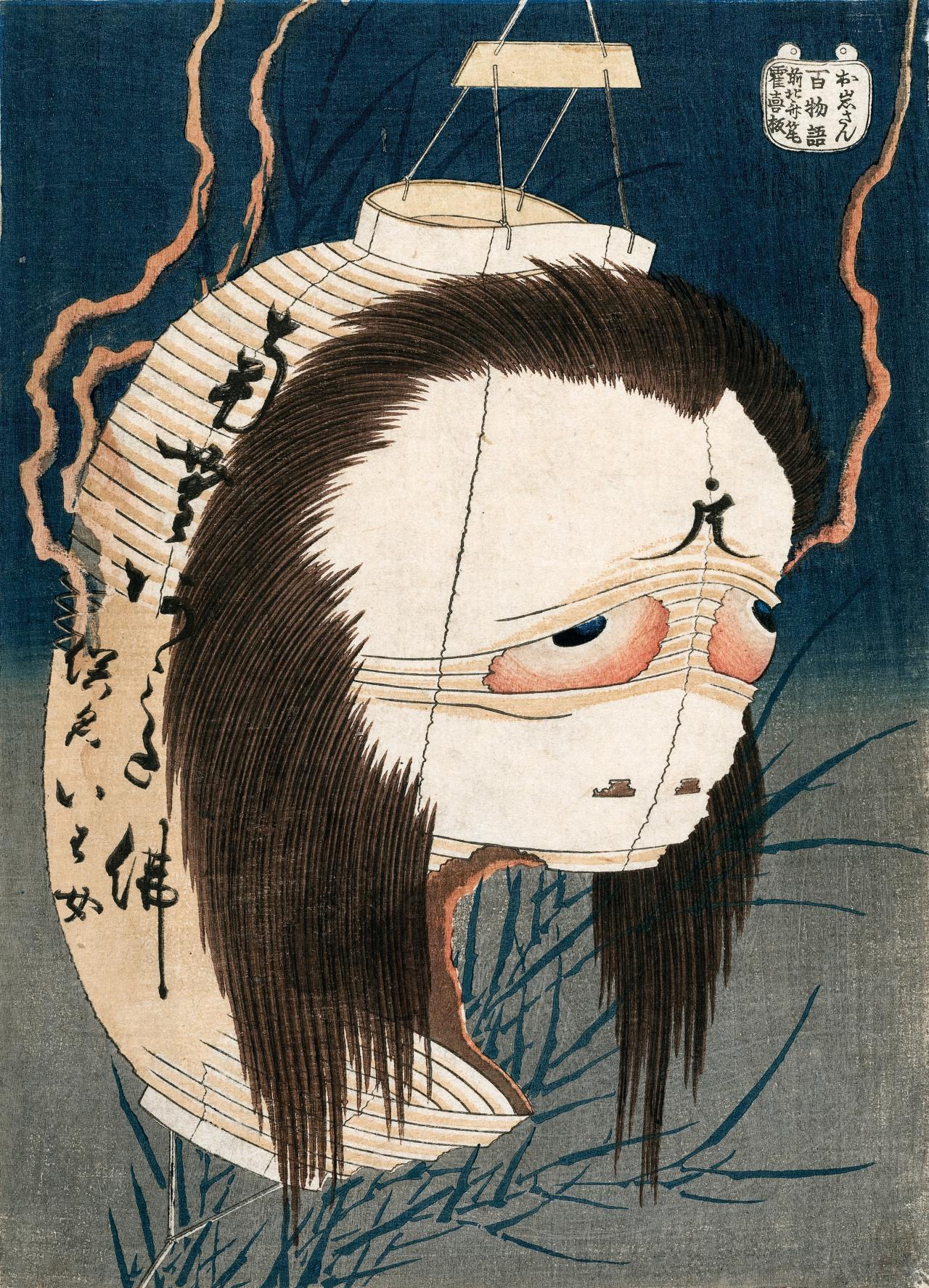 These characters are yōkai, those "weird and mysterious beings" that "inhabit supernatural Japan." They "come in all shapes and sizes, from friendly household spirits to fierce demons," including the Oyajirome, who literally has an eye in the back of his head, and the Ushi-oni, "one part bull, one part crab, and the rest nightmare fuel."  Hokusai's interest tended toward yōkai who had once been normal humans: the neglected wife of a samurai whose spirit became trapped in a lantern, the murdered kabuki actor whose skeletal remains emerged from a swamp to hunt down his killers.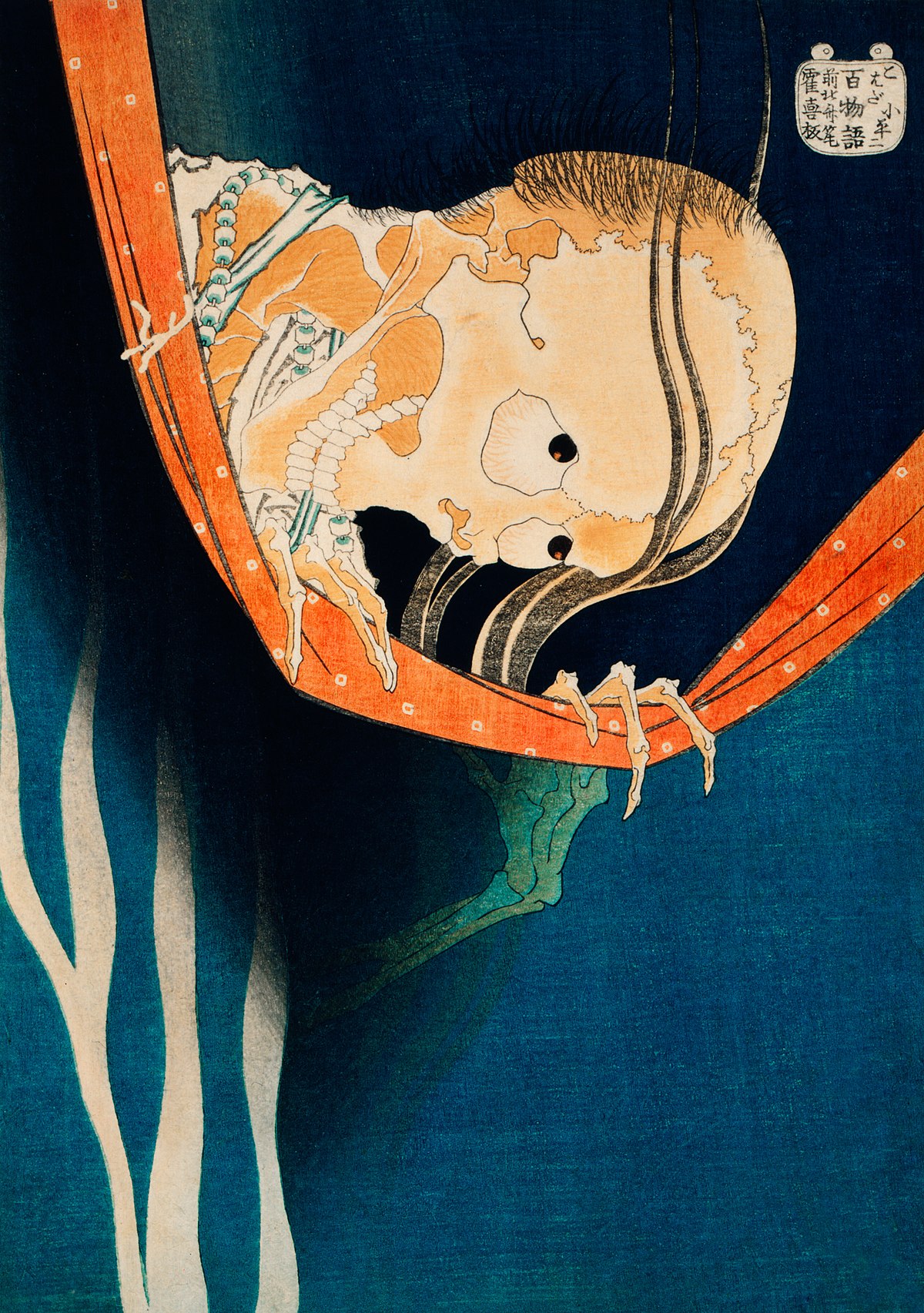 You can read more about these yōkai, and take a look at Hokusai's depictions of them, at the Public Domain Review and Thoughts on Papyrus. Soon after Hokusai's death Japan opened to the world, beginning its transformation into a state of hypermodernity. But tales of yōkai still have a certain influence on the Japanese cultural imagination, as evidenced by the Miyoshi Mononoke Museum in Hiroshima. Japan has been more or less closed once again these past couple of years, but once it re-opens, why not make a trip to collect a few scary monogatari for yourself?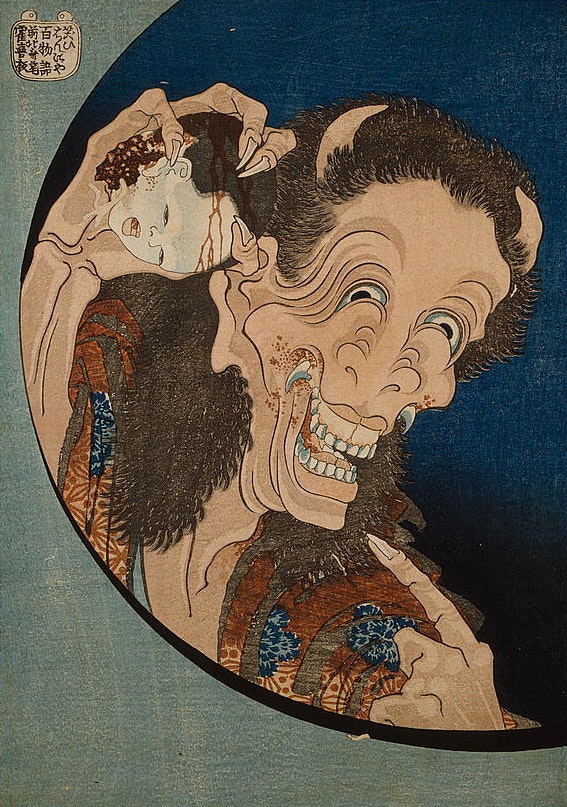 Related content:
The First Museum Dedicated to Japanese Folklore Monsters Is Now Open
The Great Wave Off Kanagawa by Hokusai: An Introduction to the Iconic Japanese Woodblock Print in 17 Minutes
Thirty-Six Views of Mount Fuji: A Deluxe New Art Book Presents Hokusai's Masterpiece, Including The Great Wave Off Kanagawa
The Evolution of The Great Wave off Kanagawa: See Four Versions That Hokusai Painted Over Nearly 40 Years
View 103 Discovered Drawings by Famed Japanese Woodcut Artist Katsushika Hokusai
Download 215,000 Japanese Woodblock Prints by Masters Spanning the Tradition's 350-Year History
Based in Seoul, Colin Marshall writes and broadcasts on cities, language, and culture. His projects include the Substack newsletter Books on Cities, the book The Stateless City: a Walk through 21st-Century Los Angeles and the video series The City in Cinema. Follow him on Twitter at @colinmarshall, on Facebook, or on Instagram.