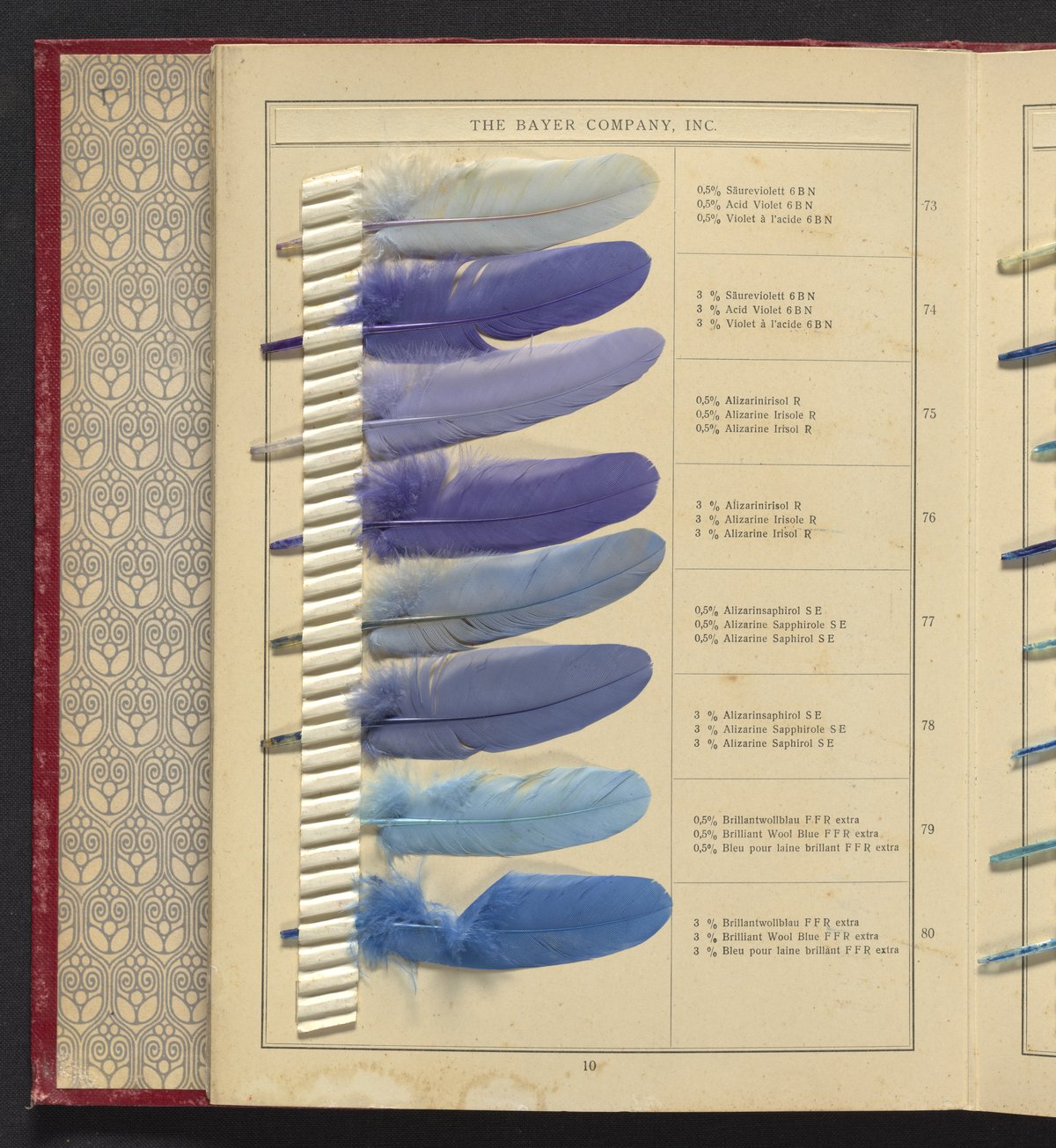 Per­haps the 143 col­ors show­cased in The Bay­er Company's ear­ly 20th-cen­tu­ry sam­ple book, Shades on Feath­ers, could be col­lect­ed in the field, but it would involve a lot of trav­el and patience, and the stalk­ing of sev­er­al endan­gered if not down­right extinct avian species.
Far eas­i­er, and much less expen­sive, for milliners, design­ers and dec­o­ra­tors to dye plain white feath­ers exot­ic shades, fol­low­ing the instruc­tions in the sam­ple book.
Such arti­fi­cial­ly obtained rain­bows owe a lot to William Hen­ry Perkin, a teenage stu­dent of Ger­man chemist August Wil­helm von Hof­mann, who spent East­er vaca­tion of 1856 exper­i­ment­ing with ani­line, an organ­ic base his teacher had ear­li­er dis­cov­ered in coal tar. Hop­ing to hit on a syn­thet­ic form of qui­nine, he acci­den­tal­ly hit on a solu­tion that col­ored silk a love­ly pur­ple shade — an inad­ver­tent eure­ka moment that ranks right up there with peni­cillin and the pret­zel.
A Sci­ence Muse­um Group pro­file details what hap­pened next:

Perkin named the colour mauve and the dye mau­veine. He decid­ed to try to mar­ket his dis­cov­ery instead of return­ing to col­lege.
On 26 August 1856, the Patent Office grant­ed Perkin a patent for 'a new colour­ing mat­ter for dye­ing with a lilac or pur­ple colour stuffs of silk, cot­ton, wool, or oth­er mate­ri­als'.
Perk­in's next step was to inter­est cloth dyers and print­ers in his dis­cov­ery. He had no expe­ri­ence of the tex­tile trade and lit­tle knowl­edge of large-scale chem­i­cal man­u­fac­ture. He cor­re­spond­ed with Robert and John Pullar in Glas­gow, who offered him sup­port. Perk­in's luck changed towards the end of 1857 when the Empress Eugénie, wife of Napoleon III, decid­ed that mauve was the colour to wear. In Jan­u­ary 1858, Queen Vic­to­ria fol­lowed suit, wear­ing mauve to her daughter's wed­ding.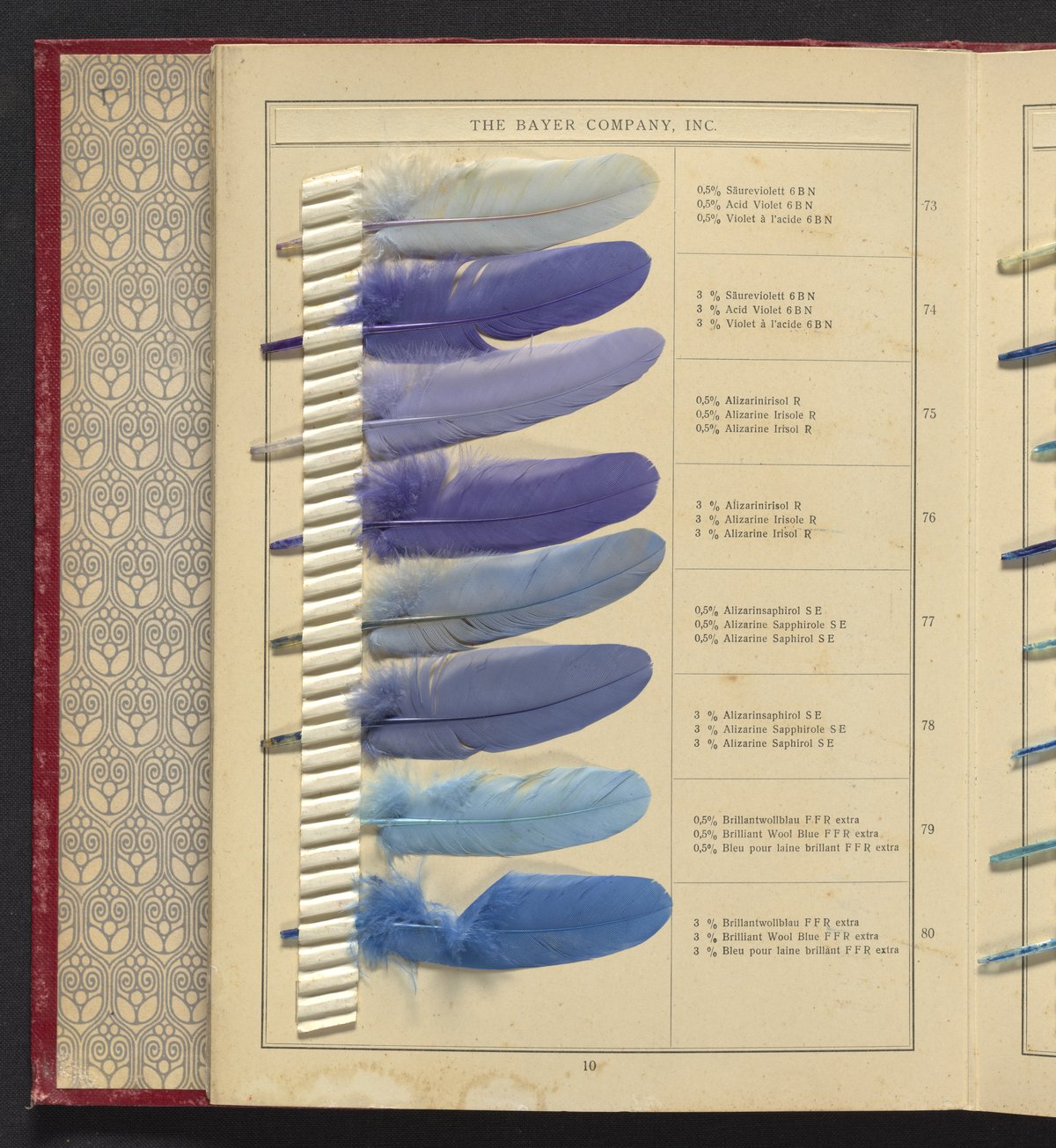 Cue an explo­sion of dye man­u­fac­tur­ers across Great Britain and Europe, includ­ing Bay­er, pro­duc­er of the feath­er sam­ple book. The sur­vival of this arti­fact is some­what mirac­u­lous giv­en how vul­ner­a­ble antique feath­ers are to envi­ron­men­tal fac­tors, pests, and improp­er stor­age.
(The sam­ple book rec­om­mends clean­ing the feath­ers pri­or to dying in a luke­warm solu­tion of small amounts of olive oil soap and ammo­nia.)
The Sci­ence His­to­ry Insti­tute, own­er of this unusu­al object, esti­mates that the undat­ed book was pro­duced between 1913 and 1918, the year the Migra­to­ry Bird Act Treaty out­lawed the hunt­ing of birds whose feath­ers humans deemed par­tic­u­lar­ly fash­ion­able.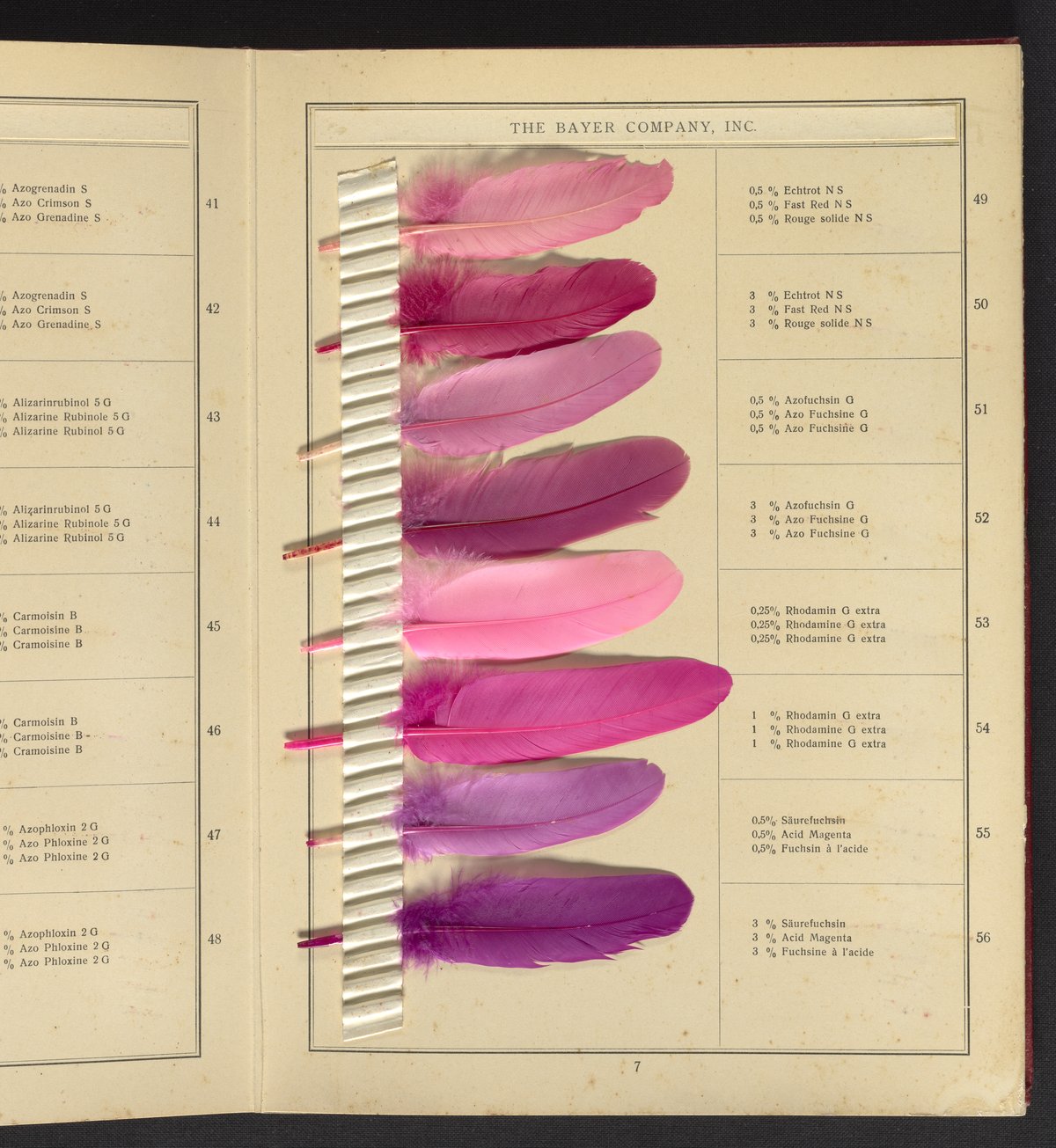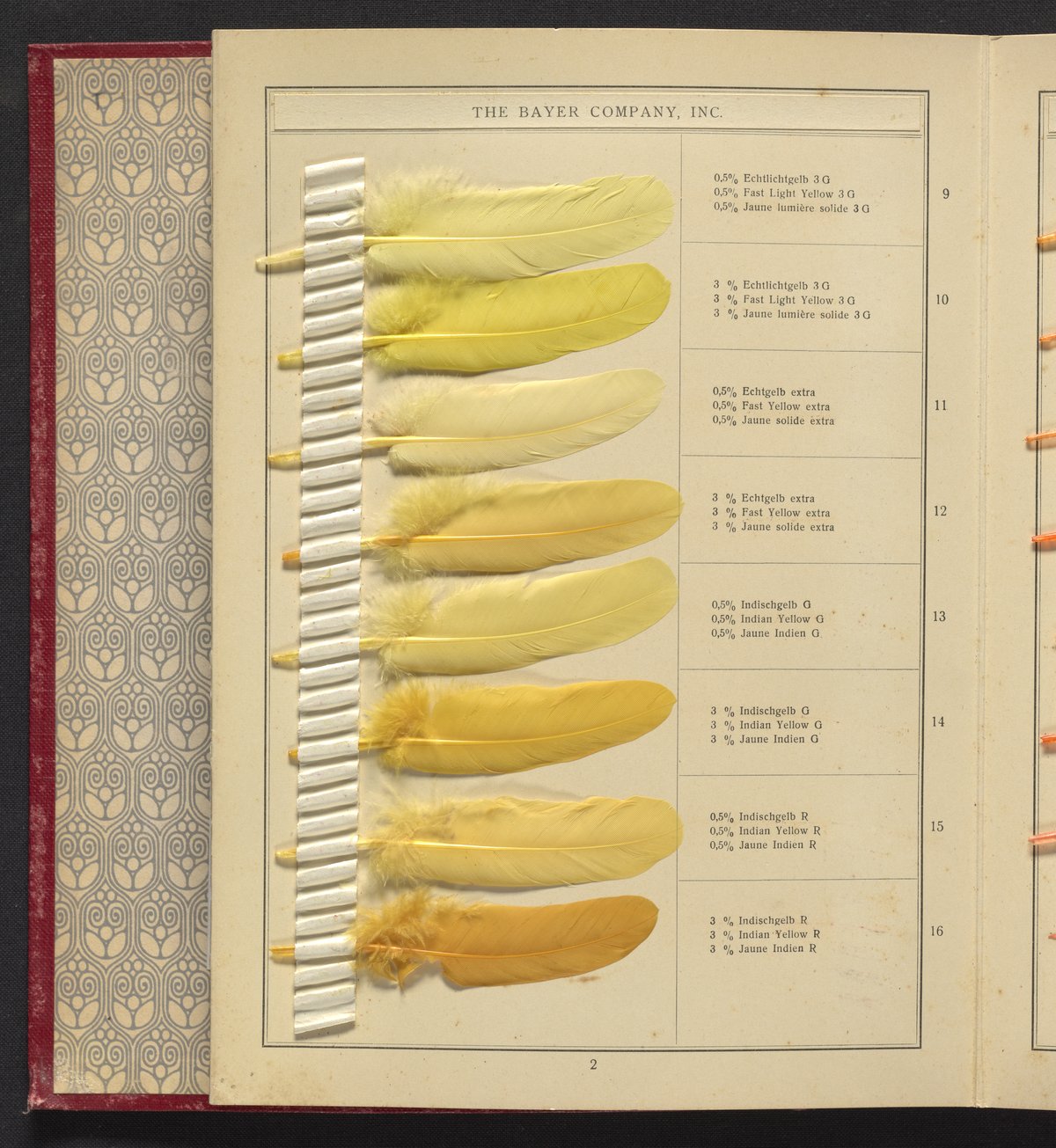 Peruse the Sci­ence His­to­ry Insti­tute of Philadel­phi­a's dig­i­tized copy of the Shades on Feath­ers sam­ple book here.
Relat­ed Con­tent
Down­load 435 High Res­o­lu­tion Images from John J. Audubon's The Birds of Amer­i­ca
The Bird­song Project Fea­tures 220 Musi­cians, Actors, Artists & Writ­ers Pay­ing Trib­ute to Birds: Watch Per­for­mances by Yo-Yo Ma, Elvis Costel­lo and Beck
The Bird Library: A Library Built Espe­cial­ly for Our Fine Feath­ered Friends
- Ayun Hal­l­i­day is the Chief Pri­ma­tol­o­gist of the East Vil­lage Inky zine and author, most recent­ly, of Cre­ative, Not Famous: The Small Pota­to Man­i­festo. Fol­low her @AyunHalliday.