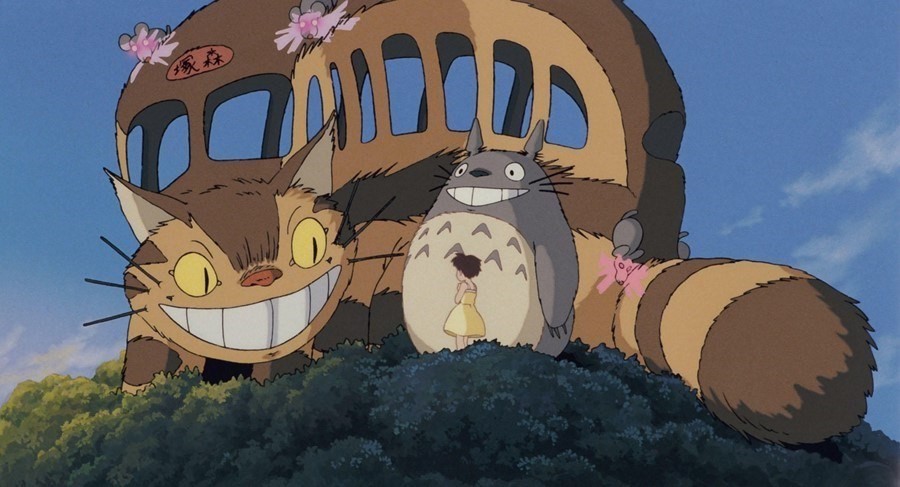 The films of Hayao Miyaza­k­i's Stu­dio Ghi­b­li have won immense world­wide acclaim, in large part because they so ful­ly inhab­it their medi­um. Their char­ac­ters, their sto­ries, their worlds: all can come ful­ly to life only in ani­ma­tion. Still, it's true that some of their mate­r­i­al did orig­i­nate in oth­er forms. The pre-Ghi­b­li break­out fea­ture Nau­si­caä of the Val­ley of the Wind, for instance, began as a com­ic book writ­ten and drawn by Miyaza­ki (who at first laid down the con­di­tion that it not be adapt­ed for the screen). Four years lat­er, by the time of My Neigh­bor Totoro, the nature of Ghi­b­li's visions had become insep­a­ra­ble from that of ani­ma­tion itself.
Now, almost three and a half decades after Totoro's orig­i­nal release, the pro­duc­tion of a stage ver­sion is well under­way. Play­bill's Raven Brun­ner reports that the show "will open in Lon­don's West End at The Bar­bi­can the­atre for a 15-week engage­ment Octo­ber 8‑January 21, 2023.
The pro­duc­tion will be pre­sent­ed by the Roy­al Shake­speare Com­pa­ny and exec­u­tive pro­duc­er Joe Hisaishi." Japan's most famous film com­pos­er, Hisaishi scored Totoro as well as all of Miyaza­k­i's oth­er Ghi­b­li films so far, includ­ing Por­co Rosso, Princess Mononoke, and Spir­it­ed Away (itself adapt­ed for the stage in Japan ear­li­er this year).
As you can see in the video just above, the RSC pro­duc­tion of Totoro also involves Jim Hen­son's Crea­ture Shop. "The pup­pets being built at Crea­ture Shop are based on designs cre­at­ed by Basil Twist, one of the UK's most inno­v­a­tive pup­peteers," writes Dead­line's Baz Bamigboye, and they'll be sup­ple­ment­ed by the work of anoth­er mas­ter, "Mervyn Mil­lar, of Britain's cut­ting-edge Sig­nif­i­cant Object pup­pet stu­dio." Even such an assem­bly of pup­pet-mak­ing exper­tise will find it a for­mi­da­ble chal­lenge to re-cre­ate the denizens of the enchant­ed coun­try­side in which Totoro's young pro­tag­o­nists find them­selves — to say noth­ing of the tit­u­lar wood spir­it him­self, with all his mass, mis­chief, and over­all benev­o­lence. As for how they're rig­ging up the cat bus, Ghi­b­li fans will have to wait until next year to find out.
Relat­ed con­tent:
The Films of Hayao Miyaza­ki Cel­e­brat­ed in a Glo­ri­ous Con­cert Arranged by Film Com­pos­er Joe Hisaishi
Stu­dio Ghi­b­li Pro­duc­er Toshio Suzu­ki Teach­es You How to Draw Totoro in Two Min­utes
Jim Hen­son Teach­es You How to Make Pup­pets in Vin­tage Primer From 1969
Build Your Own Minia­ture Sets from Hayao Miyazaki's Beloved Films: My Neigh­bor Totoro, Kiki's Deliv­ery Ser­vice & More
Stu­dio Ghi­b­li Releas­es Tan­ta­liz­ing Con­cept Art for Its New Theme Park, Open­ing in Japan in 2022
Hayao Miyaza­ki, The Mind of a Mas­ter: A Thought­ful Video Essay Reveals the Dri­ving Forces Behind the Animator's Incred­i­ble Body of Work
Based in Seoul, Col­in Mar­shall writes and broad­casts on cities, lan­guage, and cul­ture. His projects include the Sub­stack newslet­ter Books on Cities, the book The State­less City: a Walk through 21st-Cen­tu­ry Los Ange­les and the video series The City in Cin­e­ma. Fol­low him on Twit­ter at @colinmarshall, on Face­book, or on Insta­gram.