Real estate is a perennially hot topic in New York City, as is gentrification.
Above, architect Michael Wyetzner, breaks down the defining features of several typical NYC apartments.
You're on your own to truffle up the sort of rent a 340 square feet studio commands in an East Village tenement these days.
The ancestors would be shocked, for sure. My late mother-in-law never tired of causing young jaws to drop by revealing how she once paid $27/month for a 1 bedroom on Sheridan Square…and her mother, who immigrated at the turn of the century, couldn't wait to put the Lower East Side behind her.
He may not truck in final sales figures, but Wyetzner drops in a wealth of interesting factual tidbits as he sketches layouts with a black Pentel Sign Pen. His tone is more Lower East Side Tenement Museum tour guide than the comments section of a real estate blog where salty New Yorkers flaunt their street cred.
For instance, those enfilade tenement apartments–to employ the grand architectural term Wyetzner just taught us–were not only dark, but dangerously under-ventilated until 1901, when reforms stipulated that air shafts must be opened up between side by side buildings.
This public health initiative changed the shape of tenement buildings, but did little to stop the poverty and overcrowding that activist/photographer Jacob Riis famously documented in How the Other Half Lives.
(Another measure decreed that building owners must supply one indoor toilet …per 20 people!)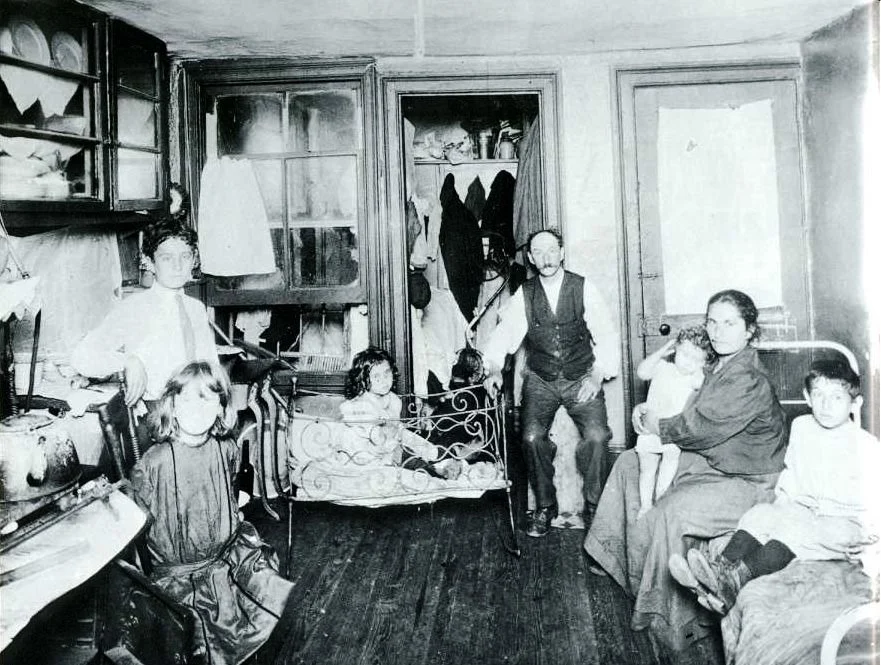 While we're on the topic of toilets, did you know that there was a time when every brownstone backyard boasted its own privy?
Homeowners who've spent millions on what many conceive of as the most romantic of New York City buildings (then millions more on gut renovations) proudly display old bottles and other refuse excavated from the site where privys once stood. The former residents turn their outhouses into garbage chutes upon achieving indoor plumbing.
Laying aside its distinctive color, a brownstone's most iconic feature is surely its stoop.
Stoops grabbed hold of the American public's imagination thanks to Sesame Street, the Harlem photographs of Gordon Parks and the films of Spike Lee, who learned of Martin Luther King's assassination as an 11-year-old, sitting on his.
"Not porch!," he emphasized during a Tonight Show appearance. "In Brooklyn, it's stoops. Stoops!"
(Forgive me if I delve into NYC real estate prices for a sec: the Bed-Stuy brownstone from Lee's semi-autobiographical Crooklyn, above, just went on the market for $4.5 million.)
There's no question that brownstone stoops make excellent hang out spots, but that's not the reason they rose to prominence.
As Esther Crain writes in Ephemeral New York, the Commissioners' Plan of 1811 which led to the city's gridlike layout negated the possibility of alleys:
Without a back door to a rowhouse accessed through an alley, servants and workers would enter and exit a residence using the same front stoop the owners used—which wasn't too popular, at least with the owners. 
But a tall stoop set back from the sidewalk allowed for a side door that led to the lower level of the house. While the owners continued to go up and down the stoop to get to the parlor floor (and see and be seen by their neighbors), everyone else was relegated to the side…And of course, as New York entered the Gilded Age of busy streets filled with dust, ash, refuse, and enormous piles of horse manure, a very high stoop helped keep all the filth from getting into the house. 
Flash forward a hundred and fifty some years, and, as Wyetzner notes, a stoop's top step offers a highly scenic view of the Hefty bags the neighbors haul to the curb the night before New York's Strongest roll through.
Wyetzner also provides the historical context behind such architecturally distinctive digs as SoHo's astronomically priced light-filled lofts, the always desirable Classic Six residences on the Upper East and Upper West Sides, one-room studios both modern and original flavor, and our blighted public housing projects.
If you're itching to play along from home, check out the New York Times' regular feature The Hunt, which invites readers to trail a single, family, or couple deliberating between three properties in New York City.
A sample: "After a mouse infestation at her West Village rental, a single mother needed a better spot for her family, including a son with autism."
Review the layouts and click here to see whether she chose a brand-new 127-unit building with a rooftop pool, a Harlem brownstone duplex with a backyard rights, or an updated one bedroom in a downtown co-op from 1910.
Related Content
A New Interactive Map Shows All Four Million Buildings That Existed in New York City from 1939 to 1941
Behold the New York City Street Tree Map: An Interactive Map That Catalogues the 700,000 Trees Shading the Streets of New York City
New York Public Library Puts 20,000 Hi-Res Maps Online & Makes Them Free to Download and Use
The New York Public Library Lets You Download 180,000 Images in High Resolution: Historic Photographs, Maps, Letters & More
– Ayun Halliday is the Chief Primatologist of the East Village Inky zine and author, most recently, of Creative, Not Famous: The Small Potato Manifesto. She has lived in all manner of New York City apartments, but hopes to never move again. Follow her @AyunHalliday.