One of the New York Times' most compelling regular features is Overlooked, which gives remarkable individuals whose deaths passed unremarked by the Times obit column a rousing, overdue sendoff.
Sally Schmitt – "one of the great unsung heroes of California Cuisine" as per Michael Bauer, the San Francisco Chronicle's fearsome former food critic – is not one of those.
When Schmitt died earlier this spring at the age of 90, a few weeks shy of the release of her book, Six California Kitchens: A Collection of Recipes, Stories, and Cooking Lessons From a Pioneer of California Cuisine, the Times took note.
Schmitt received a grand obituary that delved into her personal history, philosophy, and her connection to Napa Valley's The French Laundry, a three star Michelin restaurant which Anthony Bourdain hailed as the best in the world.
The French Laundry's renown is such that one needn't run in foodie circles to be aware of it, and its award-winning chef/owner, Thomas Keller.
Keller, however, did not found the restaurant that brought him fame.
Schmitt did, with the help of her husband, Don and their five children, who pitched in in both the kitchen and the front of the house.
Family was important to Schmitt, and having deferred her dreams for the many years it took to raise hers, she was determined to maintain balance between home and work lives.
In Ben Proudfoot's New York Times op-doc, above, Schmitt recalls growing up outside of Sacramento, where her mother taught her how to cook using in-season local produce.
Meanwhile, her father helped California produce make it all the way to the East Coast by supplying ice to the Southern Pacific Railroad, an innovation that Schmitt identifies as "the beginning of the whole supermarket situation" and a distressing geographic disconnect between Americans and food.
The Schmitts launched The French Laundry in 1978, with a shockingly affordable menu.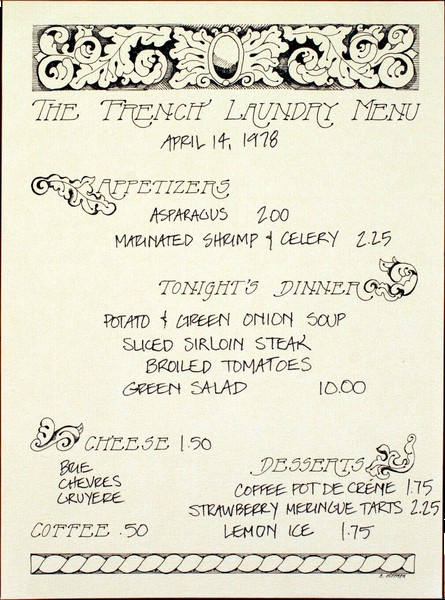 Julia Child, a fan, once "burst into the kitchen," demanding, "My dear, what was in that dessert sauce?"
(Answer: sugar, butter and cream)
Sixteen years after its founding, The French Laundry was for sale.
Schmitt's facial expressions are remarkably poignant describing the transfer of power. There's a lot at play – pride, nostalgia, fondness for Keller, a "really charming young chef, who'd made a name for himself in New York…and was down on his luck."
Schmitt is gracious, but there's no question she feels a bit of a twinge at how Keller took her dream and ran with it.
"In high school, I was always the vice president…vice president of everything," Schmitt says, before sharing a telling anecdote about her best friend beating her out for the highest academic honor:
I went home and cried. Yeah, I thought that I should have it, you know. And my mother said, "Let her have her moment of glory. Don't worry. There will be moments of glory for you."
This documentary is one, however posthumous.
Accompanying it is a brief essay in which Proudfoot contrasts the lives of his workaholic late father and Schmitt, with her "delightfully coy candor a message about the rewards of balance and the trap of ambition:"
I made this film for all of us who struggle "to stir and taste the soup" that already sits in front of us.
Another moment of glory:
In Keller's landmark The French Laundry Cookbook, the final recipe is Sally Schmitt's Cranberry and Apple Kuchen (with the hot Cream Sauce that so captivated Julia Child.)
Sally Schmitt's Cranberry and Apple Kuchen with hot Cream Sauce
Serves 8
KUCHEN:
6 tablespoons (3/4 stick) unsalted butter, room temperature, plus more for the pan
3/4 cup sugar
1 large egg
1 1/2 cups all-purpose flour
2 teaspoons baking powder
1/4 teaspoon kosher salt
1/4 teaspoon freshly grated nutmeg
1/2 cup milk or light cream
3 to 4 Gravenstein or Golden Delicious apples
1 cup cranberries or firm blueberries
Cinnamon sugar: 1 tablespoon sugar mixed with 1/4 teaspoon cinnamon
HOT CREAM SAUCE:
2 cups heavy cream
1/2 cup sugar
8 tablespoons (1 stick) unsalted butter
1. Preheat oven to 350 degrees. Butter a 9-inch round cake pan.
2. For the kuchen: Using an electric mixer, beat butter, sugar and egg together until the mixture is fluffy and lightened in texture.
3. Combine the flour, baking powder, salt and nutmeg. Add dry ingredients and the milk alternately to the butter mixture; mix just until combined.
4. Peel and core apples. Slice them into 1/4-inch wedges
5. Spoon batter into the pan. Press apple slices, about 1/4-inch apart and core side down, into the batter, working in a circular pattern around the outside edge (like the spokes of a wheel. Arrange most of the cranberries in a ring inside the apples and sprinkle remainder around the edges of the kuchen. Sprinkle kuchen with the cinnamon sugar.
6. Bake for 40 to 50 minutes, or until a cake tester inserted into the center of the kuchen comes out clean. Set on a rack to cool.
7. Combine the cream sauce ingredients in a medium saucepan. Bring to a boil, lower heat and simmer for 5 to 8 minutes, to reduce and thicken it slightly.
8. Serve the cake warm or at room temperature, drizzled with the hot cream sauce
Related Content 
Watch Anthony Bourdain's First Food-and-Travel Series A Cook's Tour Free Online (2002-03)
Watch 26 Free Episodes of Jacques Pépin's TV Show, More Fast Food My Way
Watch Werner Herzog Eat His Shoe, Cooked by Chef Alice Waters (1980)
– Ayun Halliday is the Chief Primatologist of the East Village Inky zine and author, most recently, of Creative, Not Famous: The Small Potato Manifesto. Follow her @AyunHalliday.