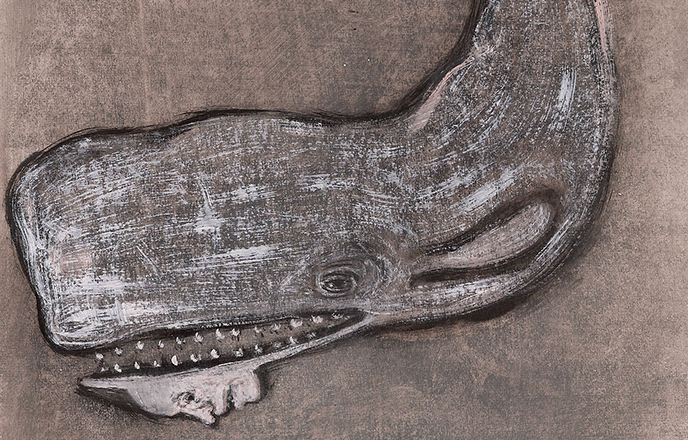 "Moby-Dick is the great Amer­i­can nov­el. But it is also the great unread Amer­i­can nov­el. Sprawl­ing, mag­nif­i­cent, deliri­ous­ly digres­sive, it stands over and above all oth­er works of fic­tion, since it is bare­ly a work of fic­tion itself. Rather, it is an explo­sive expo­si­tion of one man's inves­ti­ga­tion into the world of the whale, and the way humans have relat­ed to it. Yet it is so much more than that."
That's how Ply­mouth Uni­ver­si­ty intro­duces Her­man Melville's clas­sic tale from 1851. And it's what set the stage for their web project launched back in 2012. Called The Moby-Dick Big Read, the project fea­tured celebri­ties and less­er known fig­ures read­ing all 135 chap­ters from Moby-Dick — chap­ters that you can start down­load­ing (as free audio files) on iTunes, Sound­cloud, RSS Feed, or the Big Read web site itself.
The project start­ed with the first chap­ters being read by Til­da Swin­ton (Chap­ter 1), Cap­tain R.N. Hone (Chap­ter 2), Nigel Williams (Chap­ter 3), Caleb Crain (Chap­ter 4), Musa Okwon­ga (Chap­ter 5), and Mary Nor­ris (Chap­ter 6). John Waters, Stephen Fry, Simon Cal­low, Mary Oliv­er and even Prime Min­is­ter David Cameron read lat­er ones.
If you want to read the nov­el as you go along, find the text over at Project Guten­berg.
Til­da Swin­ton's nar­ra­tion of Chap­ter 1 appears right below:
An ear­li­er ver­sion of this post appeared on our site in 2012.
If you would like to sign up for Open Culture's free email newslet­ter, please find it here.
If you would like to sup­port the mis­sion of Open Cul­ture, con­sid­er mak­ing a dona­tion to our site. It's hard to rely 100% on ads, and your con­tri­bu­tions will help us con­tin­ue pro­vid­ing the best free cul­tur­al and edu­ca­tion­al mate­ri­als to learn­ers every­where. You can con­tribute through Pay­Pal, Patre­on, and Ven­mo (@openculture). Thanks!
Relat­ed Con­tent:
An Illus­tra­tion of Every Page of Her­man Melville's Moby Dick
How Ray Brad­bury Wrote the Script for John Huston's Moby Dick (1956)
Hear a Com­plete 24-Hour Read­ing of Moby-Dick, Record­ed at the South­bank Cen­tre in Lon­don (2015)