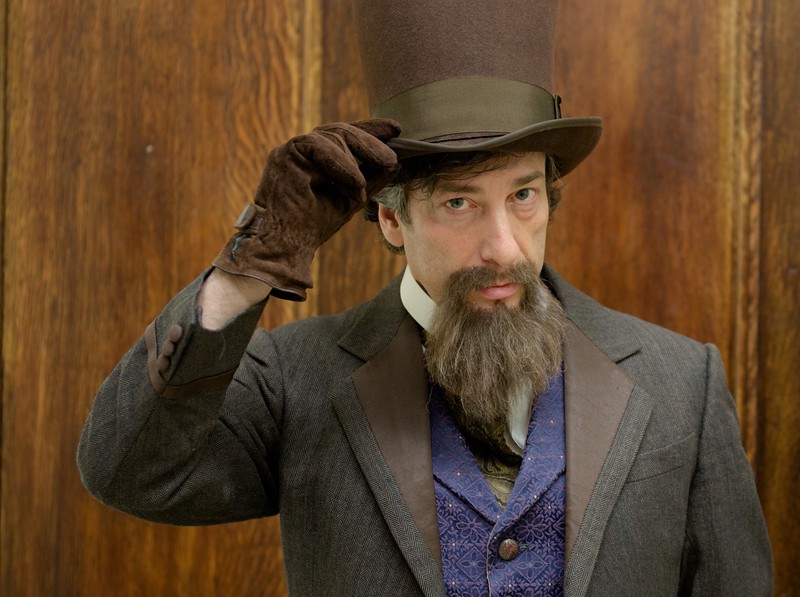 In Christ­mases past, we fea­tured Charles Dick­ens' hand-edit­ed copy of his beloved 1843 novel­la A Christ­mas Car­ol. He did that hand edit­ing for the pur­pos­es of giv­ing pub­lic read­ings, a prac­tice that, in his time, "was con­sid­ered a des­e­cra­tion of one's art and a low­er­ing of one's dig­ni­ty." That time, how­ev­er, has gone, and many of the most pres­ti­gious writ­ers alive today take the read­ing aloud of their own work to the lev­el of art, or at least high enter­tain­ment, that Dick­ens must have sus­pect­ed one could. Some writ­ers even do a bang-up job of read­ing oth­er writ­ers' work: mod­ern mas­ter sto­ry­teller Neil Gaiman gave us a dose of that when we fea­tured his recita­tion of Lewis Car­rol­l's "Jab­ber­wocky" from mem­o­ry. Today, how­ev­er, comes the full meal: Gaiman's telling of A Christ­mas Car­ol straight from that very Dick­ens-edit­ed read­ing copy.
Gaiman read to a full house at the New York Pub­lic Library, an insti­tu­tion known for its stim­u­lat­ing events, hol­i­day-themed or oth­er­wise. But he did­n't have to hold up the after­noon him­self; tak­ing the stage before him, BBC researcher and The Secret Muse­um author Mol­ly Old­field talked about her two years spent seek­ing out fas­ci­nat­ing cul­tur­al arti­facts the world over, includ­ing but not lim­it­ed to the NYPL's own col­lec­tion of things Dick­en­sian. You can hear both Old­field and Gaiman in the record­ing below. But per­haps the great­est gift of all came in the form of the lat­ter's attire for his read­ing: not only did he go ful­ly Vic­to­ri­an, he even went to the length of repli­cat­ing the 19th-cen­tu­ry lit­er­ary super­star's own severe hair part and long goa­tee. And School Library Jour­nal has pic­tures. The sto­ry real­ly gets start­ed around the 11:00 mark. Gaiman's read­ing will be added to our list of Free Audio Books. You can find the text of Dick­ens' clas­sic here.
Note: An ear­li­er ver­sion of this post appeared on our site in Decem­ber 2014.
Relat­ed Con­tent:
An Oscar-Win­ning Ani­ma­tion of Charles Dick­ens' Clas­sic Tale, A Christ­mas Car­ol (1971)
Charles Dick­ens' Hand-Edit­ed Copy of His Clas­sic Hol­i­day Tale, A Christ­mas Car­ol
Hear Charles Dick­ens' A Christ­mas Car­ol Read by His Great-Grand­daugh­ter, Mon­i­ca
Based in Seoul, Col­in Mar­shall writes and broad­casts on cities, lan­guage, and cul­ture. His projects include the Sub­stack newslet­ter Books on Cities, the book The State­less City: a Walk through 21st-Cen­tu­ry Los Ange­les and the video series The City in Cin­e­ma. Fol­low him on Twit­ter at @colinmarshall or on Face­book.