You need not be a student of Japanese Ukiyo-e woodblock prints to recognize artist Katsushika Hokusai's Under the Wave Off Kanagawa – or the Great Wave, as it has come to be known.
Like Leonardo da Vinci's Mona Lisa and Botticelli's The Birth of Venus, it's been reproduced on all manner of improbable items and subjected to liberal reimagining – something Sarah Urist Green, describes in the above episode of her series The Art Assignment as "numerous crimes against this image perpetrated across the internet."
Such repurposing is the ultimate compliment.
The Great Wave is so graphically indelible, anyone who co-opts it can expect it to do a lot of heavy lifting.
For those who bother looking closely enough to take in the three boatloads of fishermen struggling to escape with their lives, it's also narratively gripping, a terrifying woodblock still from an easily imagined disaster film.
It's also an homage to Mount Fuji, one of a series of 36.
Thousands of prints were produced in the early 1830s for the domestic tourist trade. Visitors to Mount Fuji snapped these souvenirs up for about the same price as a bowl of noodle soup.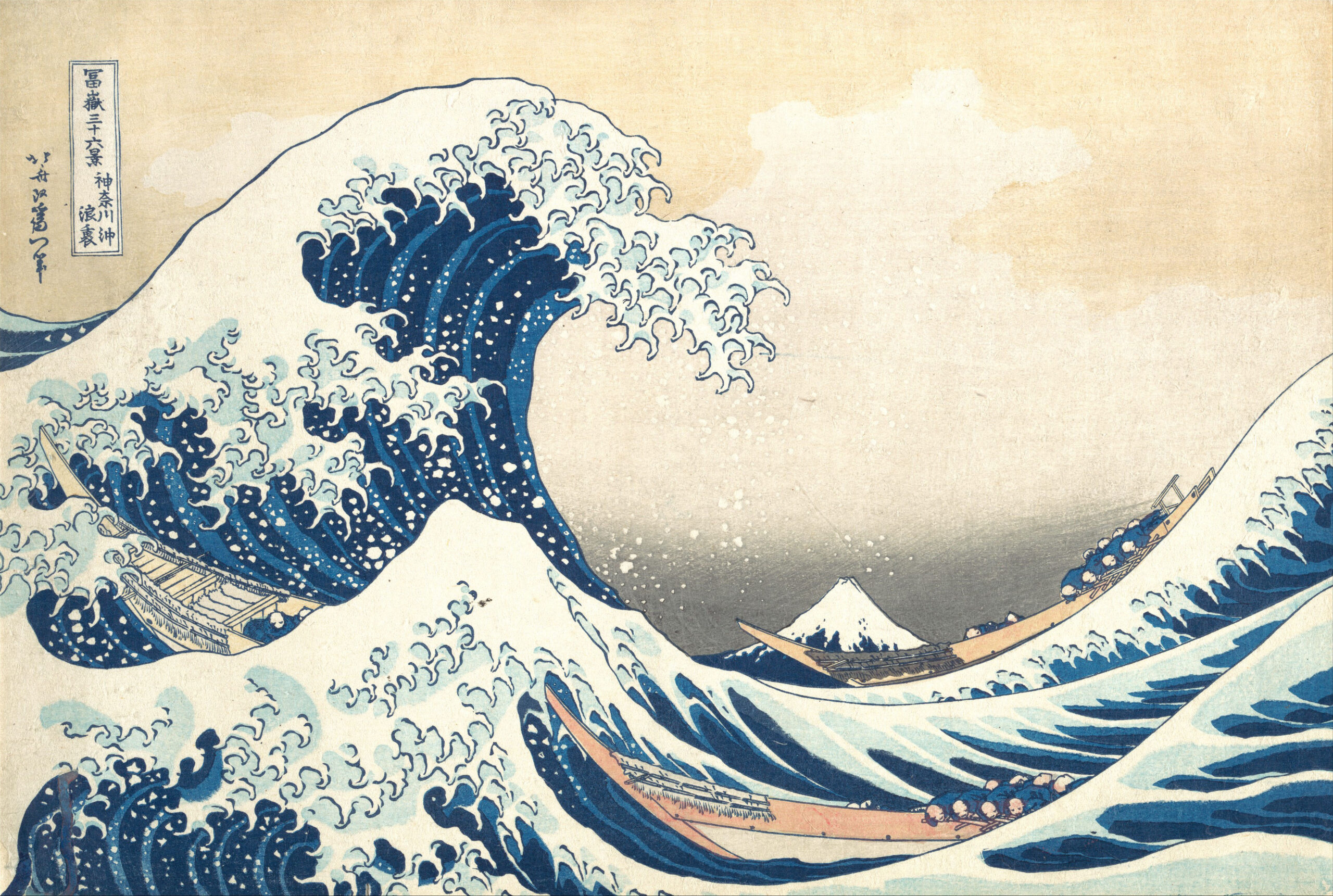 Green, a curator and educator, points out how the water-obsessed Hokusai borrowed elements from both the Rinpa school and Western realism for the Great Wave. The latter can be seen in the use of linear perspective, a low horizon line, and Prussian blue.
An 1867 posthumous showing at the International Exhibition in Paris turned such notable artists as Claude Monet, Edgar Degas, Mary Cassatt, and Henri de Toulouse-Lautrec into major Ukiyo-e fans.
Without them, this iconic plunging breaker might never have spilled over onto our dorm room walls, our shower curtains, our yoga mats, t-shirts, Doc Martens, street art, and tattoos.
Hell, there's even a Lego set and an official Sanrio characters greeting card showing Hello Kitty nonchalantly surfing the crest in a two piece bathing suit, more interested in disporting herself than considering the sort of extreme oceanic events we can expect more of, owing to climate change.
Related Content 
The Ghosts and Monsters of Hokusai: See the Famed Woodblock Artist's Fearsome & Amusing Visions of Strange Apparitions
Thirty-Six Views of Mount Fuji: A Deluxe New Art Book Presents Hokusai's Masterpiece, Including The Great Wave Off Kanagawa
The Evolution of The Great Wave off Kanagawa: See Four Versions That Hokusai Painted Over Nearly 40 Years
View 103 Discovered Drawings by Famed Japanese Woodcut Artist Katsushika Hokusai
Download 215,000 Japanese Woodblock Prints by Masters Spanning the Tradition's 350-Year History
– Ayun Halliday is the Chief Primatologist of the East Village Inky zine and author, most recently, of Creative, Not Famous: The Small Potato Manifesto.  Follow her @AyunHalliday.