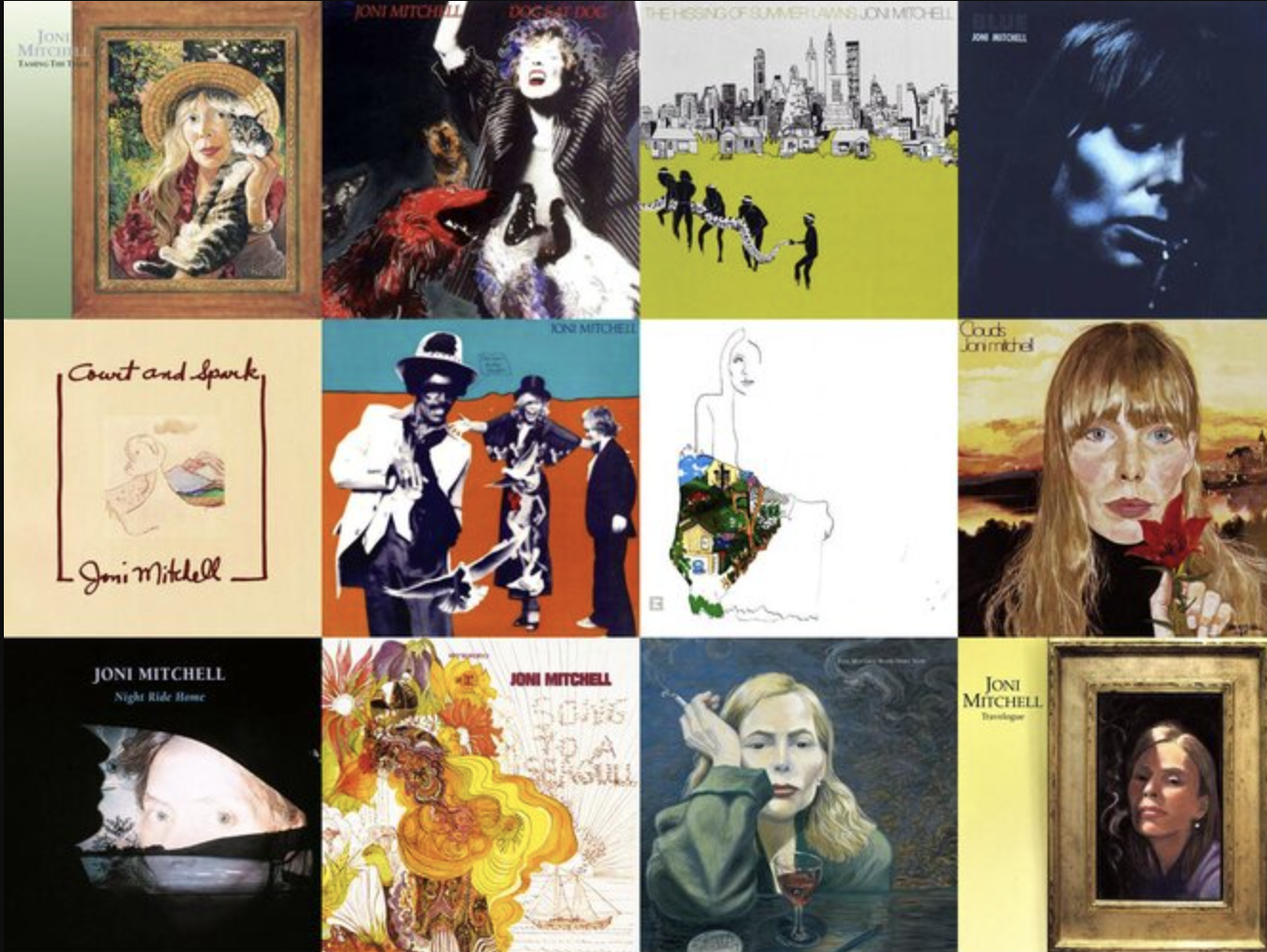 2022 – another difficult year for so many – has drawn to a close.
While not a remedy for all the hardships and privations we've been privy to, Joni Mitchell's music remains good medicine. Listening to her always makes us feel more connected, reflective and calm for at least an hour or two.
Lucky us. The beloved singer-songwriter has given us a New Year's gift – all her albums posted to her official Youtube channel.
What a lovely way to usher the old year offstage, and quietly welcome the new.
We all have our allegiances, though many who identify as fans may discover they've missed a couple releases along the way.
She has, to date, released 19 studio albums, 5 live albums, and an EP, as well as inspiring 2 tribute albums. A recent remark on Elton John's Rocket Hour left us hopeful that more may be in the offing.
Sir Elton is but one of many well known musicians who are unabashed Mitchell fans. Artists as diverse as Harry Styles, k.d. lang, and Herbie Hancock have written songs in response to their favorite Joni cuts.
And the internet teems with covers from both heavy hitters and unknowns. (See them organized by song title on Mitchell's website, where "Both Sides Now" remains the champ with a whopping 1576 renditions.)
Her fourth album, 1971's Blue, seems to garner the most fervent praise…
Taylor Swift: She wrote it about her deepest pains and most haunting demons. Songs like 'River,' which is just about her regrets and doubts of herself – I think this album is my favorite because it explores somebody's soul so deeply."
James Taylor:  I said it probably too many times that Joni is like, you tap the tree, and you know, it's like maple syrup. This stuff, this nectar comes out of the most unusual places.
Jewel: On Blue, you hear everything she experienced, the highs and the lows. It's such a lonely album — not in the "I don't have any friends" sense but in the sense that you're a little bit removed, and always watching. It takes a lot of courage to be that honest, especially as a woman. 
Prince on The Hissing of Summer Lawns:
It was the last album I loved all the way through.
Boy George on Court and Spark:
I've bought this for many people because it is probably her most accessible [album]. I love unusual voices and I've sat and cried to so many of her songs. My favorite is Car On A Hill because I've done what it's about: waited for the boyfriend to turn up as the cars go by.
Björk on 1977's double album, Don Juan's Reckless Daughter and Hejira:
I think it was that accidental thing in Iceland, where the wrong albums arrive to shore, because I was obsessed with Don Juan's Reckless Daughter and Hejira as a teenager. I hear much more of her in those albums. She almost made her own type of music style with those, it's more a woman's world."
Sisters Danielle and Este Haim on 1974's live album Miles of Aisles:
There's a little bit of everything. Songs from all her albums up until then, and she's playing them with the L.A. Express, which was this amazing jazz band… a reimagining of a lot of her early work through this jazz lens.
Enjoy a lovely wander through Joni Mitchell's oeuvre here. When you click on this page, scroll down to the "Albums & Singles" section, and then move (from left to right) through the entire discography.
Related Content 
Joni Mitchell Tells Elton John the Stories Behind Her Iconic Songs: "Both Sides Now," "Carey" & More
Watch the Full Set of Joni Mitchell's Amazing Comeback Performance at the Newport Folk Festival
Songs by Joni Mitchell Re-Imagined as Pulp Fiction Book Covers & Vintage Movie Posters
Hear Demos & Outtakes of Joni Mitchell's Blue on the 50th Anniversary of the Classic Album
How Joni Mitchell Learned to Play Guitar Again After a 2015 Brain Aneurysm–and Made It Back to the Newport Folk Festival
How Joni Mitchell Wrote "Woodstock," the Song that Defined the Legendary Music Festival, Even Though She Wasn't There (1969)
– Ayun Halliday is the Chief Primatologist of the East Village Inky zine and author, most recently, of Creative, Not Famous: The Small Potato Manifesto.  Follow her @AyunHalliday.