Wes Ander­son has been mak­ing fea­ture films for 27 years now, and in that time his work has grown more tem­po­ral­ly and geo­graph­i­cal­ly spe­cif­ic. Though shot in his native Texas in the late nine­teen-nineties, his break­out pic­ture Rush­more seemed to take place in no one part of the Unit­ed States — and even more strik­ing­ly, no one iden­ti­fi­able era. Few film­go­ers had seen any­thing like Ander­son­'s clean-edged retro sen­si­bil­i­ty before, and in sub­se­quent projects like The Roy­al Tenen­baums and The Life Aquat­ic with Steve Zis­sou, it inten­si­fied con­sid­er­ably. Then, in 2012, came Moon­rise King­dom, which took the Ander­son­ian aes­thet­ic to a par­tic­u­lar time and place: New Eng­land in the fall of 1965.
Since then, Ander­son and his col­lab­o­ra­tors have told sto­ries in their dis­tinc­tive visions of East­ern Europe, Japan, and France — but always, explic­it­ly or implic­it­ly, in one peri­od or anoth­er of the mid-twen­ti­eth cen­tu­ry. Judg­ing by its new­ly released trail­er, the events of Ander­son­'s next film Aster­oid City occur in per­haps the most mid-twen­ti­eth-cen­tu­ry year imag­in­able, 1955, and in small-town Amer­i­ca at that.
Or rather, very small-town Amer­i­ca: Aster­oid City itself appears to be locat­ed in the mid­dle of the Ari­zona desert (though shot in Spain, in keep­ing with Ander­son­'s increas­ing­ly Europe-ori­ent­ed pro­duc­tion habits), and with noth­ing more excit­ing going on — apart from the occa­sion­al dis­tant nuclear-weapons test — than an annu­al "junior stargaz­er com­pe­ti­tion."
The film "tells the sto­ry of a belea­guered wid­ow­er (Jason Schwartz­man) who's busy schlep­ping his four chil­dren across the coun­try to see their grand­fa­ther (Tom Han­ks) when their car sud­den­ly breaks down," writes The Verge's Charles Pul­liam-More. This strands the fam­i­ly in the tit­u­lar town, with its "strange earth­quakes that no one knows the true cause of, fears about whether aliens might be lurk­ing among the humans liv­ing in Aster­oid City, and mul­ti­ple sight­ings of a celebri­ty (Scar­lett Johans­son)." As fans can already guess from this sum­ma­ry, the ensem­ble cast includes more than a few Ander­son reg­u­lars, also includ­ing Edward Nor­ton, Adrien Brody, Willem Dafoe, Jeff Gold­blum, and Bob Bal­a­ban. A case of COVID-19 kept Bill Mur­ray from par­tic­i­pat­ing, but even so, nobody who sees the trail­er can doubt that the view­ing expe­ri­ence of Aster­oid City will be high­ly Ander­son­ian indeed.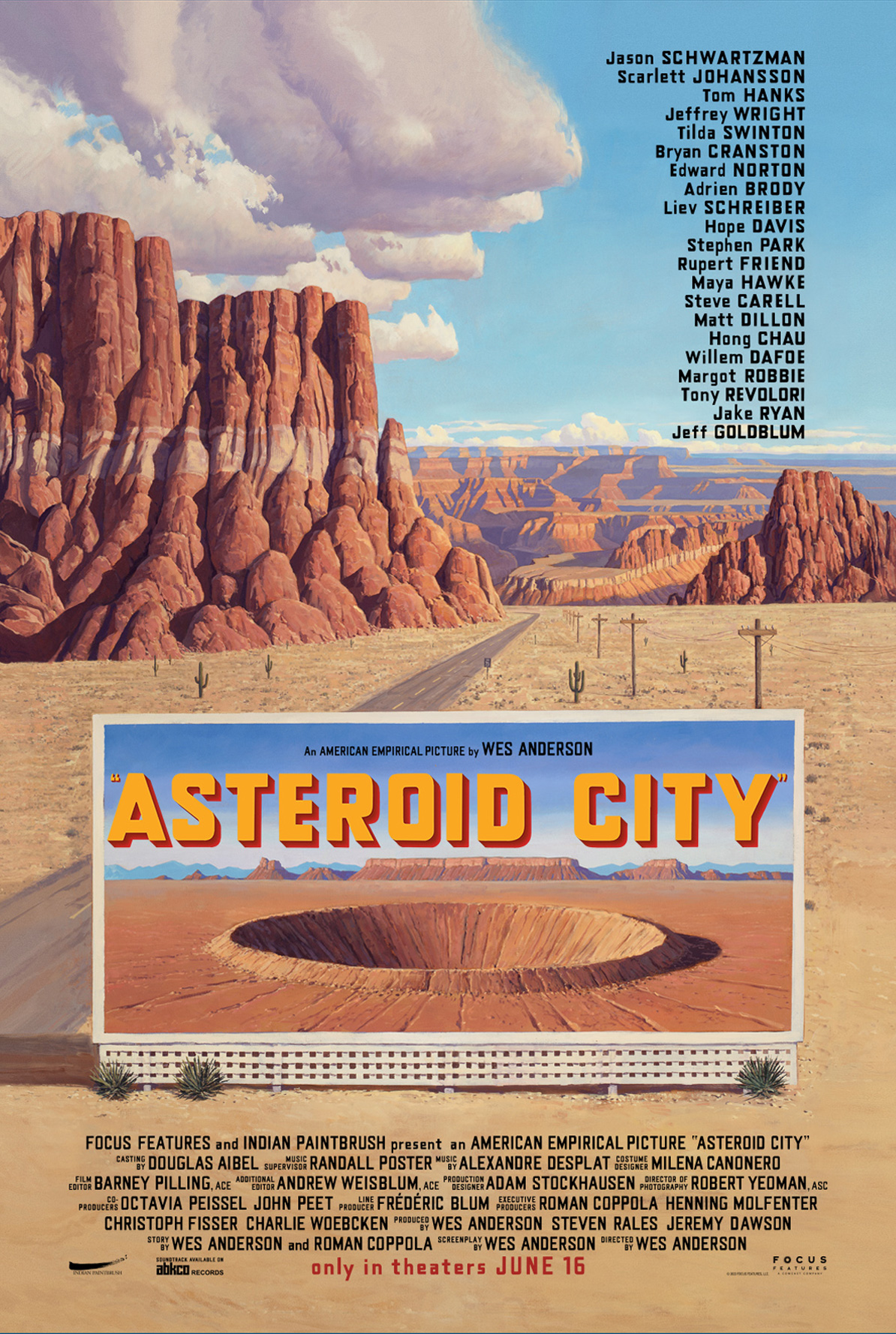 Relat­ed con­tent:
Wes Ander­son Explains How He Writes and Directs Movies, and What Goes Into His Dis­tinc­tive Film­mak­ing Style
Why Do Wes Ander­son Movies Look Like That?
Wes Anderson's Shorts Films & Com­mer­cials: A Playlist of 8 Short Ander­son­ian Works
The Per­fect Sym­me­try of Wes Anderson's Movies
Wes Ander­son & Yasu­jiro Ozu: New Video Essay Reveals the Unex­pect­ed Par­al­lels Between Two Great Film­mak­ers
Wes Anderson's Break­through Film, Rush­more, Revis­it­ed in Five Video Essays: It Came Out 20 Years Ago Today
Based in Seoul, Col­in Marshall writes and broad­casts on cities, lan­guage, and cul­ture. His projects include the Sub­stack newslet­ter Books on Cities, the book The State­less City: a Walk through 21st-Cen­tu­ry Los Ange­les and the video series The City in Cin­e­ma. Fol­low him on Twit­ter at @colinmarshall or on Face­book.