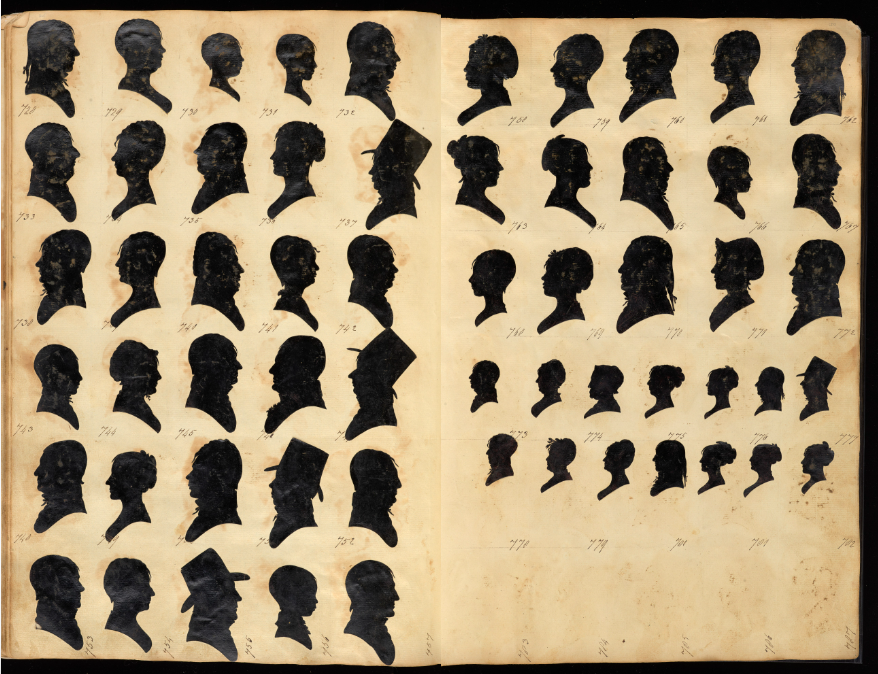 With the excep­tion of Kara Walker's provoca­tive cut paper nar­ra­tives, sil­hou­ettes haven't struck us as a par­tic­u­lar­ly reveal­ing art form.
Per­haps we would have felt dif­fer­ent­ly in the ear­ly 19th-cen­tu­ry, when sil­hou­ettes offered a quick and afford­able alter­na­tive to oil por­traits, and pho­tog­ra­phy had yet to be invent­ed.
Self-taught sil­hou­ette artist William Bache trav­eled the east­ern seaboard, and lat­er to New Orleans and Cuba, ply­ing his trade with a phys­iog­no­trace, a device that helped him out­line sub­jects' pro­files on fold­ed sheets of light paper.
Once a pro­file had been cap­tured, Bache care­ful­ly cut inside the trac­ing and affixed the "hol­low-cut" sur­round­ing sheet to black paper, cre­at­ing the appear­ance of a hand-cut black sil­hou­ette on a white back­ground.
Cus­tomers could pur­chase four copies of these shad­ow like­ness­es for 25¢, which, adjust­ed for infla­tion, is about the same amount as a pho­to strip in one of New York City's vin­tage pho­to­booths these days — $5.
Bache was an ener­getic pro­mot­er of his ser­vices, adver­tis­ing that if cus­tomers found it incon­ve­nient to vis­it one of his pop-up stu­dios, he would "at the short­est notice, wait upon them at their own Dwellings with­out any addi­tion­al expense."
Nat­u­ral­ly, peo­ple were eager to lay hands on sil­hou­ettes of their chil­dren and sweet­hearts, too.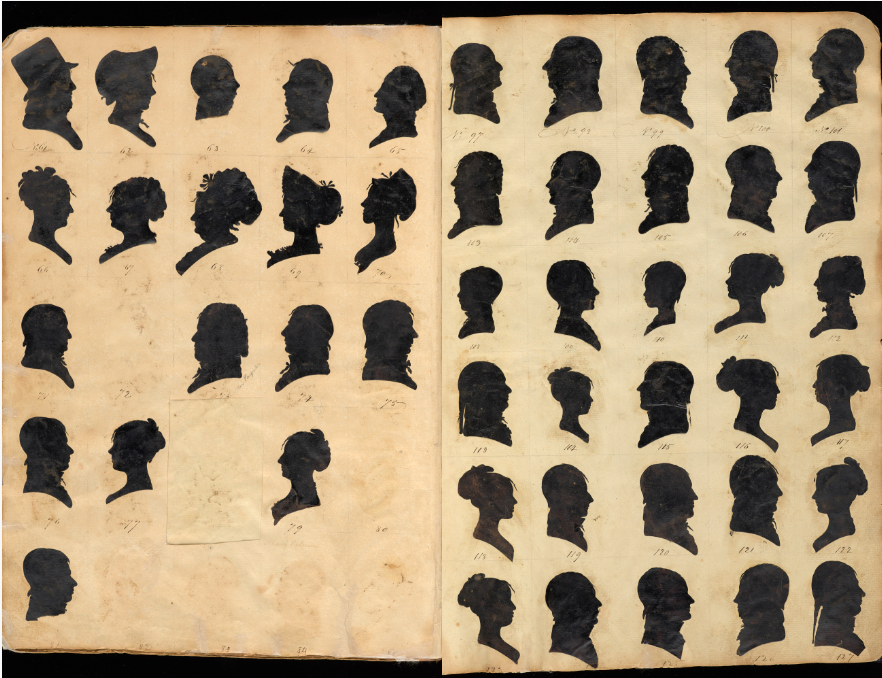 One of Bache's com­peti­tors, Raphaelle Peale assumed the per­spec­tive of a sat­is­fied male cus­tomer to tout his own busi­ness:
'Tis almost her­self, Eliza­'s shade,
Thus by the faith­ful faci­etrace pour­tray'd!
Her placid brow and pout­ing lips, whose swell
My fond impa­tient ardor would repell.
Let me then take that vacant seat, and there
Inhale her breath, scarce min­gled with the air:
And thou blest instru­ment! which o'er her face
Did'st at her lips one moment pause, retrace
My glow­ing form and leave, unequal­l'd bliss!
Bor­row'd from her, a sweet ethe­r­i­al Kiss.
Hot stuff, though hope­ful­ly besot­ted young lovers refrained from press­ing their lips to the sil­hou­ettes they loved best. Con­ser­va­tors in the Smithsonian's Nation­al Por­trait Gallery, which hous­es Bache's sam­ple book, a ledger filled with like­ness­es of some 1,800 sit­ters, dis­cov­ered it to be suf­fused with arsenic, pre­sum­ably meant to repel invad­ing rodents and insects.
Most of the heads in Bache's album arrived uniden­ti­fied, but by comb­ing through dig­i­tized news­pa­pers, his­to­ry books, bap­tismal records, wills, mar­riage cer­tifi­cates and Ancestry.com, lead cura­tor Robyn Asle­son and Get­ty-fund­ed research assis­tant Eliz­a­beth Isaac­son have man­aged to iden­ti­fy over 1000.
There are some whose names — and pro­files — remain well known more than 200 years lat­er. Can you iden­ti­fy George Wash­ing­ton, Martha Wash­ing­ton, and Thomas Jef­fer­son on the album page below?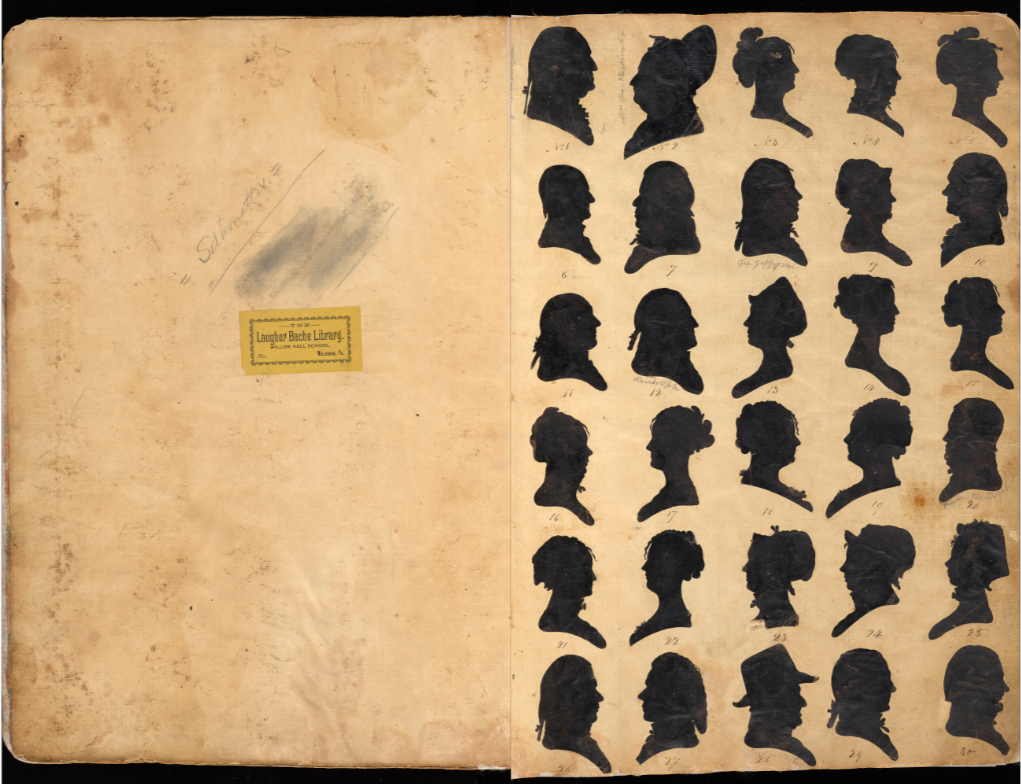 Some pages con­tain entire fam­i­lies. Pedro Bide­tre­noul­leau coughed up $1.25 for his own like­ness, as well as those of his wife, and chil­dren Félix, Adele, and Zacharine, num­bers 638 through 642, below.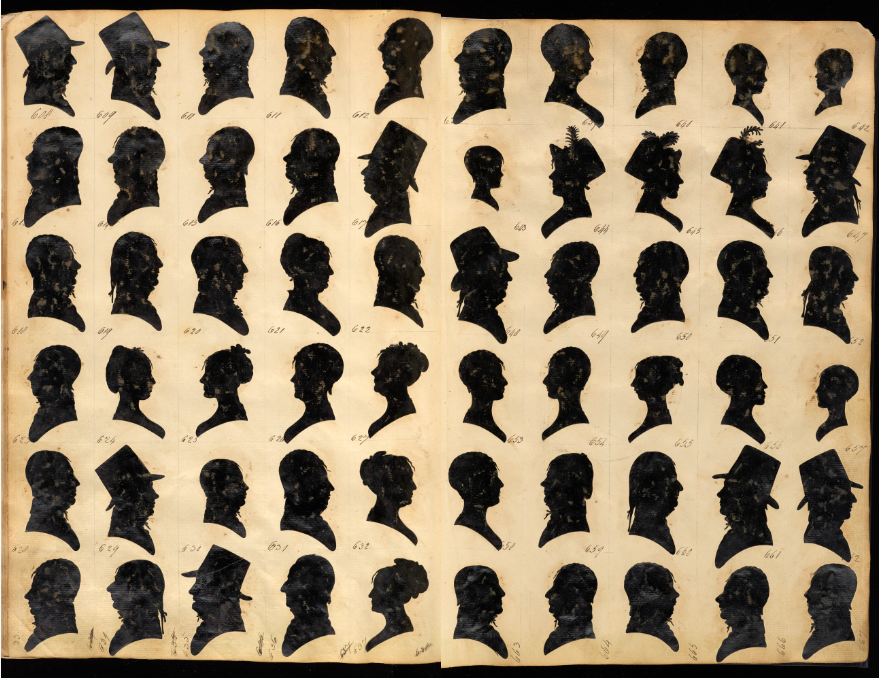 Bache's trav­els to New Orleans and Cuba make for a racial­ly diverse col­lec­tion, though lit­tle is known about most of the Black sit­ters. Dr. Asle­son sus­pects some of these might be the only exist­ing por­traits of these indi­vid­u­als, par­tic­u­lar­ly in the case of New Orlea­ni­ans in mixed-race rela­tion­ships, whose descen­dants destroyed strate­gic evi­dence in the effort to "pass" as white:
As I was learn­ing more and more about this his­to­ry, I real­ly began to hope that some of the peo­ple who are try­ing to find their her­itage today, who real­ize it might have been delib­er­ate­ly erad­i­cat­ed to pro­tect their ances­tors from oppres­sion, might have the chance to dis­cov­er an image of a great-great-grand­fa­ther or grand­moth­er.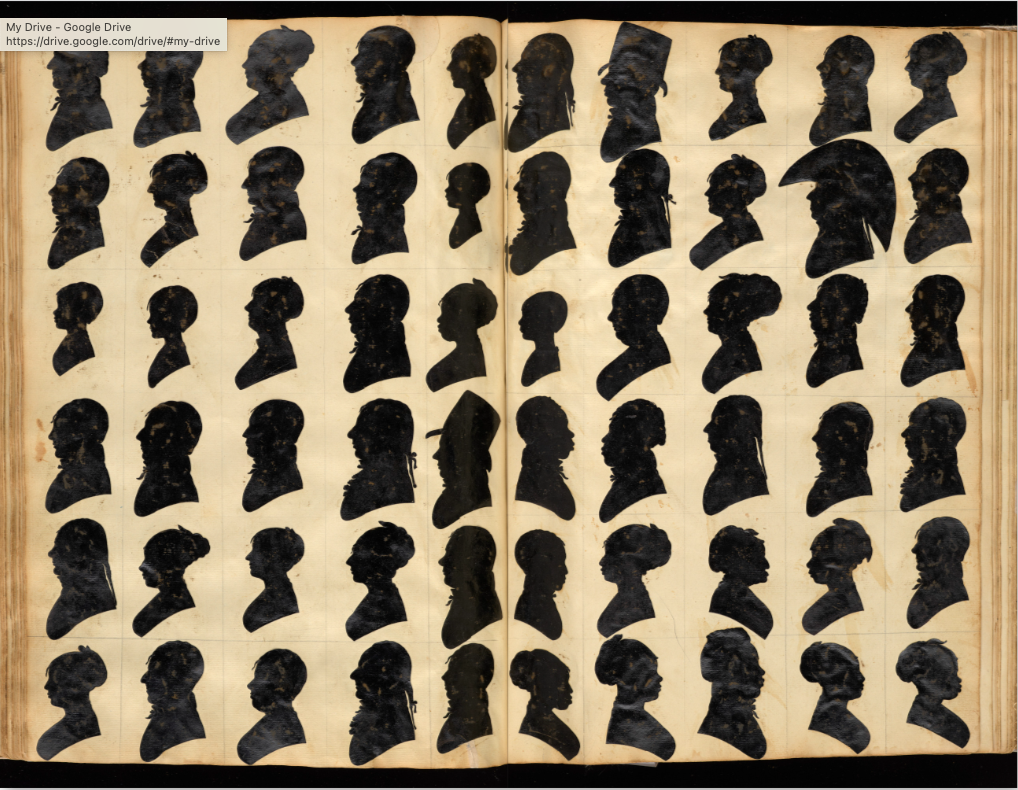 Read­ers, if you are the care­tak­er of passed down fam­i­ly sil­hou­ettes, per­haps you can help the cura­tors get clos­er to putting a name to some­one who cur­rent­ly exists as lit­tle more than a shad­ow in inter­est­ing head­gear.
Even if you're not in pos­ses­sion of a sil­hou­ette, you may well be one of the tens of thou­sands liv­ing in the Unit­ed States today con­nect­ed to the album by blood.
Explore an arsenic-free, inter­ac­tive copy of William Bache's sil­hou­ette ledger book here.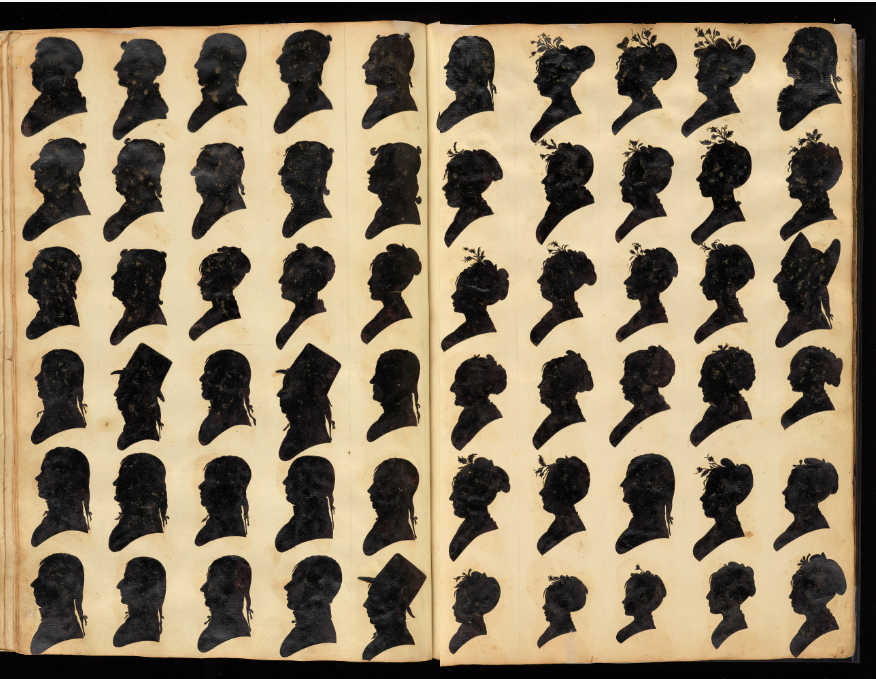 Relat­ed Con­tent
The Ground­break­ing Sil­hou­ette Ani­ma­tions of Lotte Reiniger: Cin­derel­la, Hansel and Gre­tel, and More
Behold 900+ Mag­nif­i­cent Botan­i­cal Col­lages Cre­at­ed by a 72-Year-Old Wid­ow, Start­ing in 1772
– Ayun Hal­l­i­day is the Chief Pri­ma­tol­o­gist of the East Vil­lage Inky zine and author, most recent­ly, of Cre­ative, Not Famous: The Small Pota­to Man­i­festo and Cre­ative, Not Famous Activ­i­ty Book. Fol­low her @AyunHalliday.