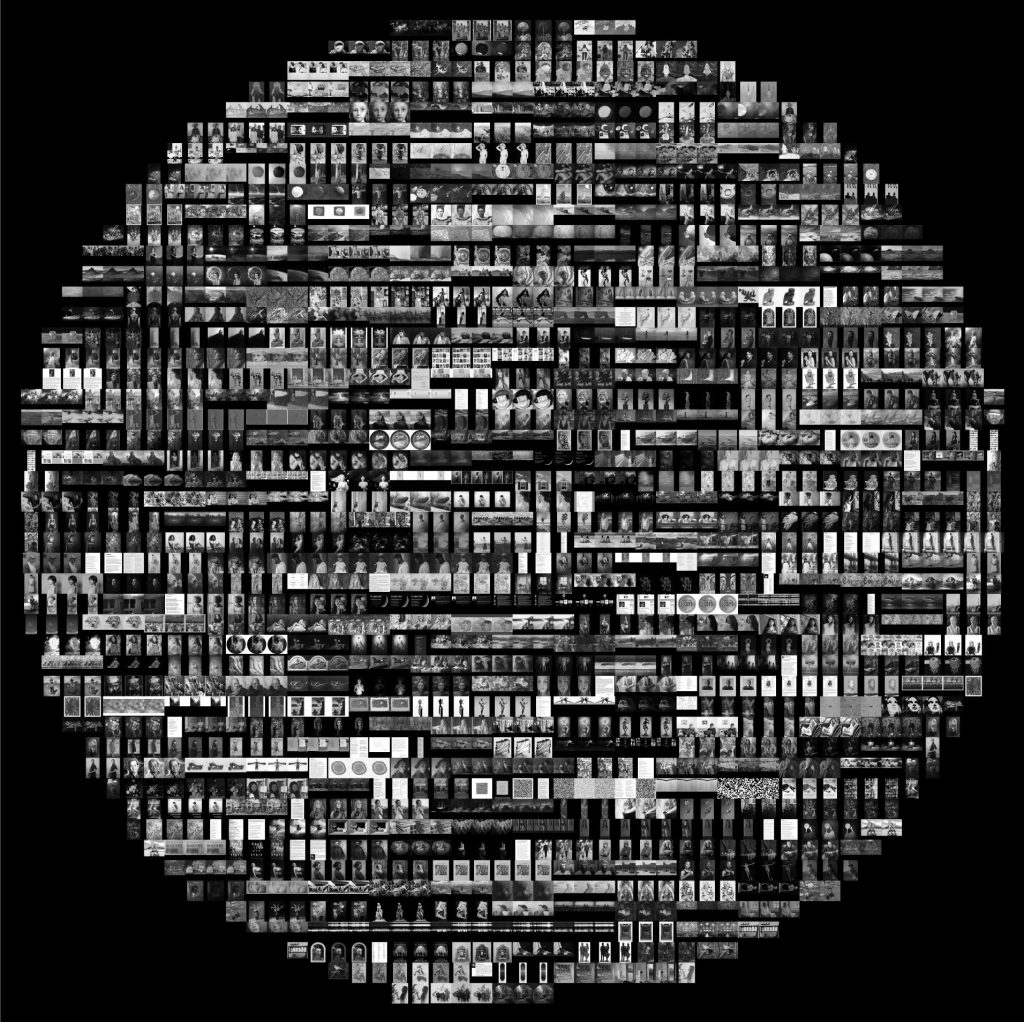 There may not yet be civilization on the moon, but that doesn't mean there's no culture up there. We've previously featured the tiny ceramic tile, smuggled onto the Apollo 12 lunar lander, that bears art by the likes of Claes Oldenburg, Robert Rauschenberg, and Andy Warhol. "Fallen Astronaut, an aluminum sculpture by the Belgian artist Paul van Hoeydonck, was left on the lunar surface by the Apollo 15 crew in 1971," writes the New York Times' J. D. Biersdorfer. "The Arch Mission Foundation has sent Isaac Asimov's Foundation trilogy and millions of Lunar Library pages into space," and artists like Jeff Koons and Sacha Jafri are among the artists currently aiming to install their own work on the moon's surface.
The Lunar Codex has grander ambitions, having assembled works from "over 30,000 artists, writers, musicians, and filmmakers, from 158 countries, in four time capsules launched to the moon." You can browse their contents at the project's official web site, which breaks it all down into not just eight "galleries" of visual art, but also sections dedicated to film, television, music, and poetry, among other forms and media. There's even a section for books and novels (as well as another, oddly, for novels and books), which includes a large number of curious titles to represent the achievements of human civilization: Kamikaze Kangaroos, Goofy Newfies, Don't Taco 'Bout Murder, In Bed with Her Millionaire Foe.
Also among all these books, stored on either digital memory cards or a nickel-based medium called NanoFiche, is The Zoo at the End of the World by one Samuel Peralta, who also happens to be the mastermind of the Lunar Codex project. "A semiretired physicist and author in Canada with a love of the arts and sciences," Peralta has selected for preservation on the moon everything from "prints from war-torn Ukraine" to "more than 130 issues of PoetsArtists magazine" to images like "New American Gothic, by Ayana Ross, the winner of the 2021 Bennett Prize for women artists; Emerald Girl, a portrait in Lego bricks by Pauline Aubey; and the aptly titled New Moon, a 1980 serigraph by Alex Colville."
All the work to be placed on the moon through the Lunar Codex was created by artists who are now active, or have been active in the past decade or two. As such, it reflects a particular moment in the cultural history of humanity, constituting what Peralta calls "a message in the bottle for the future that during this time of war, pandemic and economic upheaval people still found time to create beauty." They also found time to create podcasts, as will be evidenced by the inclusion of a quarter-century-long archive of Grace Cavalieri's interview show The Poet and the Poem, which has reached a new audience in recent years through that relatively new format — one that, to future generations of spacefarers making a stop on the moon, will offer as good a representation as any of life on Earth in the twenty-first century.
Related content:
Carl Sagan Sent Music & Photos Into Space So That Aliens Could Understand Human Civilization (Even After We're Gone)
NASA Enlists Andy Warhol, Annie Leibovitz, Norman Rockwell & 350 Other Artists to Visually Document America's Space Program
There's a Tiny Art Museum on the Moon That Features the Art of Andy Warhol & Robert Rauschenberg
Laurie Anderson Creates a Virtual Reality Installation That Takes Viewers on an Unconventional Tour of the Moon
NASA Puts Online a Big Collection of Space Sounds, and They're Free to Download and Use
Based in Seoul, Colin Marshall writes and broadcasts on cities, language, and culture. His projects include the Substack newsletter Books on Cities, the book The Stateless City: a Walk through 21st-Century Los Angeles and the video series The City in Cinema. Follow him on Twitter at @colinmarshall or on Facebook.