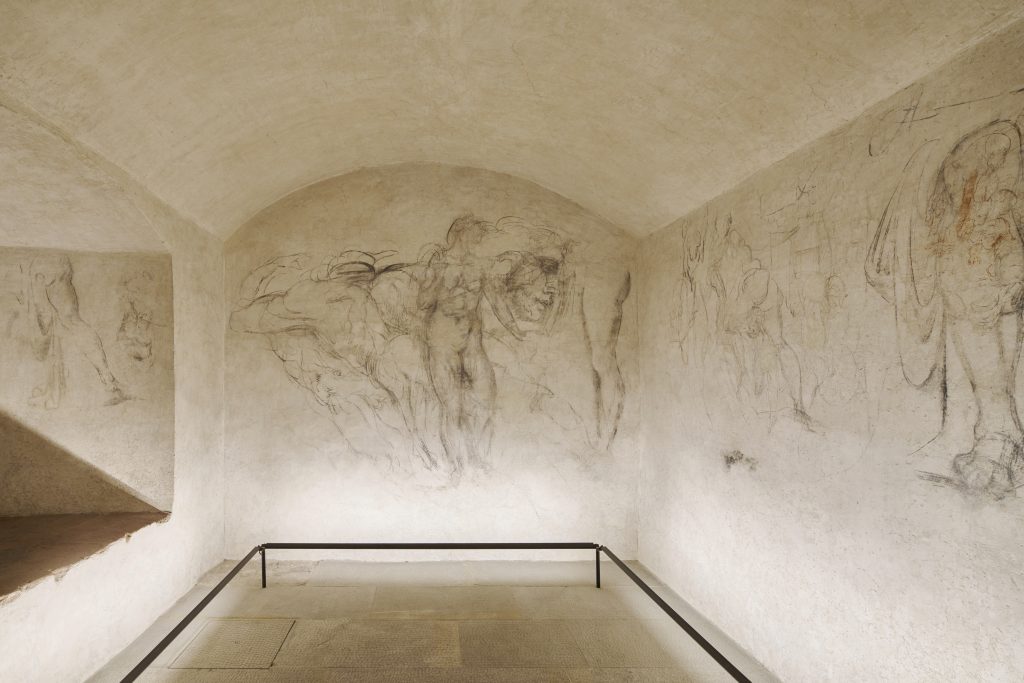 Images on this page come cour­tesy of the Musei del Bargel­lo
In the year 1530, Michelan­ge­lo was sen­tenced to death by Pope Clement VII — who, not coin­ci­den­tal­ly, was born Giulio de' Medici. That famous dynasty, which once seemed to hold absolute eco­nom­ic and polit­i­cal pow­er in Flo­rence, had just seen off a vio­lent chal­lenge to its rule by repub­li­can-mind­ed Flo­ren­tines who, embold­ened by the sack of Rome in 1527, took their city from the House of Medici that same year. Alas, that par­tic­u­lar Repub­lic of Flo­rence proved short-lived, thanks to the pope and Emper­or Charles V's agree­ment agreed to use mil­i­tary pow­er to return it to Medici hands.
Dur­ing the strug­gles against the Medici, the Flo­rence-born Michelan­ge­lo had come to the aid of his home­town by work­ing on its for­ti­fi­ca­tions. It seems to have been his par­tic­i­pa­tion in the revolt that drew the ire of the Medici, despite their court's on-and-off patron­age of his work for the pre­ced­ing four decades.
Mer­ci­ful­ly, they nev­er actu­al­ly exe­cut­ed Michelan­ge­lo, and indeed par­doned him before long–not least so he could fin­ish his work on the Sis­tine Chapel and the Medici fam­i­ly tomb. But how did he occu­py him­self while still liv­ing under the death sen­tence?
As one the­o­ry has it, he sim­ply hid out — and in a cor­ner of what's now the Medici Chapels Muse­um at that. In a "tiny cham­ber beneath the Medici Chapels in the Basil­i­ca of San Loren­zo in 1530," writes the Guardian's Angela Giuf­fri­da, Michelan­ge­lo spent a cou­ple months "mak­ing dozens of draw­ings that are rem­i­nis­cent of his pre­vi­ous works, includ­ing a draw­ing of Leda and the Swan, a paint­ing pro­duced dur­ing the same year that was lat­er lost." All of these he drew direct­ly on the walls, and their exis­tence "remained unknown until 1975 when Pao­lo Dal Pogget­to, then the direc­tor of the Medici Chapels, one of five muse­ums that make up the Bargel­lo Muse­ums, was search­ing for a suit­able space to cre­ate a new exit for the muse­um."
"Oth­ers doubt that Michelan­ge­lo, already in his 50s and an acclaimed artist with pow­er­ful patrons, would have spent time in such a dingy hide out," writes the New York Times' Jason Horowitz. "But many schol­ars believe that the sketch­es show his hand": the "impos­ing nude near the entrance" that evokes The Res­ur­rec­tion of Christ; the sketch­es that "resem­ble the cen­tral fig­ure of his The Fall of Phaeton. Some even think a flexed and dis­em­bod­ied arm on the wall evokes his David stat­ue." And start­ing next week, vis­i­tors will be able to judge these very draw­ings for them­selves.
Not that you can just waltz into this stan­za seg­re­ta: "Vis­its will be kept to groups of four and lim­it­ed to 15 min­utes, with 45 minute lights-out peri­ods in between to pro­tect the draw­ings," Horowitz writes. 'Tick­ets, each con­nect­ed to a spe­cif­ic per­son whose I.D. will be checked to pre­vent tour oper­a­tors from gob­bling them up, will cost 32 euros (about $34), and include access to the Medici tombs." Dur­ing your own fif­teen min­utes in this cramped, obscure room turned taste­ful­ly-lit gallery, you may or may not feel the pres­ence of Michelan­ge­lo, but you'll sure­ly find your­self remind­ed that a true artist nev­er stops cre­at­ing, no mat­ter the cir­cum­stances in which he finds him­self.
Relat­ed Con­tent:
Watch the Painstak­ing and Nerve-Rack­ing Process of Restor­ing a Draw­ing by Michelan­ge­lo
Michelangelo's David: The Fas­ci­nat­ing Sto­ry Behind the Renais­sance Mar­ble Cre­ation
Michelan­ge­lo Entered a Com­pe­ti­tion to Put a Miss­ing Arm Back on Lao­coön and His Sons — and Lost
New Video Shows What May Be Michelangelo's Lost & Now Found Bronze Sculp­tures
Michelangelo's Illus­trat­ed Gro­cery List
School Prin­ci­pal, Forced to Resign After Stu­dents Learn About Michelangelo's David, Vis­its the Renais­sance Stat­ue in Flo­rence
Based in Seoul, Col­in Marshall writes and broad­casts on cities, lan­guage, and cul­ture. His projects include the Sub­stack newslet­ter Books on Cities, the book The State­less City: a Walk through 21st-Cen­tu­ry Los Ange­les and the video series The City in Cin­e­ma. Fol­low him on Twit­ter at @colinmarshall or on Face­book.