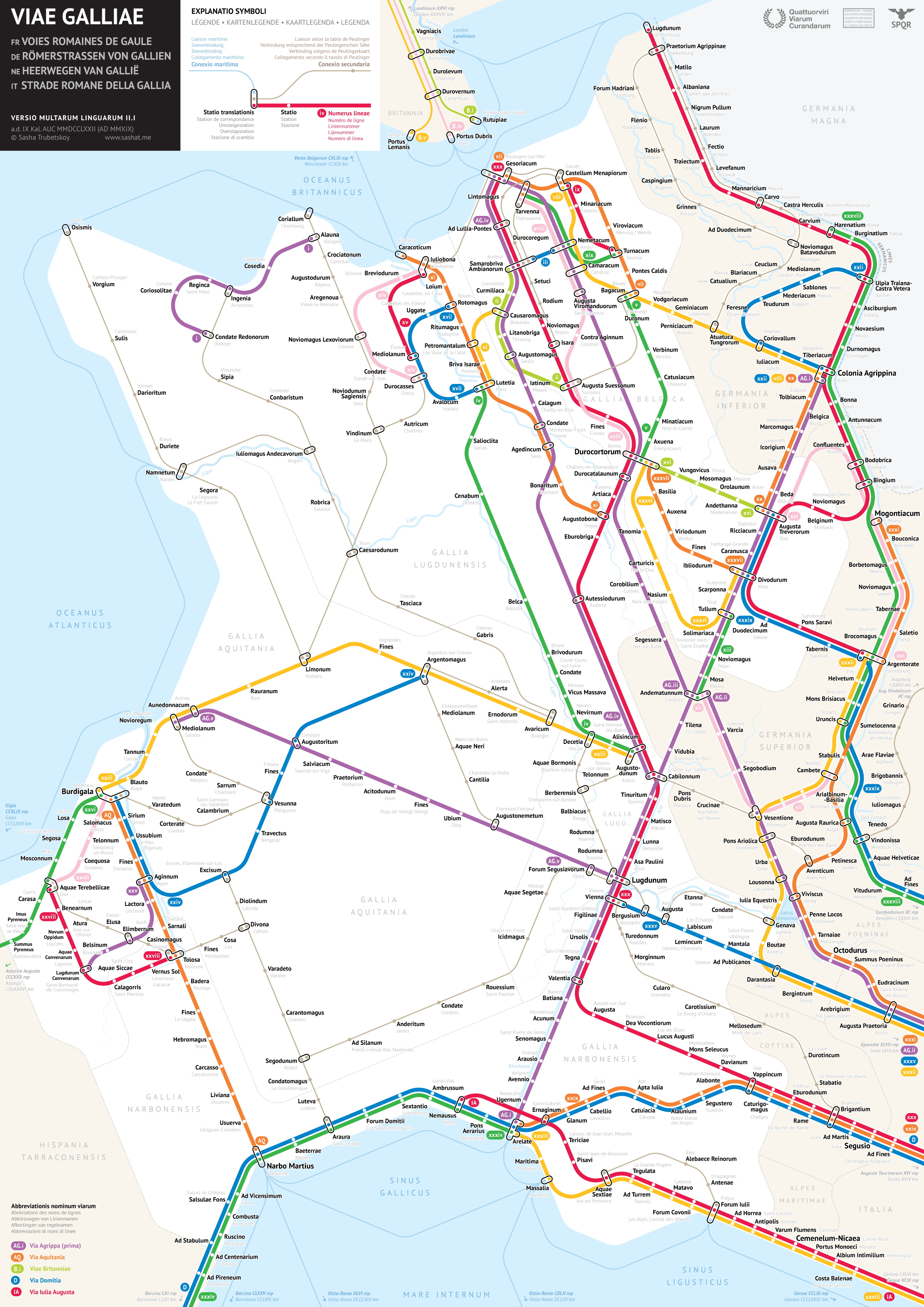 At a casu­al glance, some trav­el­ers may take the map above for a depic­tion of France's envi­able inter­ci­ty high-speed rail net­work Train à Grande Vitesse, bet­ter known as TGV. In real­i­ty, its con­tent pre­dates that sys­tem's inau­gu­ra­tion in the ear­ly 1980s — and by near­ly two mil­len­nia at that. This is in fact a map of Gaul, a region of Europe that, most broad­ly defined, includ­ed mod­ern-day France, Lux­em­bourg, and Bel­gium, as well as parts of Switzer­land, Italy, the Nether­lands, and Ger­many. Ruled by Rome for five cen­turies until the fall of the Roman Empire itself, Gaul was run through with a num­ber of Roman roads, a sub­ject of fas­ci­na­tion for many archae­o­log­i­cal­ly inclined his­to­ri­ans.
They've also become a sub­ject of fas­ci­na­tion for a young data sci­en­tist and graph­ic design­er by the name of Sasha Tru­bet­skoy. His work, much fea­tured here on Open Cul­ture, includes maps of the Roman Roads of Britain, Italy, Spain and Por­tu­gal, as well as, at a larg­er scale, those of the entire empire.
"This was an inter­est­ing map to make, but I can't say it was fun all the time," writes Tru­bet­skoy. "Gen­er­al­ly I enjoyed the process, but it was far more chal­leng­ing than I had antic­i­pat­ed." You can hear him describe some of the chal­lenges involved, and even show how solv­ing them played out in his design process, in his three-hour explana­to­ry live stream now archived on Youtube.
You can down­load Tru­bet­skoy's Roman Roads of Gaul map from his site, and even buy a high-res­o­lu­tion file suit­able for print­ing as a poster (USD $9). "As far as I can tell, it's done," writes Tru­bet­skoy of the work, wise­ly — or from frus­trat­ing per­son­al expe­ri­ence — acknowl­edg­ing that, despite or because of the cen­turies of dis­tance between us and the rel­e­vant his­tor­i­cal and geo­graph­i­cal facts, those facts could still change. Just as ancient his­to­ry can­not both make its way to us and main­tain absolute­ly per­fect fideli­ty to the past, so the kind of prac­ti­cal visu­al design embod­ied in a sub­way map neces­si­tates a great deal of sim­pli­fi­ca­tion and approx­i­ma­tion to be use­ful. And speak­ing of the graph­ic arts, just imag­ine how use­ful this par­tic­u­lar map would've been to Aster­ix.
Relat­ed Con­tent:
Ancient Rome's Sys­tem of Roads Visu­al­ized in the Style of Mod­ern Sub­way Maps
The Roman Roads of Britain Visu­al­ized as a Sub­way Map
All the Roman Roads of Italy, Visu­al­ized as a Mod­ern Sub­way Map
The Roman Roads of Spain & Por­tu­gal Visu­al­ized as a Sub­way Map: Ancient His­to­ry Meets Mod­ern Graph­ic Design
Based in Seoul, Col­in Mar­shall writes and broad­casts on cities, lan­guage, and cul­ture. His projects include the Sub­stack newslet­ter Books on Cities, the book The State­less City: a Walk through 21st-Cen­tu­ry Los Ange­les and the video series The City in Cin­e­ma. Fol­low him on Twit­ter at @colinmarshall or on Face­book.