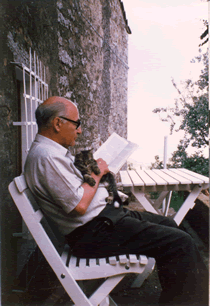 During the 1960s and 1970s, the University of Wisconsin-Madison put together one of the finest history programs in the United States, and it was anchored by George Mosse, a German-born cultural historian who authored 25 books covering the English Reformation, Lutheran theology, Jewish history, and fascist ideology. Though he died in 1999, Mosse still remains a legendary figure in Madison, and now the university (where I did my undergraduate work -- in history, no less) has dusted off recordings of his courses and made them freely available online.
Three of his courses tie together into a nice package, offering a long look at European Cultural History. The first course takes you from 1500 t0 1800, covering the Renaissance, Reformation, English Revolution, Enlightenment, and French Revolution. The second course moves from 1660 to 1880, focusing on the ideas that changed Europe. It's essentially an intellectual history that traces the rise of Enlightenment thinking, German Romanticism and Idealism (including Hegelianism), the birth of liberalism and Marxism and beyond. And, finally, the last course focuses on the critical period 1880 - 1920. Here we have a survey of the cultural revolt against bourgeois society, the rise of modern culture (figures like Nietzsche, Freud, & Brecht take center stage), the damage wrought by World War I, and the beginnings of fascism in Europe.
The courses, all presented in audio, are usually accompanied by text summaries. You can download a fourth course by Mosse called Modern Jewish History. They all appear in the History section of our big collection, 1,300 Free Online Courses from Top Universities.