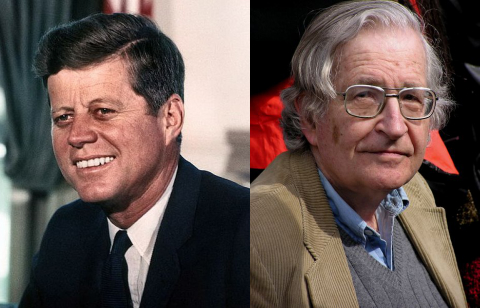 In recent decades, historians have tried to offer a balanced assessment of JFK's life and legacy, offering clear-eyed accounts of his handling of foreign and domestic policy, and raising questions about his infidelities and health problems, all the while chipping away at the Camelot myth. On Friday, the 50th anniversary of the Kennedy assassination, the hagiography returned, and even perennial cads like Rush Limbaugh had little bad to say about America's 35th president. He simply insisted that JFK would be a conservative, if still alive today.
Perhaps the only notable exception was Noam Chomsky. Never a fan of Kennedy (or probably any other American president for that matter), Chomsky was asked by Truthout, "Do you find it odd that the country is focusing on a 50th anniversary remembrance of the Kennedy assassination?" A leading question, no doubt, to which Chomksy replied, "Worship of leaders is a technique of indoctrination that goes back to the crazed George Washington cult of the 18th century and on to the truly lunatic Reagan cult of today, both of which would impress Kim Il-sung. The JFK cult is similar." It's what you get when you live in "a deeply indoctrinated society." If you're ready to have Chomsky throw more cold water (or is it combustible gasoline?) on the JFK legacy, head over to Truthout for more.
P.S. Don't shoot the messenger on this...
via Leiter Reports
Related Content:
Noam Chomsky Slams Žižek and Lacan: Empty 'Posturing'
Clash of the Titans: Noam Chomsky and Michel Foucault Debate Human Nature and Power on Dutch TV, 1971
Watch Manufacturing Consent: Noam Chomsky and the Media (1992)
Noam Chomsky vs. William F. Buckley, 1969