Good thing Austin-based designer Michael Yates studied abroad. Three months spent in the vicinity of Kyoto as a Texas A&M electrical engineering student ultimately inspired him to abandon the profession for which he had trained, in order to pursue woodworking. "...the sacredness of the process and attention to detail resonated with me in a way that nothing had before," he recalls in an Apartment Therapy profile. "I've since learned in practice what I saw evidence of in the temples---that completely focusing on where you are will get you the best product at the end. Every step of the process is precious."
Had he not changed horses in midstream, his grandmother would have likely stuck to the plan too, departing for the afterlife in a standard-issue coffin or urn, rather than asking Yates to build her something special. In his mind, it was a collaboration, a process documented above, at the behest of Whole Foods' online magazine, Dark Rye.  (Indicating, perhaps, that artisanal, upcycled coffins will soon be available for purchase beside bamboo cutting boards and locally sourced, grass-fed, beef jerky?)
Yate's grandma placed her request pre-need, in the industry lingo, a move that afforded him plenty of time to study---and reject---the overly ornate vessels that have become a cultural norm. Luxurious details have no place, he feels, when the user can derive no enjoyment from them. (Guess he and Grandma weren't considering going with the off-the-wall Ghana approach.)
The coffin is the most meaningful piece he's ever created, even before it could be beta tested. It caused him to think deeply about our relationship with death and each other. The soundtrack hints that something very sad is about to happen, as do the photos of his grandmother as a vibrant, younger woman. (Such shots have become de rigeur for anyone mourning an older relative on Facebook.) Yates mentions that his grandmother, healthy when she hatched this scheme, has been diagnosed with cancer. I think we can assume where this is going, right?
At the risk of  a spoiler, I'd like to commend the filmmakers for allowing some key scenes to occur off-camera. Yates remarks that after all that went into making the coffin, it would be "a terrible miss" if his grandmother did not get a chance to see it. He's filmed loading it into his truck, but viewers are not privy to its delivery. Some things, it would seem, are still personal.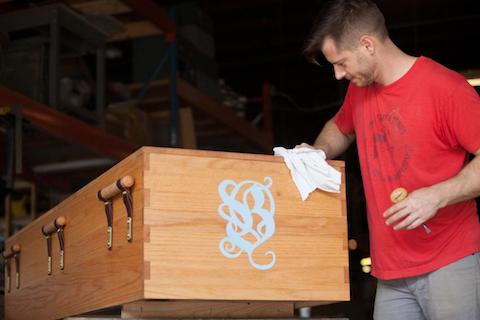 Related Content:
Carl Gustav Jung Ponders Death
Find Yale's Course Death  in our collection of 825 Free Online Courses
Leonard Cohen Narrates Film on The Tibetan Book of the Dead, Featuring the Dalai Lama (1994)
Ayun Halliday operates in the shadow of the South Brooklyn Casket Company. @AyunHalliday