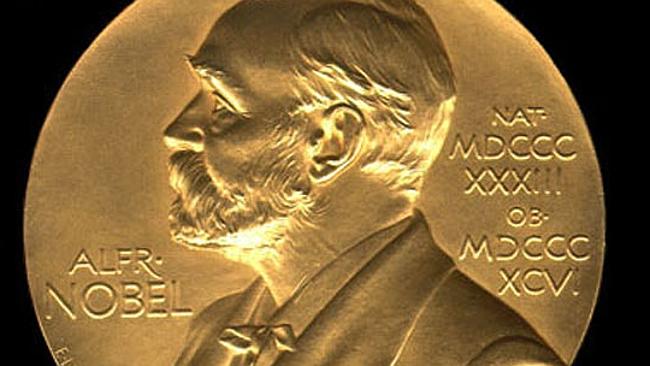 Winning a Nobel Prize has its perks. When you talk, people listen. And you end up doing a lot of talking. And travelling.
Reflecting on how the Nobel Prize changed his life, Walter Gilbert (1980 winner in Chemistry) commented, "You can find yourself spending years travelling and talking right after winning."
And what if you want to take your Nobel Prize on the road with you? According to astrophysicist Brian Schmidt (winner of the 2011 Nobel Prize in Physics), that can present its own challenges. He recently told an audience in New York:
'There are a couple of bizarre things that happen. One of the things you get when you win a Nobel Prize is, well, a Nobel Prize. It's about that big, that thick [about the size of an Olympic medal], weighs a half a pound, and it's made of gold."
"When I won this, my grandma, who lives in Fargo, North Dakota, wanted to see it. I was coming around so I decided I'd bring my Nobel Prize. You would think that carrying around a Nobel Prize would be uneventful, and it was uneventful, until I tried to leave Fargo with it, and went through the X-ray machine. I could see they were puzzled. It was in my laptop bag. It's made of gold, so it absorbs all the X-rays—it's completely black. And they had never seen anything completely black."
"They're like, 'Sir, there's something in your bag.'
I said, 'Yes, I think it's this box.'
They said, 'What's in the box?'
I said, 'a large gold medal,' as one does.
So they opened it up and they said, 'What's it made out of?'
I said, 'gold.'
And they're like, 'Uhhhh. Who gave this to you?'
'The King of Sweden.'
'Why did he give this to you?'
'Because I helped discover the expansion rate of the universe was accelerating.'
At which point, they were beginning to lose their sense of humor. I explained to them it was a Nobel Prize, and their main question was, 'Why were you in Fargo?'"
So just a word of caution to Jean Tirole, who won the Nobel Prize in Economics today, if you're ever visiting grand-mère...
Related Content:
Read 18 Short Stories From Nobel Prize-Winning Writer Alice Munro Free Online
Jean-Paul Sartre Rejects the Nobel Prize in Literature in 1964: "It Was Monstrous!"
Hear Albert Camus Deliver His Nobel Prize Acceptance Speech (1957)
Take a Free Course on the Financial Markets with Robert Shiller, Winner of the 2013 Nobel Prize in Economics