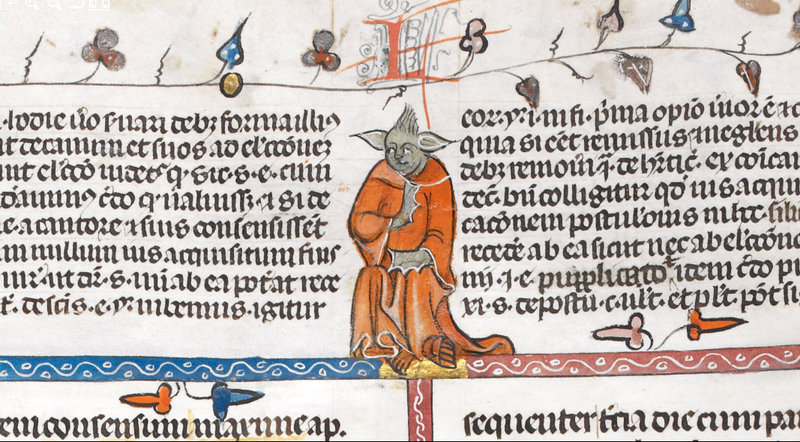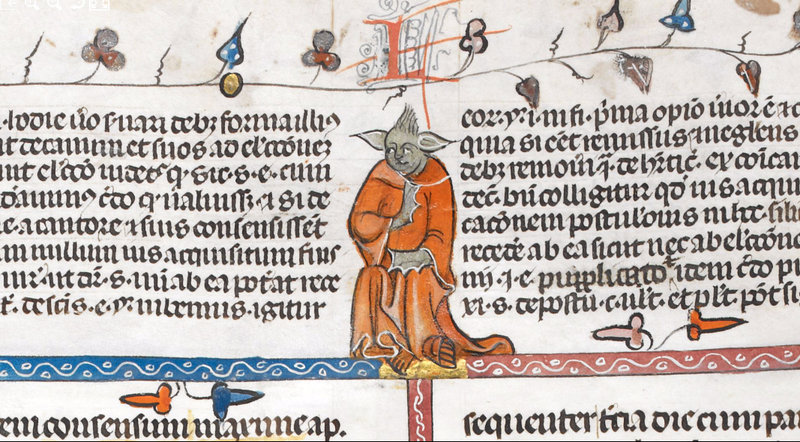 In a new picture book called Medieval Monsters, published by the British Library, historian Damien Kempf and art historian Maria L. Gilbert have gathered together illustrations that highlight the great monsters of the medieval world. Monsters were everywhere, including "on the edges of manuscript pages" and on "the fringes of maps." The successor to Medieval Cats and Medieval Dogs, Medieval Monsters contains no shortage of fascinating illustrations, including the one above. It looks remarkably like Yoda, doesn't it?
A British Library curator told NPR, "The Yoda image comes from a 14th-century manuscript known as the Smithfield Decretals."  "I'd love to say that it really was Yoda, or was drawn by a medieval time traveler." But "it's actually an illustration to the biblical story of Samson — the artist clearly had a vivid imagination!"
See more monsters at the British Library's Medieval Manuscripts blog.
Dan Colman is the founder/editor of Open Culture. Follow us on Facebook, Twitter, Google Plus and LinkedIn and  share intelligent media with your friends. Or better yet, sign up for our daily email and get a daily dose of Open Culture in your inbox.
Related Content:
Medieval Cats Behaving Badly: Kitties That Left Paw Prints … and Peed … on 15th Century Manuscripts
Wearable Books: In Medieval Times, They Took Old Manuscripts & Turned Them into Clothes
Wonderfully Weird & Ingenious Medieval Books