In early October, The New York Public Library will unveil a new book delivery system that features 24 cars, running on 950-feet of vertical and horizontal track, moving millions of books through 11 different levels of the library, at a rate of 75 feet per minute. This new $2.6 million book transport system replaces a clunkier old one where "boxes of research materials were placed on a series of conveyor belts."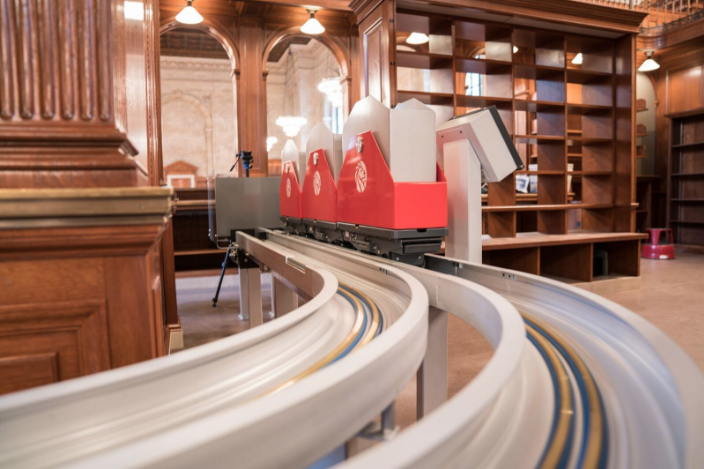 Image by Jonathan Blanc/NYPL
Says Matt Knutzen, director of the Humanities and Social Sciences Research Divisions within the Stephen A. Schwarzman Building, "This new dependable and efficient system will ensure a seamless delivery of research items from our storage facility to the researchers who need them."  "Our priorities include preserving our materials and making them increasingly accessible to the public in an inspiring space for research – our recent storage expansion, our restoration of the Reading Room, and the installation of this system are all elements of that work."
Above, you can watch the new system at work, chugging away, climbing to new heights, and delivering books to happy readers.
via BoingBoing/NYPL
Related Content:
The New York Public Library Lets You Download 180,000 Images in High Resolution: Historic Photographs, Maps, Letters & More
New York Public Library Puts 20,000 Hi-Res Maps Online & Makes Them Free to Download and Use
100,000+ Wonderful Pieces of Theater Ephemera Digitized by The New York Public Library