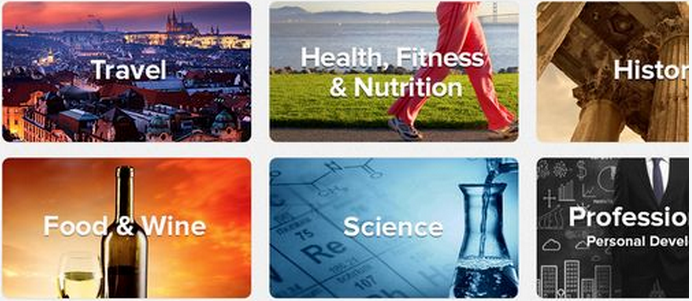 Last summer, 1500 Open Culture readers got a chance to take part in a free beta test of The Great Courses Plus--a new video subscription service that lets you watch free courses (about 7,000 lectures in total) across a wide range of subjects, everything from History, Philosophy, Literature, and Economics, to Math, Science, Professional Development, Cooking, and Photography. Like Netflix, The Great Courses Plus lets you stream material on your TV, tablet, laptop and smart phone, with the help of apps designed for Apple, Google Play, Kindle Fire, and Roku. Interested in trying out this service? You can now sign up for a 30-day free trial and see what you think. If it's not your thing, you can cancel before the 30 days are up.
I've been a fan and consumer of The Great Courses products for more than 15 years. So I have no problem giving their service a plug. And if you eventually become a Great Courses Plus subscriber, it will help support Open Culture--something we'll certainly appreciate.
Follow Open Culture on Facebook and Twitter and share intelligent media with your friends. Or better yet, sign up for our daily email and get a daily dose of Open Culture in your inbox. 
If you'd like to support Open Culture and our mission, please consider making a donation to our site. It's hard to rely 100% on ads, and your contributions will help us provide the best free cultural and educational materials.