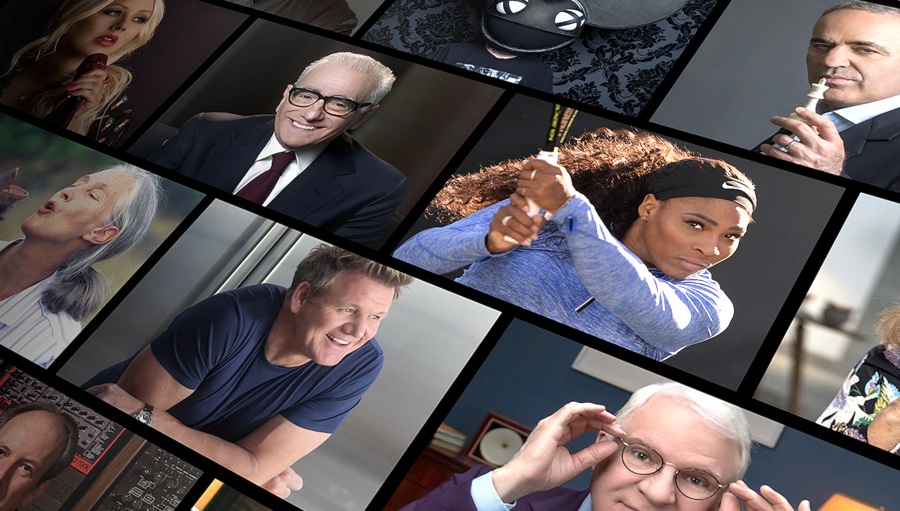 FYI: If you sign up for a MasterClass course by clicking on the affiliate links in this post, Open Culture will receive a small fee that helps support our operation.
Masterclass has developed a catalog of online courses taught by "the world's greatest minds." As it stands, they have 60+ courses covering filmmaking, creative writing, photography, songwriting and more, taught by figures like David Lynch, Annie Leibovitz, Malcolm Gladwell, Margaret Atwood, Neil Gaiman, David Mamet and others. You can sign up for an individual course for $90. (Each course is listed below.) Or if you purchase an All Access Pass, you can take every course in the catalog over a 12-month period. The All Access Pass runs $199--which translates to about $3.50 per course. Not bad, but if you want something completely free, see our collection: 1,300 Free Online Courses from Top Universities
Acting
Samuel L. Jackson Teaches Acting
Natalie Portman Teaches Acting
Filmmaking/Directing
David Lynch Teaches Creativity and Film
Werner Herzog Teaches Filmmaking
Martin Scorsese Teaches Filmmaking
Ken Burns Teaches Documentary Filmmaking
Jodie Foster Teaches Filmmaking
Mira Nair Teaches Independent Filmmaking
Hans Zimmer Teaches Film Scoring
Danny Elfman Teaches Music for Film
Photography
Annie Leibovitz Teaches Photography
Jimmy Chin Teaches Adventure Photography
Writing: Fiction, Poetry, TV, Plays & More
Malcolm Gladwell Teaches Writing
Margaret Atwood Teaches Creative Writing
Neil Gaiman Teaches The Art of Storytelling
David Mamet Teaches Dramatic Writing
Billy Collins Teaches Reading and Writing Poetry
Dan Brown Teaches Writing Thrillers
Dominique Ansel Teaches French Pastry Fundamentals
David Baldacci Teaches Mystery and Thriller Writing
James Patterson Teaches Writing
Shonda Rhimes Teaches Writing For Television
R.L. Stine Teaches Writing for Young Audiences
Joyce Carol Oates on  the Short Story
Music and Songwriting
Carlos Santana Teaches The Art and Soul of Guitar
Tom Morello Teaches Electric Guitar
Armin van Buuren Teaches Dance Music
Christina Aguilera Teaches Singing
deadmau5 Teaches Electronic Music Production
Timbaland Teaches Producing and Beatmaking
Usher Teaches the Art of Performance
Hans Zimmer Teaches Film Scoring
Danny Elfman Teaches Music for Film
Comedy
Cooking
Gordon Ramsay Teaches Cooking II: Restaurant Recipes at Home
Alice Waters Teaches Home Cooking
Dominique Ansel Teaches French Pastry Fundamentals
Thomas Keller Teaches Cooking Techniques
James Suckling Teaches Wine Appreciation
Massimo Bottura Teaches Modern Italian Cooking
Aaron Franklin Teaches Texas-Style BBQ
Fashion
Marc Jacobs Teaches Fashion Design
Diane Von Furstenburg Teaches Fashion
Anna Wintour Teaches Creativity and Leadership
Games
Phil Ivey Teaches Poker Strategy
Will Wright Teaches Game Design and Theory
Sports
Stephen Curry Teaches Basketball
Serena Williams Teaches Tennis
Simone Biles Teaches Gymnastics Fundamentals
Sundry
Frank Gehry Teaches Design and Architecture
Jane Goodall Teaches Conservation
Paul Krugman Teaches Economics and Society
David Axelrod & Karl Rove Teach Campaign Strategy
Howard Schultz Leading a Values-Based Business
Chris Hadfield Teaches Space Exploration
This page will be updated as more courses get added to the MasterClass catalog.