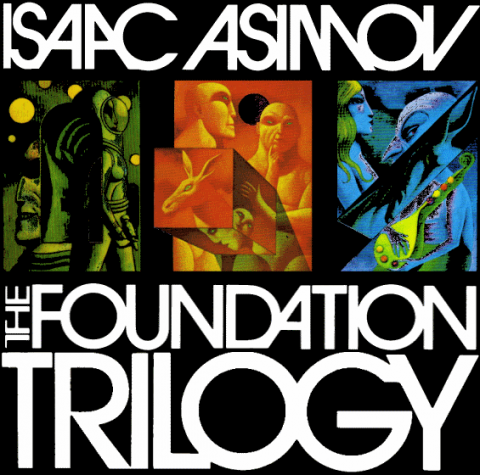 Permit us to stay on our recent sci-fi tangent just a tad bit longer….
Between 1951 and 1953, Isaac Asimov published three books that formed the now legendary Foundation Trilogy. Many considered it a masterwork in science fiction, and that view became official doctrine in 1966 when the trilogy received a special Hugo Award for Best All-Time Series, notably beating out Tolkien's The Lord of the Rings. (Don't miss the vintage Tolkien documentary we featured yesterday.)
Eventually, the BBC decided to adapt Asimov's trilogy to the radio, dramatizing the series in eight one-hour episodes that aired between May and June 1973. Years later, you can buy the radio drama on iTunes for $9.99. But we're going to suggest that you pocket that hard-earned money and download the radio drama for free from the Internet Archive. Or the free Spotify version above. Feel free to access the media via these links: Free Stream – Free Zip File – Spotify.
You can stream the program in its entirety right above. Click the links below to stream the individual episodes. Or download the full program as a zip file (which otherwise appears in our collection of Free Audio Books). The Internet Archive gives you more download options here.
Part 1 |MP3| Part 2 |MP3| Part 3 |MP3| Part 4 |MP3| Part 5 |MP3| Part 6 |MP3| Part 7 |MP3| Part 8 |MP3|
More Free Sci-Fi & Fantasy:
Download the Complete Chronicles of Narnia by C.S. Lewis for Free
Aldous Huxley Reads Dramatized Version of Brave New World
Free Philip K. Dick: Download 11 Great Science Fiction Stories
Neil Gaiman's Free Short Stories