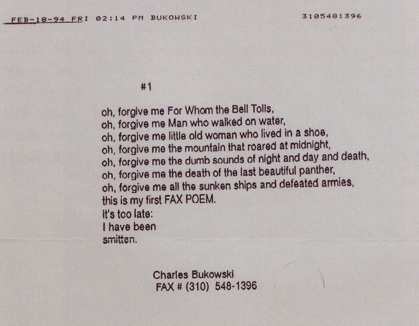 On February 18, 1994, Charles Bukowski had a fax machine installed in his home and immediately sent his first Fax poem to his publisher:
oh, forgive me For Whom the Bell Tolls,
oh, forgive me Man who walked on water,
oh, forgive me little old woman who lived in a shoe,
oh, forgive me the mountain that roared at midnight,
oh, forgive me the dumb sounds of night and day and death,
oh, forgive me the death of the last beautiful panther,
oh, forgive me all the sunken ships and defeated armies,
this is my first FAX POEM.
It's too late:
I have been
smitten.
Alas this was also Bukowski's last poem. Just 18 days after Bukowski embraced technology, the poet (once famously called the "laureate of American lowlife" by Pico Iyer) died of leukemia in California. He was 73 years old. According to John Martin at Black Sparrow Press, the Fax poem has never been published or collected in a book. Booktryst has a whole lot more on the story, and we have the singer/songwriter Tom Waits reading Charles Bukowski's poem, The Laughing Heart. You can also listen to three other Bukowski poems (in audio) here on YouTube:
Find more great reads in our collection of Free Audio Books.