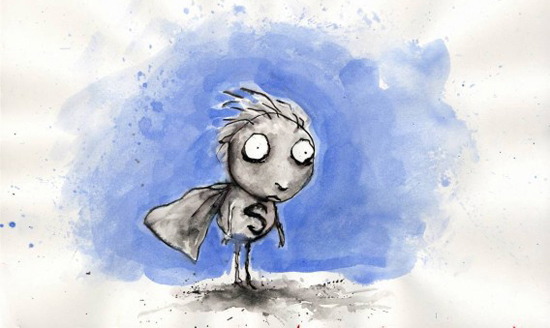 In his 1997 book of drawings and verse, The Melancholy Death of Oyster Boy & Other Stories, Tim Burton imagines a bizarre menagerie of misfits with names like Toxic Boy, Junk Girl, the Pin Cushion Queen and the Boy with Nails in his Eyes.
"Inspired by such childhood heroes as Dr. Seuss and Roald Dahl," writes James Ryan in the New York Times, "Mr. Burton's slim volume exquisitely conveys the pain of an adolescent outsider. Like his movies, the work manages to be both childlike and sophisticated, blending the innocent with the macabre."
One of those adolescent outsiders is Stain Boy, a strange kind of superhero:
He can't fly around tall buildings,
or outrun a speeding train,
the only talent he seems to have
is to leave a nasty stain.
Sometimes I know it bothers him,
that he can't run or swim or fly,
and because of this one ability,
his dry cleaning bill is sky-high.
In 2000, Burton extended Stain Boy's adventures (and compressed his name into one word) with The World of Stainboy, a series of short animations commissioned for the Internet by Shockwave.com. "For some stories you have to wait for the right medium," Burton said at the time. "I think (the Internet's) the perfect forum to tell a sad little story like this one. Stainboy is a character that doesn't do much. He's just perfect for four-minute animations."
Burton created a series of sketches, watercolors and pastel-accented gray-on-gray washes and brought them, along with a script and storyboards, to Flinch Studio for translation into Macromedia Flash animation. Twenty-six episodes were planned, but only six were completed. "Stainboy was an experiment in developing revenue streams for the Web," writes Alison McMahan in The Films of Tim Burton: Animating Live Action in Contemporary Hollywood, "but it did not succeed, at least not financially."
The Stainboy character was resurrected briefly in late 2010, when Burton invited fans to compose a new Stainboy adventure in brief installments via Twitter. Burton pieced together a story using the best tweets. (You can read the final result here.) Meanwhile, the original Web animations have continued to attract a following. You can watch the complete six-part series below in HD. As you will see, some episodes introduce new characters — Stare Girl, Toxic Boy, Bowling Ball Head and the rest:
Episode 1: Stare Girl
Episode 2: Toxic Boy
Episode 3: Bowling Ball Head
Episode 4: Robot Boy
Episode 5: Matchstick Girl
Episode 6: The Origin of Stainboy
You can find the Stainboy videos on our list of Free Online Animations, a subset of our meta collection, 4,000+ Free Movies Online: Great Classics, Indies, Noir, Westerns, Documentaries & More.
Related Content:
Vincent: Tim Burton's Early Animated Film
Tim Burton: A Look Inside His Visual Imagination