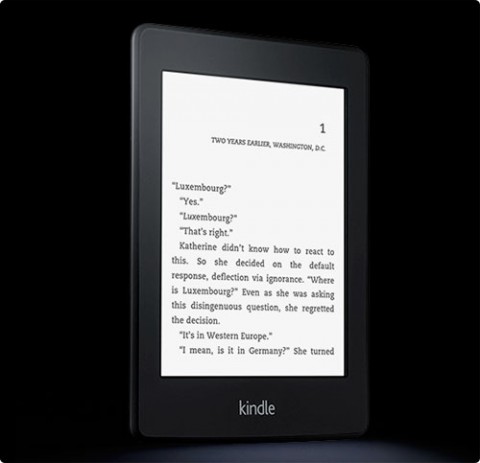 Last week, Amazon announced that it would start shipping a promising, new ebook reader in early October — the Kindle Paperwhite. The Paperwhite looks much like the old school, e-ink Kindle that you know and maybe love. But this new model has a touchscreen and better contrasting fonts. Plus … drum roll … it sports a built-in light that evenly illuminates the screen, as you can see here. If Amazon can deliver on these promises, the new Kindle should be a pretty excellent deal, especially seeing that the cheapest model is priced at $119.
If you're ready to splurge for an ebook reader, then we're ready to do our part — to hook you up with Free eBooks. If you visit our collection, 600 Free eBooks for iPad, Kindle & Other Devices, you'll find 600 great works. The list includes many classic masterpieces (Tolstoy's War & Peace, Jane Austen's Pride & Prejudice, and Kafka's The Metamorphosis), but also more modern works by such authors as Isaac Asimov, Philip K. Dick, Kurt Vonnegut, and even Neil Gaiman.
If you're an iPad/iPhone user, the download process is super easy. Just click the "iPad/iPhone" links and you're good to go. Kindle and Nook users will generally want to click the "Kindle + Other Formats links" to download ebook files, but we'd suggest watching these instructional videos (Kindle – Nook) beforehand to take full advantage of the collection. And, if downloading files seems like a burden, fear not. We often give you the ability to simply read texts online. Find our full collection here: 600 Free eBooks for iPad, Kindle & Other Devices
PS When you return, you can always find this collection along the top navigation bar — where it says eBooks.
Related Content:
500 Free Online Courses from Top Universities
150 Free Textbooks: A Meta Collection
450 Free Audio Books: Download Great Books for Free
500 Free Movies Online: Great Classics, Indies, Noir, Westerns, etc.
Learn 40 Languages for Free: Spanish, English, Chinese & More