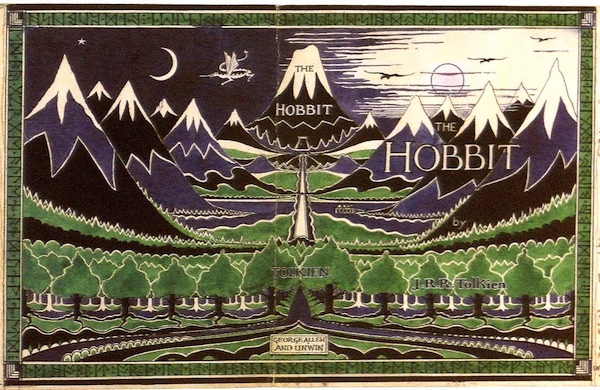 In 1937, C.S. Lewis (who would later write The Chronicles of Narnia — find it in a free audio format here) published in the Times Literary Supplement a review of The Hobbit by J.R.R. Tolkien. Lewis and Tolkien were no strangers to one another. They had met back in 1926 at Oxford University, where they both served on the English faculty. In the years to come, they formed a close friendship and joined the Inklings, an Oxford literary group dedicated to fiction and fantasy.
Lewis' review of The Hobbit was short, a mere three paragraphs. And it's hard to say now whether Lewis was giving a kind review to a friend, or making some prescient literary observations. Or, perhaps, some combination of the two. The closing lines go like this:
The Hobbit … will be funnier to its youngest readers, and only years later, at a tenth or a twentieth reading, will they begin to realise what deft scholarship and profound reflection have gone to make everything in it so ripe, so friendly, and in its own way so true. Prediction is dangerous: but The Hobbit may well prove a classic.
The complete review has now been republished, and you can read it over at The Paris Review.
via Flavorwire
Related Content:
Download Eight Free Lectures on The Hobbit by "The Tolkien Professor," Corey Olsen
Listen to J.R.R. Tolkien Read a Lengthy Excerpt from The Hobbit (1952)
Discover J.R.R. Tolkien's Personal Book Cover Designs for The Lord of the Rings Trilogy