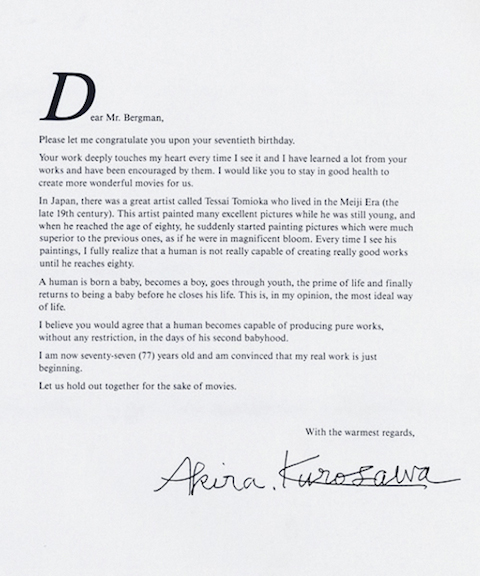 In July of 1988, Ingmar Bergman—retired from film—turned 70. He had every reason to believe that his best work lay behind him. After all, he had won three Academy Awards (and the Irving G. Thalberg Memorial Award), two BAFTAs, seven Cannes prizes, six Golden Globes, and a host of other honors. His oeuvre included such seemingly unsurpassable achievements as Wild Strawberries, The Seventh Seal, Fanny and Alexander, and too many more to name, and that year he published his memoirs, The Magic Lantern, in which he confessed "I probably do mourn the fact that I no longer make films."
But no!, writes the Swedish director's Japanese counterpart, Akira Kurosawa, the "real work is just beginning." At least that's how Kurasawa, then 77, felt about his "second babyhood." Kurosawa wrote the letter above to Bergman on his birthday, professing his deep admiration. The feeling went both ways. The typically self-deprecating Bergman once called his The Virgin Spring a "a lousy imitation of Kurosawa" and added, "at the time my admiration for the Japanese cinema was at its height. I was almost a samuri myself!" Read the full transcript of Kurosawa's birthday wishes to Bergman below (originally published in Chaplin magazine).
Dear Mr. Bergman,
Please let me congratulate you upon your seventieth birthday.
Your work deeply touches my heart every time I see it and I have learned a lot from your works and have been encouraged by them. I would like you to stay in good health to create more wonderful movies for us.
In Japan, there was a great artist called Tessai Tomioka who lived in the Meiji Era (the late 19th century). This artist painted many excellent pictures while he was still young, and when he reached the age of eighty, he suddenly started painting pictures which were much superior to the previous ones, as if he were in magnificent bloom. Every time I see his paintings, I fully realize that a human is not really capable of creating really good works until he reaches eighty.
A human is born a baby, becomes a boy, goes through youth, the prime of life and finally returns to being a baby before he closes his life. This is, in my opinion, the most ideal way of life.
I believe you would agree that a human becomes capable of producing pure works, without any restrictions, in the days of his second babyhood.
I am now seventy-seven (77) years old and am convinced that my real work is just beginning.
Let us hold out together for the sake of movies.
With the warmest regards,
Akira Kurosawa
Related Content:
Stanley Kubrick to Ingmar Bergman: "You Are the Greatest Filmmaker at Work Today" (1960)
Ingmar Bergman Evaluates His Fellow Filmmakers — The "Affected" Godard, "Infantile" Hitchcock & Sublime Tarkovsky
Watch Kurosawa's Rashomon Free Online, the Film That Introduced Japanese Cinema to the West
Dick Cavett's Wide-Ranging TV Interview with Ingmar Bergman and Lead Actress Bibi Andersson (1971)
Josh Jones is a writer and musician based in Durham, NC. Follow him at @jdmagness