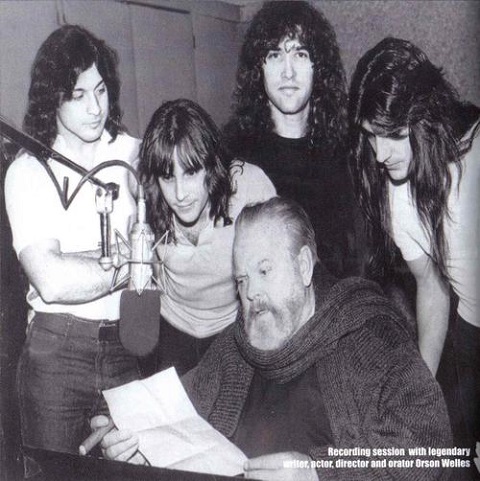 Heavy met­al music enjoyed the plea­sures of excess in the 1980s, an era when, if you believe cer­tain biog­ra­phers, writer-actor-auteur Orson Welles did the very same. Though some describe the life of the man who made Cit­i­zen Kane as hav­ing by then fall­en into a final peri­od of great deca­dence, he still man­aged to leave his mark on a num­ber of unusu­al projects. Many of my gen­er­a­tion fond­ly remem­ber his per­for­mance as the man-made plan­et Uni­cron, eater of worlds, in 1986's Trans­form­ers: The Movie, but those slight­ly old­er may have first encoun­tered Welles' late work on Bat­tle Hymns, the debut album by sword-and-sor­cery-mind­ed met­al (tech­ni­cal­ly, "epic met­al") band Manowar, for whose track "Dark Avenger," below, he pro­vid­ed suit­ably epic nar­ra­tion: "And they placed in his hands a sword made for him called Vengeance, forged in brim­stone and tem­pered by the woe­ful tears of the Unavenged." Who but Welles (or maybe Christo­pher Lee) could sell a line like that?
Five years lat­er, Manowar would return to the Welles well for their fifth album Fight­ing the World, whose track "Defend­er," below, fea­tures a posthu­mous appear­ance orig­i­nal­ly record­ed as a demo dur­ing the Bat­tle Hymns ses­sions. Fight­ing the World, inci­den­tal­ly, appeared as the first ever dig­i­tal­ly record­ed and mixed heavy met­al album, an achieve­ment unshy­ly declared on the band's web site.
There you'll also learn that Manowar not only includ­ed fan­ta­sy imagery in both their lyrics and on their cov­ers before their col­leagues did, but that they also designed and built their own speak­er cab­i­nets and gui­tars first, record­ed songs in 16 lan­guages first, and col­lab­o­rat­ed with "Ger­many's best­selling fan­ta­sy author, Wolf­gang Hohlbein" first. They also declare them­selves "the loud­est band in the world (a record they have bro­ken on three sep­a­rate occa­sions)," but give a place of even high­er hon­or on the list to their dis­tinc­tion as "the only band ever to record with Orson Welles" — epic met­al, met­al, or oth­er­wise.
Relat­ed Con­tent:
Free­dom Riv­er: A Para­ble Nar­rat­ed by Orson Welles
Four­teen-Year-Old Girl's Blis­ter­ing Heavy Met­al Per­for­mance of Vival­di
A Blue­grass Ver­sion of Metal­li­ca's Heavy Met­al Hit, "Enter Sand­man"
The Physics of Mosh Pits at Heavy Met­al Con­certs (Explained by Cor­nell Grad Stu­dents)
Orson Welles Reads Coleridge's "The Rime of the Ancient Mariner" in a 1977 Exper­i­men­tal Film
Col­in Mar­shall hosts and pro­duces Note­book on Cities and Cul­ture and writes essays on cities, Asia, film, lit­er­a­ture, and aes­thet­ics. He's at work on a book about Los Ange­les, A Los Ange­les Primer. Fol­low him on Twit­ter at @colinmarshall or on his brand new Face­book page.