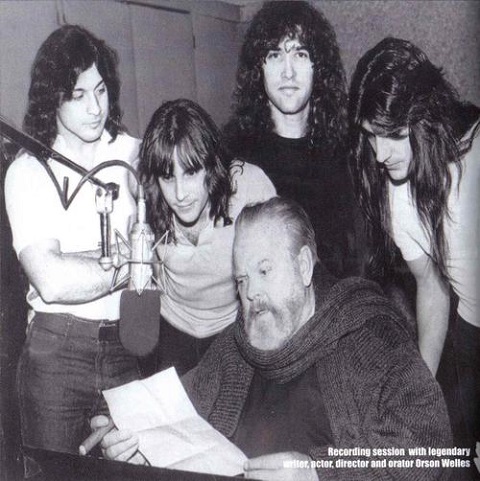 Heavy metal music enjoyed the pleasures of excess in the 1980s, an era when, if you believe certain biographers, writer-actor-auteur Orson Welles did the very same. Though some describe the life of the man who made Citizen Kane as having by then fallen into a final period of great decadence, he still managed to leave his mark on a number of unusual projects. Many of my generation fondly remember his performance as the man-made planet Unicron, eater of worlds, in 1986's Transformers: The Movie, but those slightly older may have first encountered Welles' late work on Battle Hymns, the debut album by sword-and-sorcery-minded metal (technically, "epic metal") band Manowar, for whose track "Dark Avenger," below, he provided suitably epic narration: "And they placed in his hands a sword made for him called Vengeance, forged in brimstone and tempered by the woeful tears of the Unavenged." Who but Welles (or maybe Christopher Lee) could sell a line like that?
Five years later, Manowar would return to the Welles well for their fifth album Fighting the World, whose track "Defender," below, features a posthumous appearance originally recorded as a demo during the Battle Hymns sessions. Fighting the World, incidentally, appeared as the first ever digitally recorded and mixed heavy metal album, an achievement unshyly declared on the band's web site.
There you'll also learn that Manowar not only included fantasy imagery in both their lyrics and on their covers before their colleagues did, but that they also designed and built their own speaker cabinets and guitars first, recorded songs in 16 languages first, and collaborated with "Germany's bestselling fantasy author, Wolfgang Hohlbein" first. They also declare themselves "the loudest band in the world (a record they have broken on three separate occasions)," but give a place of even higher honor on the list to their distinction as "the only band ever to record with Orson Welles" — epic metal, metal, or otherwise.
Related Content:
Freedom River: A Parable Narrated by Orson Welles
Fourteen-Year-Old Girl's Blistering Heavy Metal Performance of Vivaldi
A Bluegrass Version of Metallica's Heavy Metal Hit, "Enter Sandman"
The Physics of Mosh Pits at Heavy Metal Concerts (Explained by Cornell Grad Students)
Orson Welles Reads Coleridge's "The Rime of the Ancient Mariner" in a 1977 Experimental Film
Colin Marshall hosts and produces Notebook on Cities and Culture and writes essays on cities, Asia, film, literature, and aesthetics. He's at work on a book about Los Angeles, A Los Angeles Primer. Follow him on Twitter at @colinmarshall or on his brand new Facebook page.