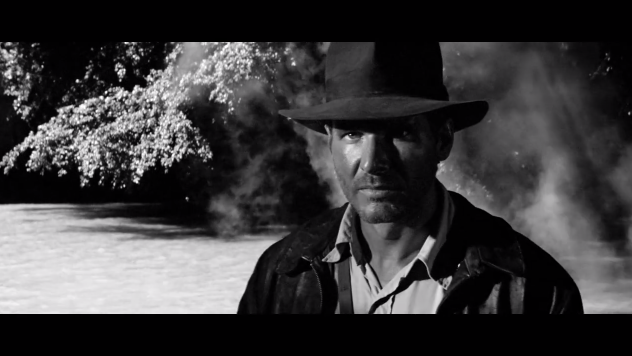 Since officially retiring from filmmaking last year, Steven Soderbergh has filled his time writing Twitter novellas, creating mashups of Alfred Hitchcock and Gus Van Sant Psycho films, and posting a log of all the films, TV shows and books he immersed himself in in 2009.
Now comes his latest side project: On his web site, extension765.com, Soderbergh presents a short lesson in "staging," a term that refers in cinema "to how all the various elements of a given scene or piece are aligned, arranged, and coordinated." He tells us: "I operate under the theory a movie should work with the sound off, and under that theory, staging becomes paramount."
To illustrate his point, he takes the entirety of Steven Spielberg's 1981 film, The Raiders of the Lost Ark; turns it into a silent, black & white film (watch it here); and then adds this commentary:
So I want you to watch this movie and think only about staging, how the shots are built and laid out, what the rules of movement are, what the cutting patterns are. See if you can reproduce the thought process that resulted in these choices by asking yourself: why was each shot—whether short or long—held for that exact length of time and placed in that order? Sounds like fun, right? It actually is. To me. Oh, and I've removed all sound and color from the film, apart from a score designed to aid you in your quest to just study the visual staging aspect. Wait, WHAT? HOW COULD YOU DO THIS? Well, I'm not saying I'm like, ALLOWED to do this, I'm just saying this is what I do when I try to learn about staging, and this filmmaker forgot more about staging by the time he made his first feature than I know to this day (for example, no matter how fast the cuts come, you always know exactly where you are—that's high level visual math shit).
Ok, that's probably enough film school for today…
via Metafilter
Related Content:
Alfred Hitchcock's Seven-Minute Editing Master Class
Werner Herzog's Rogue Film School: Apply & Learn the Art of Guerilla Filmmaking & Lock-Picking
Spike Lee Shares His NYU Teaching List of 87 Essential Films Every Aspiring Director Should See