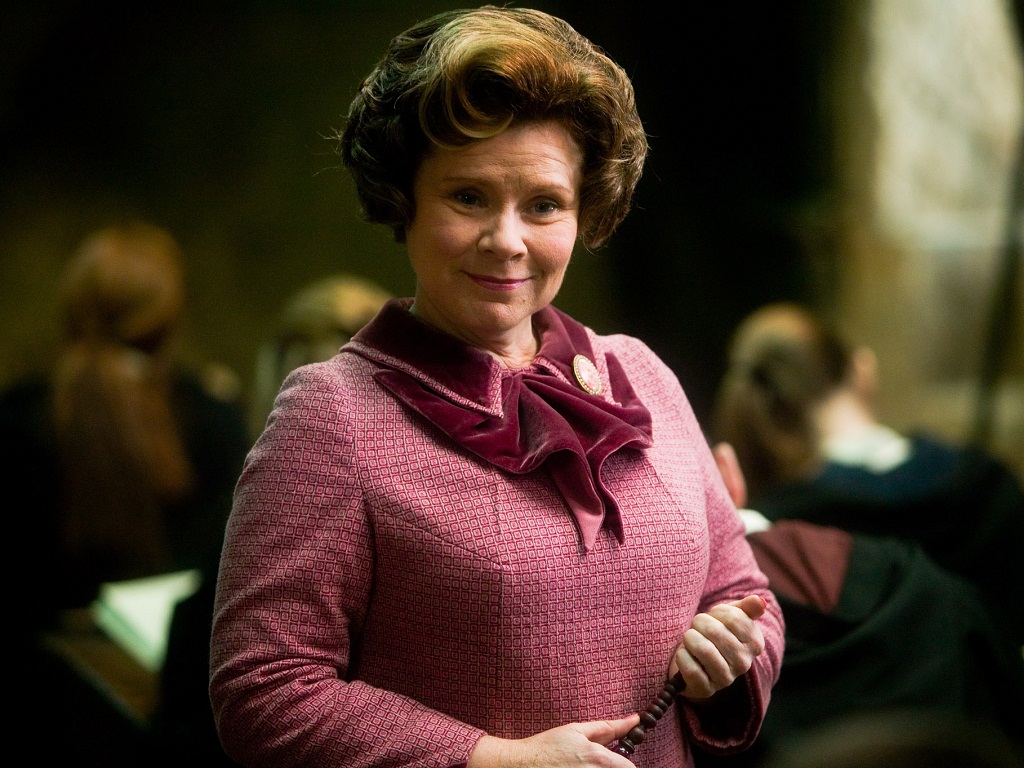 Although J.K. Rowling wrote the final book in the Harry Potter series in 2007, she continues to give Potter fans an occasional fix, publishing short works that add a little more color and detail to the Harry Potter story. Ardent fans know that Rowling wrote a short Prequel in 2008. Also, earlier this year, she began writing new stories about the 2014 Quidditch World Cup Finals for Pottermore, the website for all things Harry Potter. She later followed with a story that takes the form of an article published in The Daily Prophet  ("Dumbledore's Army Reunites at Quidditch World Cup Final"), which gives us the first glimpse of the adult Harry Potter.
Now, on Halloween, we get "The Story of Dolores Jane Umbridge" — a short fictional essay that gives us a more complete personal portrait of the character that readers found so easy to dislike. In the essay [SPOILER ALERT], we learn that Umbridge was, gasp, a half blood, who had demonstrated a certain capacity for wickedness at a young age: "Even at seventeen, Dolores was judgemental, prejudiced and sadistic, although her conscientious attitude, her saccharine manner towards her superiors, and the ruthlessness and stealth with which she took credit for other people's work soon gained her advancement."
Rowling then appends some personal comments to the story, explaining the origins of the Umbridge character. She writes:
Once, long ago, I took instruction in a certain skill or subject (I am being vague as vague can be, for reasons that are about to become obvious), and in doing so, came into contact with a teacher or instructor whom I disliked intensely on sight.

The woman in question returned my antipathy with interest. Why we took against each other so instantly, heartily and (on my side, at least) irrationally, I honestly cannot say. What sticks in my mind is her pronounced taste for twee accessories. I particularly recall a tiny little plastic bow slide, pale lemon in colour that she wore in her short curly hair…. [H]er tendency to wear frills where (I felt) frills had no business to be, and to carry undersized handbags, again as though they had been borrowed from a child's dressing-up box, jarred, I felt, with a personality that I found the reverse of sweet, innocent and ingenuous.
To learn more about the fictional and non-fictional sides of Dolores Umbridge, read Rowling's new piece here.
Related Content:
How J.K. Rowling Plotted Harry Potter with a Hand-Drawn Spreadsheet
Take Free Online Courses at Hogwarts: Charms, Potions, Defense Against the Dark Arts & More
The Quantum Physics of Harry Potter, Broken Down By a Physicist and a Magician