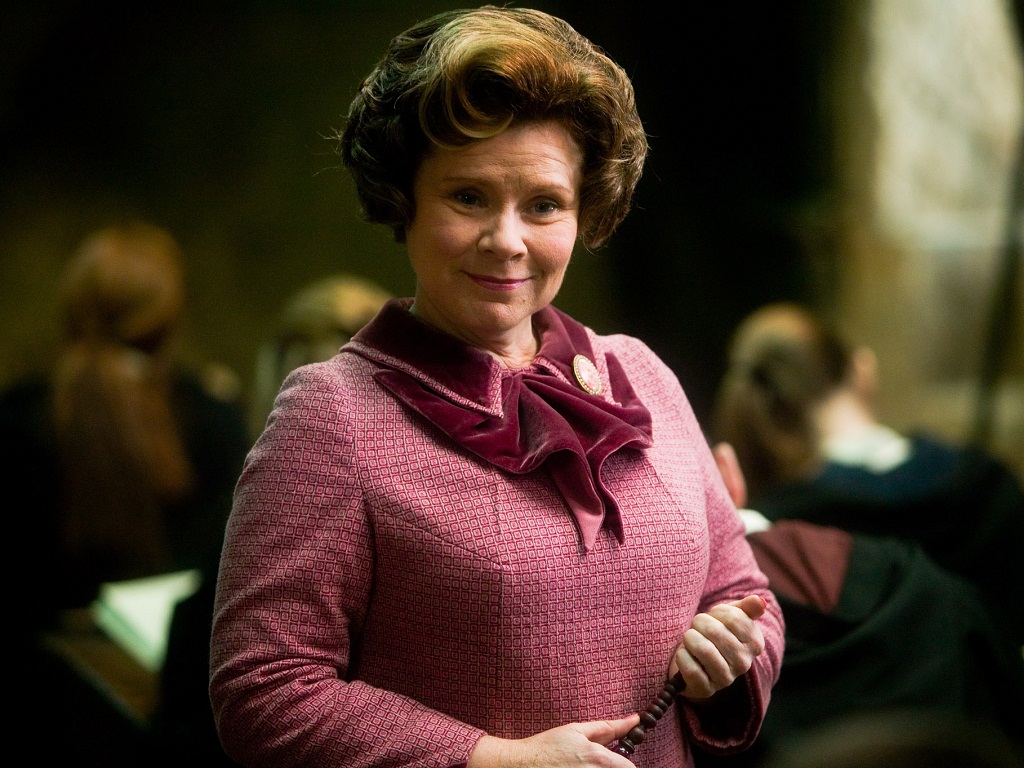 Although J.K. Rowl­ing wrote the final book in the Har­ry Pot­ter series in 2007, she con­tin­ues to give Pot­ter fans an occa­sion­al fix, pub­lish­ing short works that add a lit­tle more col­or and detail to the Har­ry Pot­ter sto­ry. Ardent fans know that Rowl­ing wrote a short Pre­quel in 2008. Also, ear­li­er this year, she began writ­ing new sto­ries about the 2014 Quid­ditch World Cup Finals for Pot­ter­more, the web­site for all things Har­ry Pot­ter. She lat­er fol­lowed with a sto­ry that takes the form of an arti­cle pub­lished in The Dai­ly Prophet ("Dumbledore's Army Reunites at Quid­ditch World Cup Final"), which gives us the first glimpse of the adult Har­ry Pot­ter.
Now, on Hal­loween, we get "The Sto­ry of Dolores Jane Umbridge" — a short fic­tion­al essay that gives us a more com­plete per­son­al por­trait of the char­ac­ter that read­ers found so easy to dis­like. In the essay [SPOILER ALERT], we learn that Umbridge was, gasp, a half blood, who had demon­strat­ed a cer­tain capac­i­ty for wicked­ness at a young age: "Even at sev­en­teen, Dolores was judge­men­tal, prej­u­diced and sadis­tic, although her con­sci­en­tious atti­tude, her sac­cha­rine man­ner towards her supe­ri­ors, and the ruth­less­ness and stealth with which she took cred­it for oth­er peo­ple's work soon gained her advance­ment."
Rowl­ing then appends some per­son­al com­ments to the sto­ry, explain­ing the ori­gins of the Umbridge char­ac­ter. She writes:
Once, long ago, I took instruc­tion in a cer­tain skill or sub­ject (I am being vague as vague can be, for rea­sons that are about to become obvi­ous), and in doing so, came into con­tact with a teacher or instruc­tor whom I dis­liked intense­ly on sight.

The woman in ques­tion returned my antipa­thy with inter­est. Why we took against each oth­er so instant­ly, hearti­ly and (on my side, at least) irra­tional­ly, I hon­est­ly can­not say. What sticks in my mind is her pro­nounced taste for twee acces­sories. I par­tic­u­lar­ly recall a tiny lit­tle plas­tic bow slide, pale lemon in colour that she wore in her short curly hair.… [H]er ten­den­cy to wear frills where (I felt) frills had no busi­ness to be, and to car­ry under­sized hand­bags, again as though they had been bor­rowed from a child's dress­ing-up box, jarred, I felt, with a per­son­al­i­ty that I found the reverse of sweet, inno­cent and ingen­u­ous.
To learn more about the fic­tion­al and non-fic­tion­al sides of Dolores Umbridge, read Rowl­ing's new piece here.
Relat­ed Con­tent:
How J.K. Rowl­ing Plot­ted Har­ry Pot­ter with a Hand-Drawn Spread­sheet
Take Free Online Cours­es at Hog­warts: Charms, Potions, Defense Against the Dark Arts & More
The Quan­tum Physics of Har­ry Pot­ter, Bro­ken Down By a Physi­cist and a Magi­cian