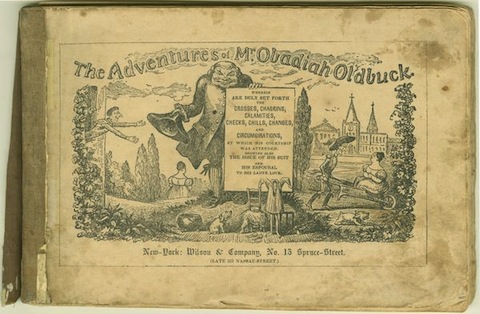 Com­ic books, as any enthu­si­ast of comics books won't hes­i­tate to tell you, have a long and robust his­to­ry, one that extends far wider and deep­er than the 20th-cen­tu­ry caped mus­cle­men, carous­ing teenagers, and wise­crack­ing ani­mals so many asso­ciate with the medi­um. The schol­ar­ship on com­ic-book his­to­ry — still a rel­a­tive­ly young field, you under­stand — has more than once revised its con­clu­sions on exact­ly how far back its roots go, but as of now, the ear­li­est acknowl­edged com­ic book dates to 1837.
The Adven­tures of Oba­di­ah Old­buck, accord­ing to thecomicbooks.com's page on ear­ly com­ic-book his­to­ry, "was done by Switzer­land's Rudolphe Töpf­fer, who has been con­sid­ered in Europe (and start­ing to become here in Amer­i­ca) as the cre­ator of the pic­ture sto­ry. He cre­at­ed the com­ic strip in 1827," going on to cre­ate com­ic books "that were extreme­ly suc­cess­ful and reprint­ed in many dif­fer­ent lan­guages; sev­er­al of them had Eng­lish ver­sions in Amer­i­ca in 1846. The books remained in print in Amer­i­ca until 1877."
Also known as His­toire de M. Vieux Bois, Les amours de Mr. Vieux Bois, or sim­ply Mon­sieur Vieuxbois, the orig­i­nal 1837 Adven­tures of Oba­di­ah Old­buck earned Töpf­fer the des­ig­na­tion of "the father of the mod­ern com­ic" from no less an author­i­ty on the mat­ter than Under­stand­ing Comics author Scott McCloud, who cites the series' pio­neer­ing use of bor­dered pan­els and "the inter­de­pen­dent com­bi­na­tion of words and pic­tures." You can see for your­self at the web site of Dart­mouth Col­lege's Library.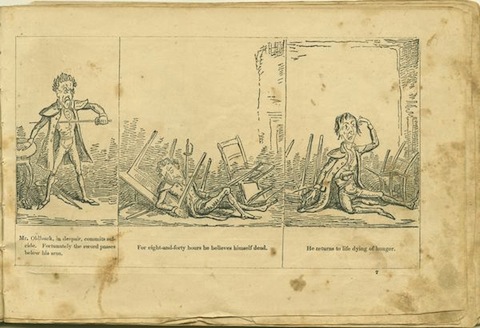 Alas, con­tem­po­rary crit­ics — and to an extent Töpf­fer him­self, who con­sid­ered it a work tar­get­ed at chil­dren and "the low­er class­es" — could­n't see the inno­va­tion in all this. They wrote off Oba­di­ah Old­buck's har­row­ing yet strange­ly light­heart­ed pic­to­r­i­al sto­ries of failed courtship, duel­ing, attempt­ed sui­cide, rob­bery, drag, elope­ment, ghosts, stray bul­lets, attack dogs, dou­ble-cross­ing, and the threat of exe­cu­tion as mere tri­fles by an oth­er­wise capa­ble artist. So the next time any­one gets on your case about read­ing com­ic books, just tell 'em they said the same thing about Oba­di­ah Old­buck. Then send them this way so they can fig­ure out what you mean. You can read The Adven­tures of Oba­di­ah Old­buck in its total­i­ty here.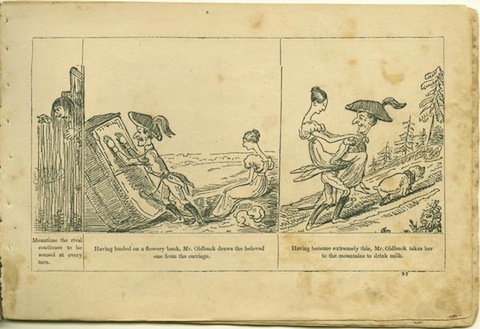 Relat­ed Con­tent:
Down­load Over 22,000 Gold­en & Sil­ver Age Com­ic Books from the Com­ic Book Plus Archive
Down­load 15,000+ Free Gold­en Age Comics from the Dig­i­tal Com­ic Muse­um
The Reli­gious Affil­i­a­tion of Com­ic Book Heroes
Col­in Mar­shall hosts and pro­duces Note­book on Cities and Cul­ture as well as the video series The City in Cin­e­ma and writes essays on cities, lan­guage, Asia, and men's style. He's at work on a book about Los Ange­les, A Los Ange­les Primer. Fol­low him on Twit­ter at @colinmarshall or on Face­book.