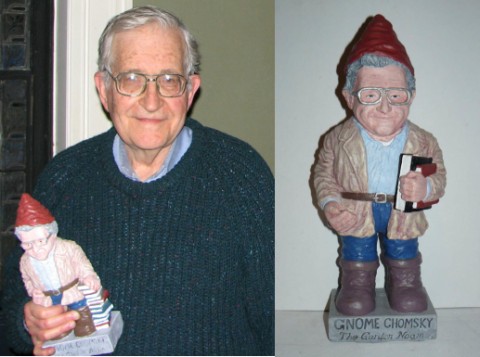 Images via JustSayGnome
The Noam Chomsky Garden Gnome. That's right, I said it, the Noam Chomsky Garden Gnome.
Over at justsaygnome.net, you can buy, when they're available, two versions of "Gnome Chomsky the Garden Noam." Here's is how it's generally described:
Standing at just under 17 inches, Gnome Chomsky the Garden Noam clutches his classic books, 'The Manufacture of Compost' and 'Hedgerows not Hegemony' – with his open right hand ready to hold the political slogan of your choosing. His clothes represent a relaxed but classy version of regular gnome attire, including: a nice suit jacket-tunic, jeans, boots, traditional gnome cap, and glasses. Additionally, Noam Gnome stands on a base complete with a carved title – for anyone who may not immediately realize the identity of this handsome and scholarly gnome.
The gnome costs $195 painted and $95 unpainted (plus shipping). The bummer is that the gnomes are currently out of stock, and when they'll come back is anyone's guess. That said, if you really want one, the site's (presumed) owner Steve encourages you to drop him an email. I might have to send one myself.
Above you can see a photo of Chomsky with a Noam Gnome. Find additional views of the Noam Gnome here. And, guess what, they've got a Howard Zinn gnome too.
In putting this post together, I spotted an old comic bit that took the idea of a Noam Garden Gnome as its premise. You can watch it below.
Follow us on Facebook, Twitter and Google Plus and share intelligent media with your friends. Or better yet, sign up for our daily email and get a daily dose of Open Culture in your inbox.
Related Content:
Read 9 Books By Noam Chomsky Free Online
Filmmaker Michel Gondry Presents an Animated Conversation with Noam Chomsky
Clash of the Titans: Noam Chomsky & Michel Foucault Debate Human Nature & Power on Dutch TV, 1971