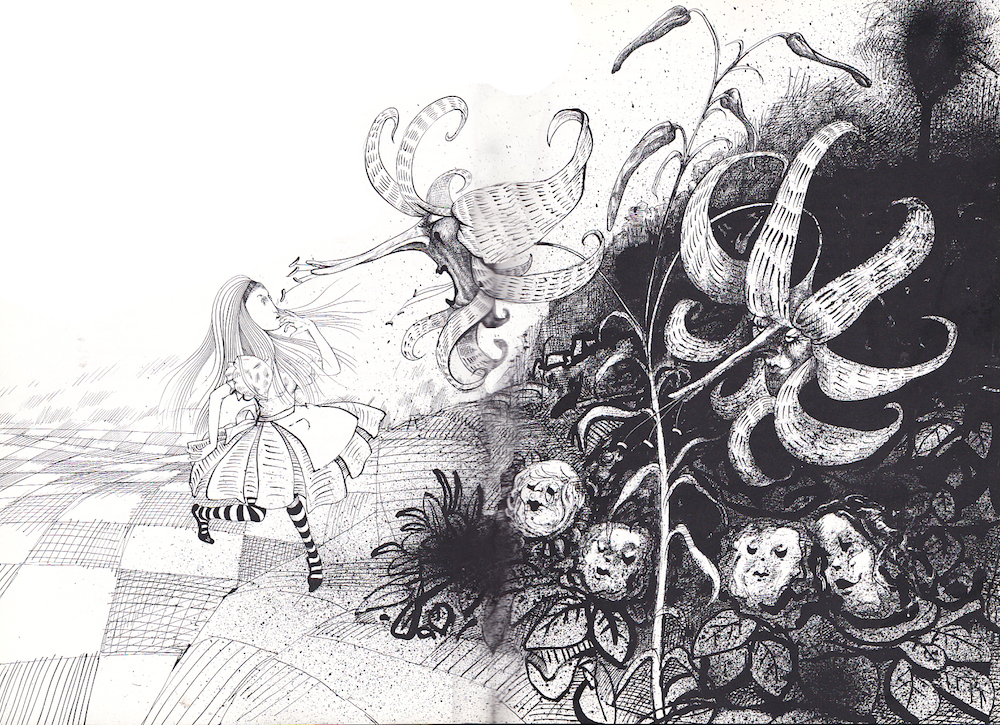 This year, readers worldwide celebrate the 150th anniversary of the publication of Alice's Adventures in Wonderland. (Click to see the original manuscript, handwritten & illustrated by Lewis Carroll.) Carroll's fantastical, unexpectedly psychological and intellectual children's tale has inspired writers, artists, and other creators of all ages since it first came out in 1865. New editions and adaptations have kept appearing, each reflecting the spirit of their own time through the askew prism of Alice's sensibility. And which living illustrator could provide more askew imagery than Ralph Steadman?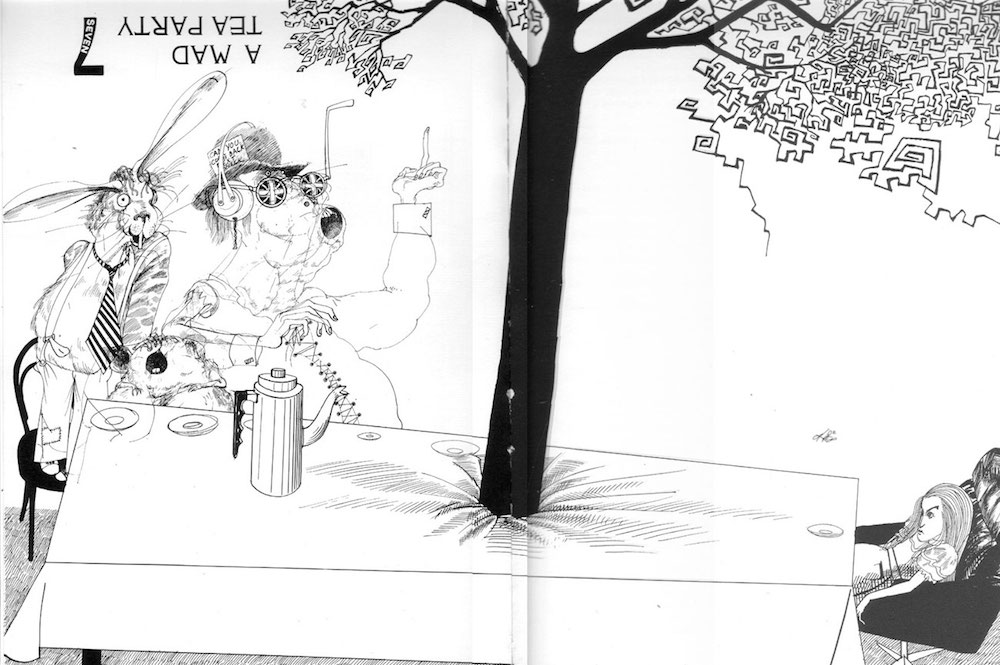 We all know that Alice's dreamlike journey begins in earnest when she drinks from a bottle labeled "DRINK ME" and eats a cake labeled "EAT ME." See what metaphors you will, but to my mind, this alone makes the story obvious Steadman material: many of us discover his art through its appearance in Hunter S. Thompson's Fear and Loathing in Las Vegas, a collaboration that qualifies Steadman as no stranger at all to visualizing unreal circumstances heightened, or induced, by one ingested substance or another.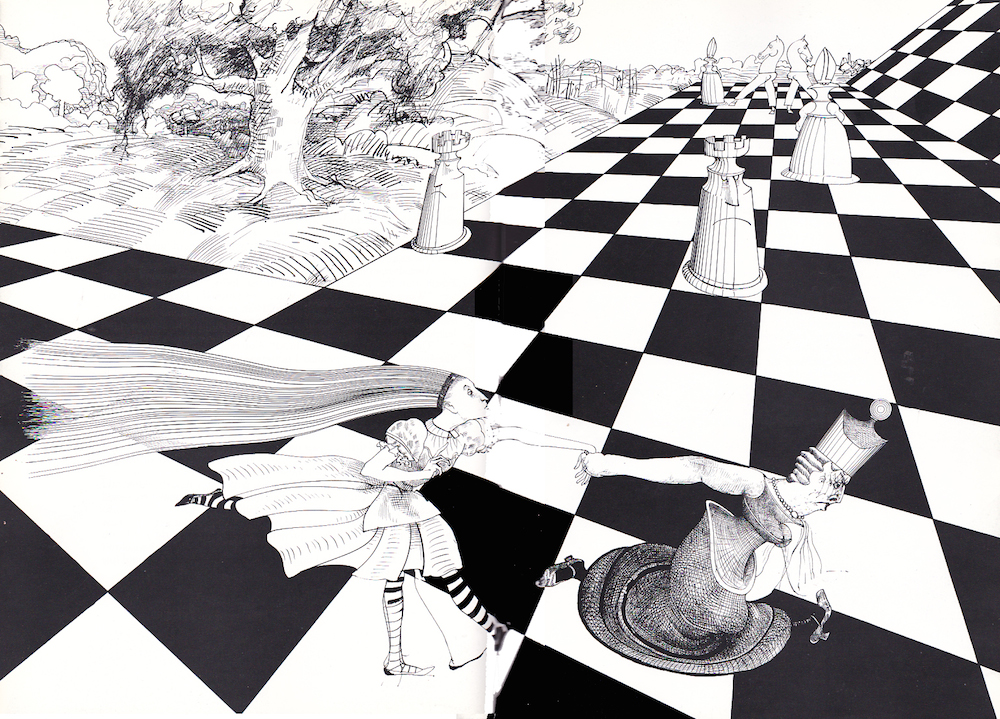 Fear and Loathing in Las Vegas appeared in book form in 1972; Alice in Wonderland Illustrated by Ralph Steadman appeared the next year, and went on to win the Francis Williams Book Illustration Award.
His version, writes io9's Cyriaque Lamar, "has gone through various print runs throughout the decades, and he modeled several of the characters on decidedly modern personalities. For example, the Cheshire Cat is a television talking head, the Caterpillar is a grass-smoking pedant, the Mad Hatter is a barking quizmaster, and the King and Queen of Hearts are a melting mass of political authority."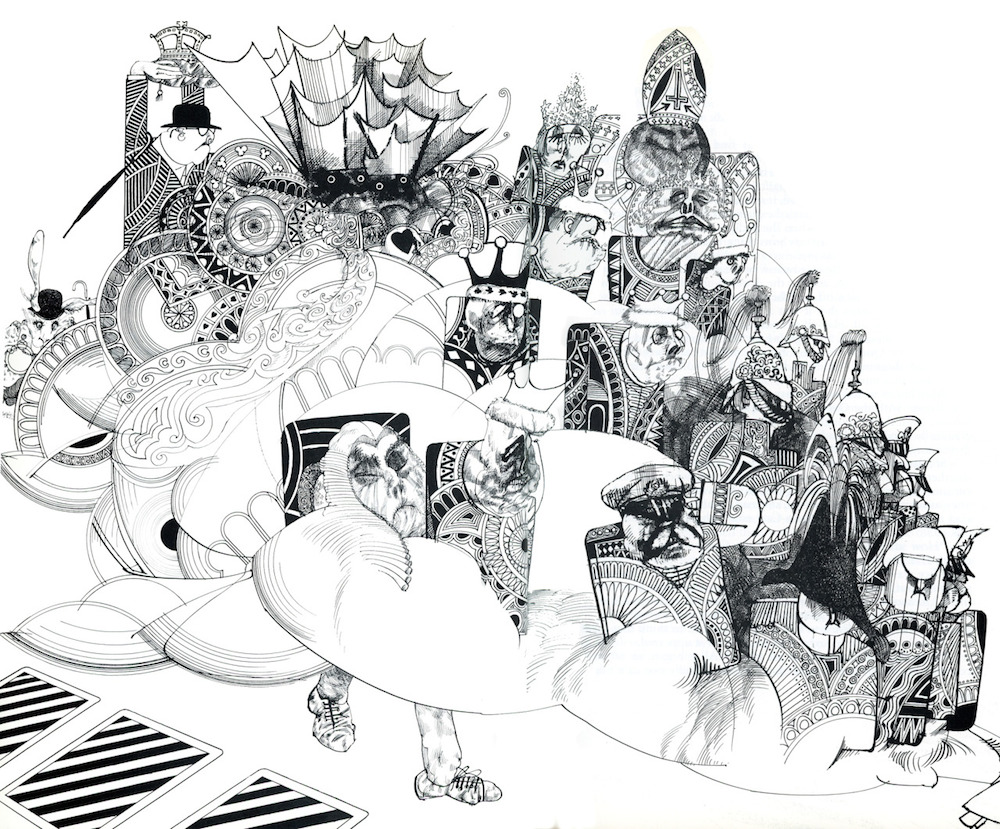 See more of Steadman's pieces by picking up your own copy of the book, or visit Brain Pickings, where Maria Popova describes them as bringing "to Carroll's classic the perfect kind of semi-sensical visual genius, blending the irreverent with the sublime." Though by all available evidence thoroughly sane himself, Steadman's illustrations have, over his fifty-year career, lent just the right notes of English insanity to a variety of subjects, from wine to dogs to psychogeography. Only natural, then, to see them accompany the insanity — which, sentence by sentence and page by page, comes to seem like sanity by other means — of a classic English tale like Alice's Adventures in Wonderland.
Related Content:
See the Original Alice In Wonderland Manuscript, Handwritten & Illustrated By Lewis Carroll (1864)
See Salvador Dali's Illustrations for the 1969 Edition of Alice's Adventures in Wonderland
Lewis Carroll's Photographs of Alice Liddell, the Inspiration for Alice in Wonderland
When Aldous Huxley Wrote a Script for Disney's Alice in Wonderland
Colin Marshall writes on cities, language, Asia, and men's style. He's at work on a book about Los Angeles, A Los Angeles Primer, and the video series The City in Cinema. Follow him on Twitter at @colinmarshall or on Facebook.