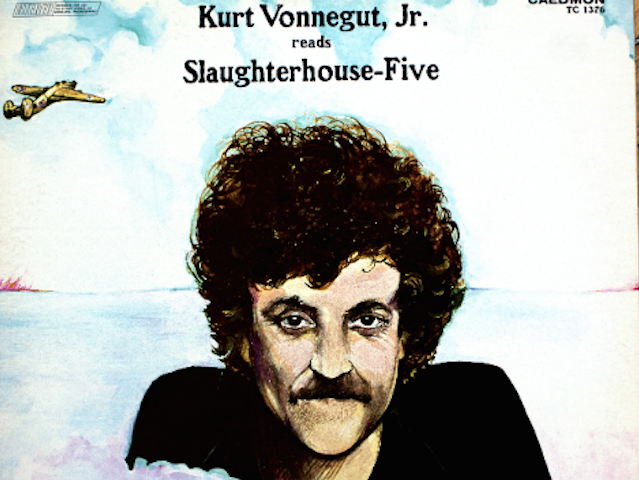 Many of us grade the books we read, but Kurt Vonnegut graded the books he wrote. Letters of Note once tweeted out a list of the thirteen grades he applied to thirteen of his novels, prefaced with his disclaimer that "the grades I hand out to myself do not place me in literary history. I am comparing myself with myself." With that out of the way, he gives 1969's Slaughterhouse-Five
, his sixth novel and best-known work, an A-plus, and puts his fourth novel, Cat's Cradle
from 1963, in the very same league.
But you don't have to take Vonnegut's word for it. You can, of course, read these books yourself — or you can hear them read aloud, at least in abridged versions, for free on Spotify. What's more, you can hear Vonnegut, clearly not a man to distance himself from his finished work, read them aloud in his own voice. The recordings come from the label Caedmon, pioneers of the vinyl-album proto-audiobook beginning in the 1950s with a record of Dylan Thomas reading his poetry. Their Vonnegut-reading-Vonnegut releases came out through the 1970s.
You might as well begin by listening to the readings of Cat's Cradle and Slaughterhouse-Five, Vonnegut's "A-plus" books. They also put out audio versions of Welcome to the Monkey House, which the author graded a bit more harshly with a B-minus, and Breakfast of Champions, which, with a C, he ranked down among what he considered his lesser works. But that disdain doesn't affect his characteristic richly weary delivery of the text, and besides, some of his fans love Breakfast of Champions
best of all. Bonus: Stories from Welcome to the Monkey House is also an option.
If you don't yet have the free software needed to play these or other recordings on Spotify, download it here, start listening to these classically satirical, inventive, and cynical midcentury American novels, and prepare to hand out some grades of your own.
Looking for free, professionally-read audio books from Audible.com? For example, John Malkovich reading Breakfast of Champions? Or James Franco reading Slaughterhouse-Five? Here's a great, no-strings-attached deal. If you start a 30 day free trial with Audible.com, you can download two free audio books of your choice. Get more details on the offer here.
Related Content:
Kurt Vonnegut Maps Out the Universal Shapes of Our Favorite Stories
Kurt Vonnegut's 8 Tips on How to Write a Good Short Story
Kurt Vonnegut Explains "How to Write With Style"
Kurt Vonnegut Urges Young People to Make Art and "Make Your Soul Grow"
Hear Hemingway Read Hemingway, and Faulkner Read Faulkner (90 Minutes of Classic Audio)
Listen to 60+ Free, High-Quality AudioBooks of Classic Literature on Spotify: Austen, Dickens, Tolstoy & More
Colin Marshall writes on cities, language, Asia, and men's style. He's at work on a book about Los Angeles, A Los Angeles Primer, and the video series The City in Cinema. Follow him on Twitter at @colinmarshall or on Facebook.