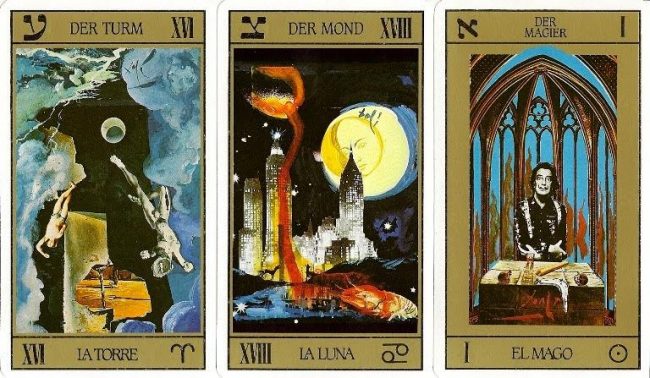 The Tarot has long been a tool of char­la­tans. But it has also long been embraced by bril­liant, uncon­ven­tion­al thinkers, many of whom them­selves have a touch of the char­la­tan about them (and who would just as like­ly admit it with a smile). William But­ler Yeats was a fan, as is vision­ary Chilean film­mak­er, artist, writer, and psy­cho­naut Ale­jan­dro Jodor­owsky, who has record­ed his own Youtube series explain­ing his take on this clas­sic mode of div­ina­tion. With its arche­typ­al sym­bol­ism, the Tarot's appeal to artists should be obvi­ous. Most of them, like Jodor­owsky, find far more inter­est­ing uses for it than for­tune-telling. "You must not talk about the future," Jodor­owsky tells us in his series, "the future is a con. The tarot is a lan­guage that talks about the present."
What might anoth­er vision­ary artist, Sal­vador Dalí, think of Jodorowsky's Tarot inter­pre­ta­tions? We'll nev­er know, but I sus­pect he would find them enchant­i­ng. Not only do the two seem like kin­dred spir­its, but Dalí devot­ed some part of his life to the Tarot, design­ing his own deck in the 70s.
Ini­tial­ly, the project arrived as a com­mis­sion from pro­duc­er Albert Broc­coli for the James Bond film Live and Let Die. "Like­ly inspired by his wife Gala, who nur­tured his inter­est in mys­ti­cism," writes Chicago's Muse­um of Con­tem­po­rary Art, "Dalí eager­ly got to work, and con­tin­ued the project of his own accord when the con­trac­tu­al deal fell through."
It was just around this time that the Tarot saw a mas­sive resur­gence in pop­u­lar­i­ty. The occult inter­ests of the 60s coun­ter­cul­ture were main­streamed in the 70s thanks to books like Stu­art Kaplan's Tarot Cards for Fun and For­tune Telling. But while Dalí had chan­neled the vivid psy­che­delia of the age in an ear­li­er illus­tra­tion project, 1969's Alice and Won­der­land, his Tarot deck, writes Lisa Rain­wa­ter at Galo mag­a­zine, "actu­al­ly shows reserve. Yes, reserve—as if his rev­er­ence for the tarot near­ly hum­bles him." His knack for "fanat­i­cal self-pro­mo­tion" does get the bet­ter of him even­tu­al­ly: he choos­es his own face to rep­re­sent the Magi­cian (above).
Over­all, the deck com­bines the eclec­tic ori­gins of occult prac­tices with Dalí's own unmis­tak­able sen­si­bil­i­ty. Dalí's Tarot is "a pas­tiche of old-world art, sur­re­al­ism, kitsch, Chris­t­ian iconog­ra­phy and Greek and Roman sculp­ture. Many of his recur­ring motifs such as the rose, the fly and the bull's head are found through­out the deck." First pub­lished in a lim­it­ed edi­tion in 1984—and reis­sued since in edi­tions by TASCHEN and in book form by oth­er pub­lish­ers—the deck includ­ed an intro­duc­to­ry book­let that reads, in Span­ish, Eng­lish, and French:
The Wiz­ard (Arcanum I), Sal­vador Dalí, has trans­formed with his excep­tion­al art and his mar­velous tal­ent the 78 gold­en plates of 'The fab­u­lous book of Thot' into as many artis­tic mar­vels, each one of them duly signed by the hand of this unmatch­able, inter­nal­ly famous painter … such an extra­or­di­nary artis­tic cre­ation does not detract, in any way, from the Tarot's close sym­bol­ism. On the con­trary, it enhances with its cap­ti­vat­ing beau­ty, the Tarot's eso­teric and plas­tic mean­ing.
See a pre­view video of the full Dalí deck above, pur­chase a lim­it­ed edi­tion set here, or a much more afford­able ver­sion here.
Relat­ed Con­tent:
Ale­jan­dro Jodor­owsky Explains How Tarot Cards Can Give You Cre­ative Inspi­ra­tion
Sal­vador Dalí's 1973 Cook­book Gets Reis­sued: Sur­re­al­ist Art Meets Haute Cui­sine
Sal­vador Dalí's Avant-Garde Christ­mas Cards
Josh Jones is a writer and musi­cian based in Durham, NC. Fol­low him at @jdmagness