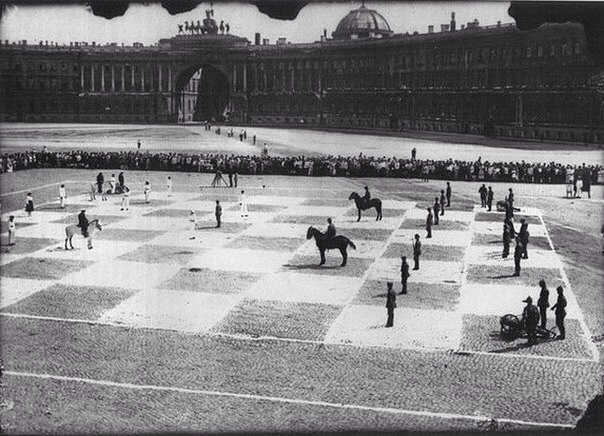 Let's time travel back to Leningrad (aka St. Petersburg) in 1924. That's when an unconventional chess match was played by Peter Romanovsky and Ilya Rabinovich, two chess masters of the day.
Apparently, they called in their moves over the telephone. And then real-life chess pieces–in the form of human beings and horses–were moved across a huge chessboard covering Palace Square. Members of the Soviet Union's Red Army served as the black pieces; members of the Soviet navy were the white pieces. They're all on display above, or shown in a larger format here.
According to this online forum for chess enthusiasts, the 5-hour match "was an annual event, designed to promote chess in the USSR." The first such match was held in Smolensk in 1921. We're not sure who won the St. Petersburg contest.
If you would like to sign up for Open Culture's free email newsletter, please find it here.
If you would like to support the mission of Open Culture, consider making a donation to our site. It's hard to rely 100% on ads, and your contributions will help us continue providing the best free cultural and educational materials to learners everywhere. You can contribute through PayPal, Patreon, Venmo (@openculture) and Crypto. Thanks!
Related Content:
Man Ray Designs a Supremely Elegant, Geometric Chess Set in 1920 (and It's Now Re-Issued for the Rest of Us)
Play Chess Against the Ghost of Marcel Duchamp: A Free Online Chess Game
Watch Bill Gates Lose a Chess Match in 79 Seconds to the New World Chess Champion Magnus Carlsen
A Famous Chess Match from 1910 Reenacted with Claymation