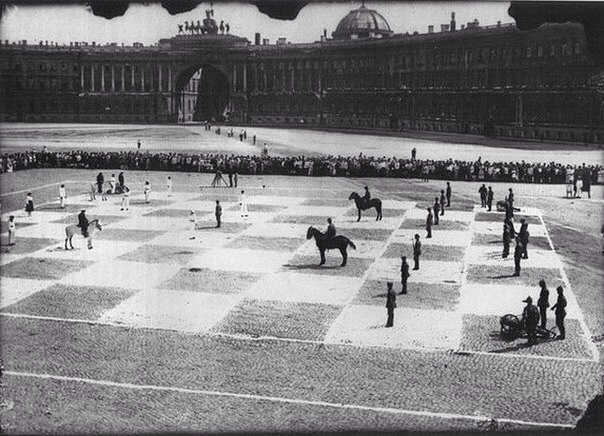 Let's time trav­el back to Leningrad (aka St. Peters­burg) in 1924. That's when an uncon­ven­tion­al chess match was played by Peter Romanovsky and Ilya Rabi­novich, two chess mas­ters of the day.
Appar­ent­ly, they called in their moves over the tele­phone. And then real-life chess pieces–in the form of human beings and horses–were moved across a huge chess­board cov­er­ing Palace Square. Mem­bers of the Sovi­et Union's Red Army served as the black pieces; mem­bers of the Sovi­et navy were the white pieces. They're all on dis­play above, or shown in a larg­er for­mat here.
Accord­ing to this online forum for chess enthu­si­asts, the 5‑hour match "was an annu­al event, designed to pro­mote chess in the USSR." The first such match was held in Smolen­sk in 1921. We're not sure who won the St. Peters­burg con­test.
If you would like to sign up for Open Culture's free email newslet­ter, please find it here.
If you would like to sup­port the mis­sion of Open Cul­ture, con­sid­er mak­ing a dona­tion to our site. It's hard to rely 100% on ads, and your con­tri­bu­tions will help us con­tin­ue pro­vid­ing the best free cul­tur­al and edu­ca­tion­al mate­ri­als to learn­ers every­where. You can con­tribute through Pay­Pal, Patre­on, and Ven­mo (@openculture). Thanks!
Relat­ed Con­tent:
Man Ray Designs a Supreme­ly Ele­gant, Geo­met­ric Chess Set in 1920 (and It's Now Re-Issued for the Rest of Us)
Play Chess Against the Ghost of Mar­cel Duchamp: A Free Online Chess Game
Watch Bill Gates Lose a Chess Match in 79 Sec­onds to the New World Chess Cham­pi­on Mag­nus Carlsen
A Famous Chess Match from 1910 Reen­act­ed with Clay­ma­tion