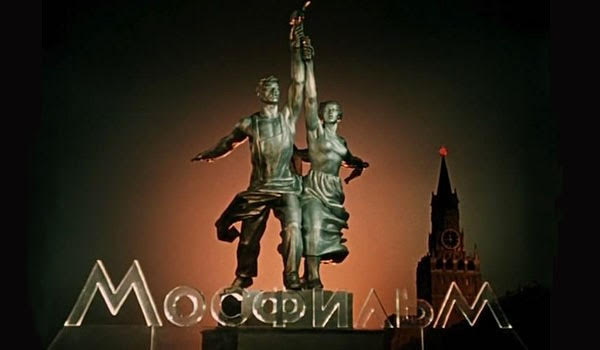 To most international cinephiles, the word Mosfilm immediately brings to mind two towering names in Russian motion pictures: Sergei Eisenstein and Andrei Tarkovsky. Both directors made not just important movies but took major steps to develop the visual language of film itself, and both worked for Mosfilm, one of Russia's largest and oldest film studios. First established in 1923, it went on to produce more than 3,000 films during the Soviet era, some of which now define the cinema of that period. Now viewers around the world can enjoy their aesthetic lushness, historical interest, and pure entertainment value more easily than ever on Mosfilm's Youtube channel, which offers among its many freely viewable pictures a selection of 70 films in high definition.
You'll want to start, of course, with Eisenstein and Tarkovsky. Mosfilm has made available in HD the former's Alexander Nevsky (1938) and much of the latter's filmography: Ivan's Childhood (1962), Andrei Rublev (1966), Solaris (1972), The Mirror (1975), and Stalker (1979).
For all their high artistic achievement, however, they may admittedly reinforce the West's Cold War-era image of Russians as terribly serious people who seldom even crack a smile, let alone laugh. So why not follow those up with a dive into Mosfilm's considerable HD selection of beloved, light-hearted Soviet comedies?
Of all Soviet comedy directors, Leonid Gaidai stands as by far the most successful. You can watch a fair few of his works, long and short, on Mosfilm's HD playlist, including Operation Y and Shurik's Other Adventures (1965); the intriguingly titled Kidnapping, Caucasian Style (1967); The Diamond Arm (1969), the most popular society comedy ever; The Twelve Chairs (1971); Ivan Vasilievich Changes Profession (1973), based on a play by Mikhail Bulgakov; and It Can't Be! (1975). It also offers several films from Gaidai's contemporary Eldar Ryazanov, who worked in a more satirical vein (and showed a surprising willingness to poke fun at the absurdities of Soviet life): Carnival Night (1956), the beloved musical Hussar Ballad (1962), Beware of the Car (1966), Office Romance (1977), Station for Two (1982), and A Cruel Romance (1984).
You may also notice the conspicuous presence of a certain highly notable non-Russian filmmaker: Akira Kurosawa, who in 1975 worked with Mosfilm to make Dersu Uzala, an adaptation of the memoirs of a trapper in Russia's far eastern wilderness. It came as just one of Mosfilm's many literary adaptations, the most famous perhaps being Sergei Bondarchuk's 1969 vision of Leo Tolstoy's War and Peace. On Mosfilm's HD playlist you'll also find two features drawing on the work of Anton Chekhov: Andrei Konchalovsky's Uncle Vanya (1971), and Emil Loteanu's My Tender and Affectionate Beast, or a Hunting Accident (1978), a feature-length adaptation of A Hunting Party.
Mosfilm's Youtube channel features not just Soviet-era movies, but those from more recent years as well: the mighty film studio survived the dissolution of the Soviet Union itself, continuing to contribute to cinema as a quasi-private federation of independent studios. Its current Director General, Karen Shakhnazarov, boasts an impressive filmography of his own. You can get an HD taste of his work by watching Jazzmen (1983), Winter Evening in Gagra (1985), Courier (1986),  Zerograd (1989), The Assassin of the Tsar (1991), Dreams (1993), Poisons, or the World History of Poisoning (2001), and The Vanished Empire (2008), all of which weave together the threads — the visionary, the historical, the everyday, the absurd — running through Mosfilm's long history.
NOTE: Though many of the titles on Mosfilm's HD playlist appear only in Russian, most of the films themselves come with English subtitles. Make sure to click the "CC" icon on the lower right of the Youtube player to turn them on.
Some of the films mentioned above will be added to our meta collection, 4,000+ Free Movies Online: Great Classics, Indies, Noir, Westerns, Documentaries & More.
Related Content:
Watch War and Peace: The Splendid, Epic Film Adaptation of Leo Tolstoy's Grand Novel (1969)
Free Films by Andrei Tarkovsky, Sergei Eisenstein & Other Russian Greats
When Akira Kurosawa Watched Solaris with Andrei Tarkovsky: I Was "Very Happy to Find Myself Living on Earth"
Watch Battleship Potemkin and Other Free Sergei Eisenstein Films
A Visual Introduction to Soviet Montage Theory: A Revolution in Filmmaking
Based in Seoul, Colin Marshall writes and broadcasts on cities and culture. He's at work on a book about Los Angeles, A Los Angeles Primer, the video series The City in Cinema, the crowdfunded journalism project Where Is the City of the Future?, and the Los Angeles Review of Books' Korea Blog. Follow him on Twitter at @colinmarshall or on Facebook.