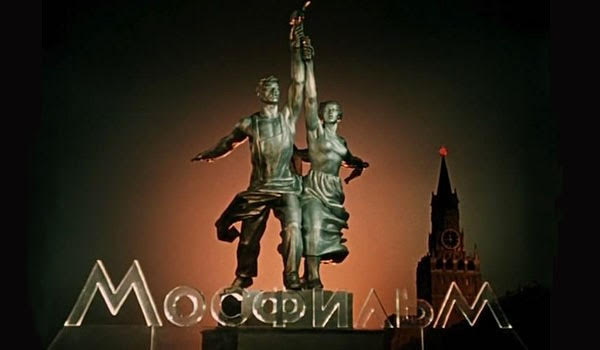 To most inter­na­tion­al cinephiles, the word Mos­film imme­di­ate­ly brings to mind two tow­er­ing names in Russ­ian motion pic­tures: Sergei Eisen­stein and Andrei Tarkovsky. Both direc­tors made not just impor­tant movies but took major steps to devel­op the visu­al lan­guage of film itself, and both worked for Mos­film, one of Rus­si­a's largest and old­est film stu­dios. First estab­lished in 1923, it went on to pro­duce more than 3,000 films dur­ing the Sovi­et era, some of which now define the cin­e­ma of that peri­od. Now view­ers around the world can enjoy their aes­thet­ic lush­ness, his­tor­i­cal inter­est, and pure enter­tain­ment val­ue more eas­i­ly than ever on Mos­film's Youtube chan­nel, which offers among its many freely view­able pic­tures a selec­tion of 70 films in high def­i­n­i­tion.
You'll want to start, of course, with Eisen­stein and Tarkovsky. Mos­film has made avail­able in HD the for­mer's Alexan­der Nevsky (1938) and much of the lat­ter's fil­mog­ra­phy: Ivan's Child­hood (1962), Andrei Rublev (1966), Solaris (1972), The Mir­ror (1975), and Stalk­er (1979).
For all their high artis­tic achieve­ment, how­ev­er, they may admit­ted­ly rein­force the West­'s Cold War-era image of Rus­sians as ter­ri­bly seri­ous peo­ple who sel­dom even crack a smile, let alone laugh. So why not fol­low those up with a dive into Mos­film's con­sid­er­able HD selec­tion of beloved, light-heart­ed Sovi­et come­dies?
Of all Sovi­et com­e­dy direc­tors, Leonid Gaidai stands as by far the most suc­cess­ful. You can watch a fair few of his works, long and short, on Mos­film's HD playlist, includ­ing Oper­a­tion Y and Shurik's Oth­er Adven­tures (1965); the intrigu­ing­ly titled Kid­nap­ping, Cau­casian Style (1967); The Dia­mond Arm (1969), the most pop­u­lar soci­ety com­e­dy ever; The Twelve Chairs (1971); Ivan Vasilievich Changes Pro­fes­sion (1973), based on a play by Mikhail Bul­gakov; and It Can't Be! (1975). It also offers sev­er­al films from Gaidai's con­tem­po­rary Eldar Ryazanov, who worked in a more satir­i­cal vein (and showed a sur­pris­ing will­ing­ness to poke fun at the absur­di­ties of Sovi­et life): Car­ni­val Night (1956), the beloved musi­cal Hus­sar Bal­lad (1962), Beware of the Car (1966), Office Romance (1977), Sta­tion for Two (1982), and A Cru­el Romance (1984).
You may also notice the con­spic­u­ous pres­ence of a cer­tain high­ly notable non-Russ­ian film­mak­er: Aki­ra Kuro­sawa, who in 1975 worked with Mos­film to make Der­su Uza­la, an adap­ta­tion of the mem­oirs of a trap­per in Rus­si­a's far east­ern wilder­ness. It came as just one of Mos­film's many lit­er­ary adap­ta­tions, the most famous per­haps being Sergei Bon­darchuk's 1969 vision of Leo Tol­stoy's War and Peace. On Mos­film's HD playlist you'll also find two fea­tures draw­ing on the work of Anton Chekhov: Andrei Kon­chalovsky's Uncle Vanya (1971), and Emil Loteanu's My Ten­der and Affec­tion­ate Beast, or a Hunt­ing Acci­dent (1978), a fea­ture-length adap­ta­tion of A Hunt­ing Par­ty.
Mos­film's Youtube chan­nel fea­tures not just Sovi­et-era movies, but those from more recent years as well: the mighty film stu­dio sur­vived the dis­so­lu­tion of the Sovi­et Union itself, con­tin­u­ing to con­tribute to cin­e­ma as a qua­si-pri­vate fed­er­a­tion of inde­pen­dent stu­dios. Its cur­rent Direc­tor Gen­er­al, Karen Shakhnazarov, boasts an impres­sive fil­mog­ra­phy of his own. You can get an HD taste of his work by watch­ing Jazzmen (1983), Win­ter Evening in Gagra (1985), Couri­er (1986), Zero­grad (1989), The Assas­sin of the Tsar (1991), Dreams (1993), Poi­sons, or the World His­to­ry of Poi­son­ing (2001), and The Van­ished Empire (2008), all of which weave togeth­er the threads — the vision­ary, the his­tor­i­cal, the every­day, the absurd — run­ning through Mos­film's long his­to­ry.
NOTE: Though many of the titles on Mos­film's HD playlist appear only in Russ­ian, most of the films them­selves come with Eng­lish sub­ti­tles. Make sure to click the "CC" icon on the low­er right of the Youtube play­er to turn them on.
Some of the films men­tioned above will be added to our meta col­lec­tion, 4,000+ Free Movies Online: Great Clas­sics, Indies, Noir, West­erns, Doc­u­men­taries & More.
Relat­ed Con­tent:
Watch War and Peace: The Splen­did, Epic Film Adap­ta­tion of Leo Tolstoy's Grand Nov­el (1969)
Free Films by Andrei Tarkovsky, Sergei Eisen­stein & Oth­er Russ­ian Greats
When Aki­ra Kuro­sawa Watched Solaris with Andrei Tarkovsky: I Was "Very Hap­py to Find Myself Liv­ing on Earth"
Watch Bat­tle­ship Potemkin and Oth­er Free Sergei Eisen­stein Films
A Visu­al Intro­duc­tion to Sovi­et Mon­tage The­o­ry: A Rev­o­lu­tion in Film­mak­ing
Based in Seoul, Col­in Mar­shall writes and broad­casts on cities and cul­ture. He's at work on a book about Los Ange­les, A Los Ange­les Primer, the video series The City in Cin­e­ma, the crowd­fund­ed jour­nal­ism project Where Is the City of the Future?, and the Los Ange­les Review of Books' Korea Blog. Fol­low him on Twit­ter at @colinmarshall or on Face­book.