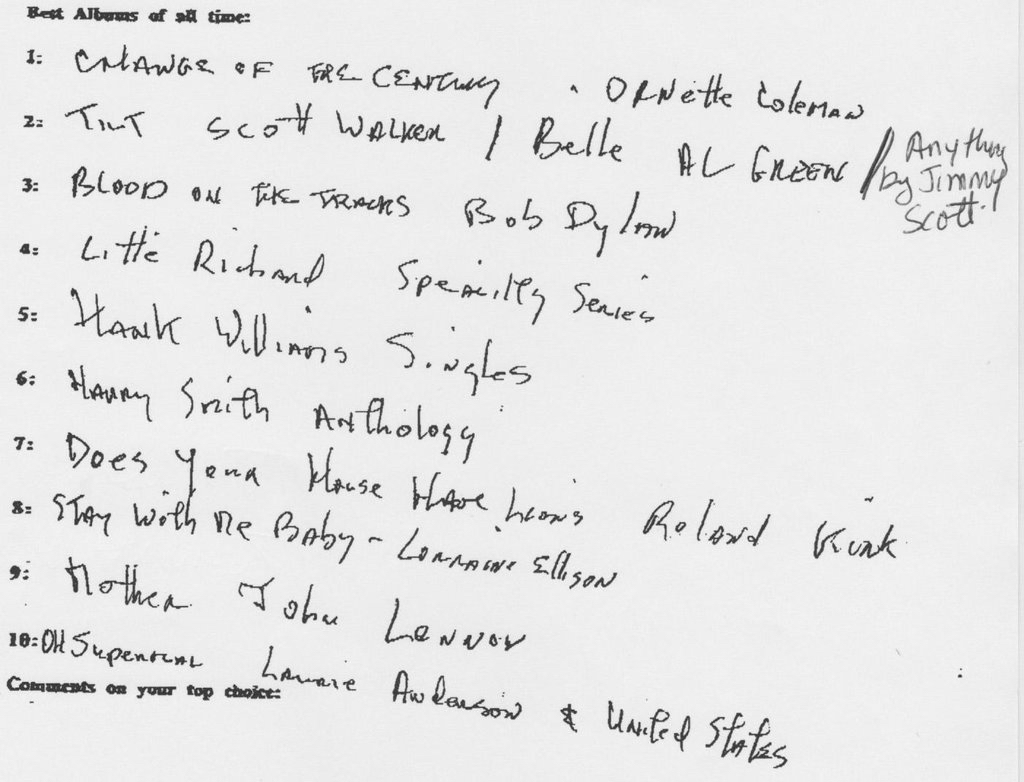 If you want to write, most every writer will tell you, you've got to read, read, read, and read. "Read more than you write," advises Teju Cole. Even great filmmakers like Werner Herzog and Akira Kurasawa cite copious reading as a prerequisite for their primarily visual medium. But what about music? What advice might we hope to receive about the art of writing memorable, culturally significant songs? Listen, listen, listen, and listen, perhaps.
One of the greatest of rock and roll greats, Lou Reed, had overt literary ambitions, formed during his years as an English major at Syracuse University, where he studied under poet Delmore Schwartz. "Hubert Selby, William Burroughs, Allen Ginsberg and Delmore Schwartz," he once told Spin, "To be able to achieve what they did, in such little space, using such simple words. I thought if you could do what those writers did and put it to drums and guitar, you'd have the greatest thing on earth."
Thematically, Reed accomplished this, bringing the same violence, tenderness, and streetwise decadence to his work as his literary heroes did to theirs. But formally, he drew on another battery of influences: classic soul, doo wop, rhythm and blues, folk, jazz, and early rock and roll. Cribbing from all these genres during his long career, Reed displayed a seemingly effortless mastery of archetypal American pop music.
Unlike Leonard Cohen—another literary songwriter drawn to life's darker themes—Reed did not leave college and start publishing poetry. In 1964, he moved to New York to begin work as an in-house songwriter for Pickwick Records, soaking up the music around him through his pores, transmuting it into his own warped take on early hits like his dance craze, "The Ostrich," which included the line "put your head on the floor and have somebody step on it."
As weird as Reed was even then, he wrote immensely catchy tunes and eventually inspired several thousand punk, post-punk, alternative, and indie songwriters with the novel idea that one could make dangerous, shocking music with simple, catchy—even bubblegum—melodies. Perhaps no one had as great an effect on post-60s rock, but Reed's own influences drew solidly from the fifties and before, as partially evidenced in his own hand, in a scrawled list of "best albums of all time," which he submitted for a 1999 magazine interview.
1. Change of the Century—Ornette Coleman
2. Tilt—Scott Walker / Belle—Al Green / Anything by Jimmy Scott
3. Blood on the Tracks—Bob Dylan
4. Little Richard's Specialty Series
5. Hank Williams' Singles
6. Harry Smith Anthology
7. Does Your House Have Lions—Roland Kirk
8. "Stay with Me Baby"—Lorraine Ellison
9. "Mother"—John Lennon
10."Oh Superman"—Laurie Anderson & United States
The list, transcribed above, includes the three-volume Specialty Sessions at number 4, a comprehensive omnibus of Little Richard hits. Below it is Hank Williams' 3-disc singles collection, and further down, at twice the size, Harry Smith's enormous Anthology of American Folk Music. By far, the bulk of Reed's suggestions saw release before he ever put pen to paper and came up with "The Ostrich." We're just peeking into the sixties with Ornette Colemans' Change of the Century, at number one.
But you'll also note that, tied at number two with Al Green's Belle and "Anything by Jimmy Scott" (making his list of ten come out to 13), we have Scott Walker's bizarre, experimental 1995 masterpiece Tilt (hear "Farmer in the City" further up), a return from oblivion for the reclusive sixties crooner and an album, writes Allmusic, "on a plateau somewhere between Nico's Marble Index and Lou Reed's Metal Machine Music." Ever modest (he once claimed, "my bullshit is worth more than other people's diamonds"), Reed was acutely aware of his own pivotal place in 20th century music, though he does refrain from listing one of his own records. He ends instead with the pulsing, trance-like single "Oh Superman," by his romantic and musical partner, Laurie Anderson.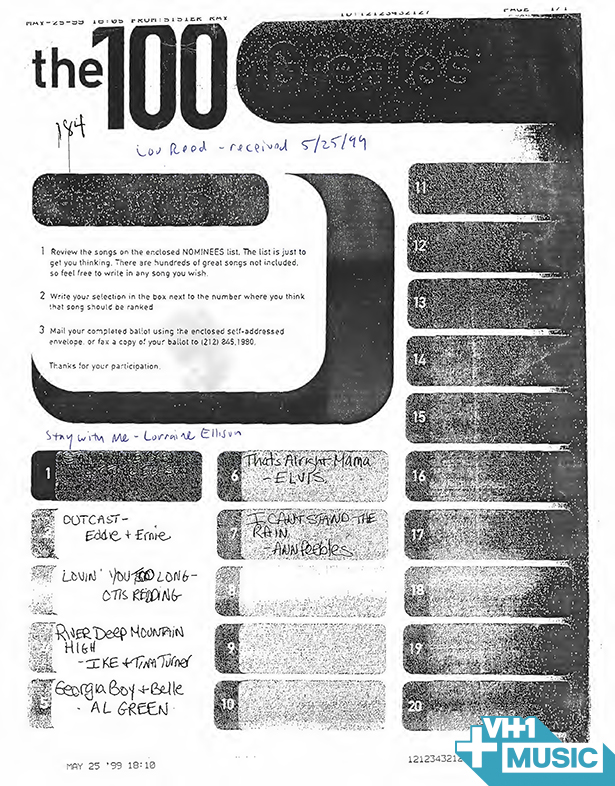 Who knows how seriously Reed took this assignment, given how much he could be "circumspect about the materials and methods of his art" in his often confrontational public statements. That same year, VH1 polled several journalists and "esteemed musicians," writes the music channel, on their choice of the 100 greatest songs of rock and roll. "Naturally we approached Reed, who sent his choices back via fax. In true iconoclast form, instead of listing out his 100 favorite songs, he picked just eight." Only two of the artists from his top ten appear here: Lorraine Ellison and Al Green. See his hand-written ballot above, and the eight songs listed below.
1. "Stay With Me" by Lorraine Ellison
2."Outcast" by Eddie and Ernie
3. "Lovin' You Too Long" by Otis Redding
4. "River Deep Mountain High" by Ike & Tina Turner
5. + 6. "Georgia Boy" and "Belle" by Al Green
7. "That's Alright Mama" by Elvis Presley
8. "I Can't Stand the Rain" by Ann Peebles
Related Content:
Hear Ornette Coleman Collaborate with Lou Reed, Which Lou Called "One of My Greatest Moments"
Lou Reed and Laurie Anderson's Three Rules for Living Well: A Short and Succinct Life Philosophy
Lou Reed Reads Delmore Schwartz's Famous Story "In Dreams Begin Responsibilities"
Josh Jones is a writer and musician based in Durham, NC. Follow him at @jdmagness