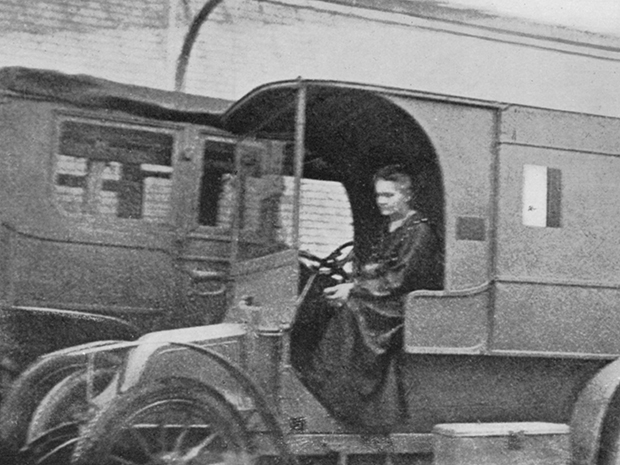 These days the phrase "mobile x-ray unit" is likely to spark heated debate about privacy, public health, and freedom of information, especially in New York City, where the police force has been less than forthcoming about its use of military grade Z Backscatter surveillance vans.
A hundred years ago, Mobile X-Ray Units were a brand new innovation, and a godsend for soldiers wounded on the front in WW1. Prior to the advent of this technology, field surgeons racing to save lives operated blindly, often causing even more injury as they groped for bullets and shrapnel whose precise locations remained a mystery.
Marie Curie was just setting up shop at Paris' Radium Institute, a world center for the study of radioactivity, when war broke out. Many of her researchers left to fight, while Curie personally delivered France's sole sample of radium by train to the temporarily relocated seat of government in Bordeaux.
"I am resolved to put all my strength at the service of my adopted country, since I cannot do anything for my unfortunate native country just now…," Curie, a Pole by birth, wrote to her lover, physicist Paul Langevin on New Year's Day, 1915.
To that end, she envisioned a fleet of vehicles that could bring X-ray equipment much closer to the battlefield, shifting their coordinates as necessary.
Rather than leaving the execution of this brilliant plan to others, Curie sprang into action.
She studied anatomy and learned how to operate the equipment so she would be able to read X-ray films like a medical professional.
She learned how to drive and fix cars.
She used her connections to solicit donations of vehicles, portable electric generators, and the necessary equipment, kicking in generously herself. (When she got the French National Bank to accept her gold Nobel Prize medals on behalf of the war effort, she spent the bulk of her prize purse on war bonds.)
She was hampered only by backwards-thinking bureaucrats whose feathers ruffled at the prospect of female technicians and drivers, no doubt forgetting that most of France's able-bodied men were otherwise engaged.
Curie, no stranger to sexism, refused to bend to their will, delivering equipment to the front line and X-raying wounded soldiers, assisted by her 17-year-old daughter, Irène, who like her mother, took care to keep her emotions in check while working with maimed and distressed patients.
"In less than two years," writes Amanda Davis at The Institute, "the number of units had grown substantially, and the Curies had set up a training program at the Radium Institute to teach other women to operate the equipment." Eventually, they recruited about 150 women, training them to man the Little Curies, as the mobile radiography units came to be known.
Related Content:
Marie Curie Attended a Secret, Underground "Flying University" When Women Were Banned from Polish Universities
An Animated Introduction to the Life & Work of Marie Curie, the First Female Nobel Laureate
Marie Curie's Research Papers Are Still Radioactive 100+ Years Later
Ayun Halliday is an author, illustrator, theater maker and Chief Primatologist of the East Village Inky zine. Her interest in women's wartime contributions has manifested itself in comics on "Crazy Bet" Van Lew and the Maidenform factory's manufacture of WWII carrier pigeon vests. Follow her @AyunHalliday.