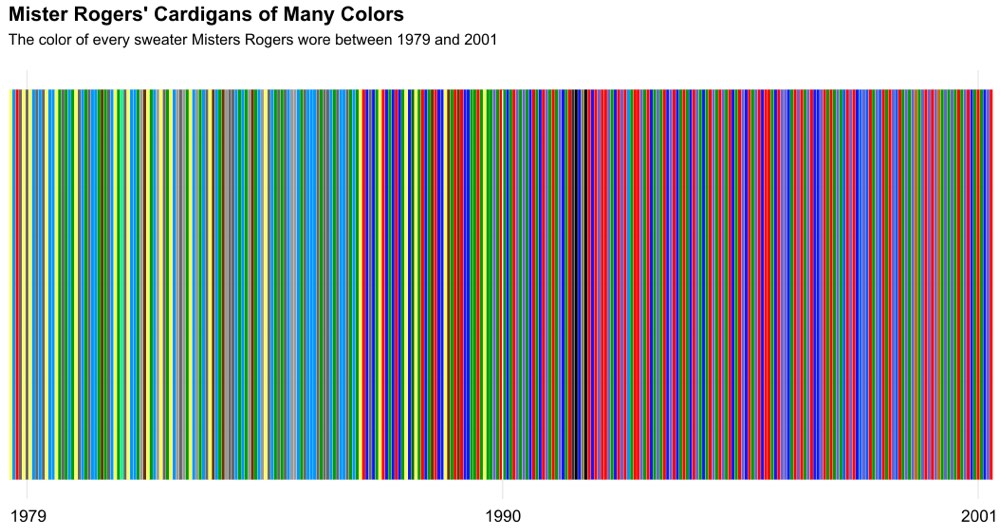 Writer Owen Phillips may be a sol­id data ana­lyst, but I sus­pect he's not much of a knit­ter.
The soft­ware he used to run a sci­en­tif­ic analy­sis of 22 years worth of Fred Rogers' sweaters ulti­mate­ly reduces the beloved children's tele­vi­sion host's homey zip-front cardi­gans to a slick graph­ic of col­or­ful bars.
A knit­ter would no doubt pri­or­i­tize oth­er types of pat­terns — stitch num­bers, wool weight, cable variations…the sort of infor­ma­tion Mis­ter Rogers' moth­er, Nan­cy, would have had at her fin­ger­tips.
As Mis­ter Rogers reveals in the sto­ry of his sweaters, his mom was the knit­ter behind many of the on-air sweaters Phillips crunched with R code. Whether their sub­tly shift­ing palette reflects an adven­tur­ous spir­it on the part of the mak­er or the recipient's evolv­ing taste is not for us to know.
After Mrs. Rogers' death, pro­duc­ers had to resort to buy­ing sim­i­lar mod­els. Many of her orig­i­nals had worn through or been donat­ed to char­i­ty events.
"Not an easy chal­lenge in the 80's and 90s," Mar­gy Whit­mer, a pro­duc­er of Mis­ter Rogers' Neigh­bor­hood told Rewire. "It cer­tain­ly wasn't in style! But we found a com­pa­ny who made cot­ton ones that were sim­i­lar, so we bought a bunch and dyed them."
(A moment of silent grat­i­tude that no one tried to shoe­horn Fred Rogers into a Cos­by Show sweater…)
It would be inter­est­ing to see what Phillips' code could do with faulty view­er mem­o­ries.
His input for the Mis­ter Rogers' Cardi­gans of Many Col­ors project was a chart on super fan Tim Lybarger's Neigh­bor­hood Archive detail­ing the hue of every sweater Mis­ter Rogers changed into on-cam­era from 1979 to 2001.
With­out sam­ples of the actu­al sweaters, Lybarger's col­or chart could only be approx­i­mate, but unlike view­ers' fad­ing mem­o­ries, it's root­ed in his own visu­al obser­va­tions of dis­tinct episodes. Aging fans tend to jet­ti­son Rogers' spec­tral real­i­ty in favor of a sin­gle shade, the bright red in which he greet­ed Wicked Witch of the West Mar­garet Hamil­ton in 1975, say, or the pleas­ant mouse-col­ored num­ber he sport­ed for a 1985 break­danc­ing ses­sion with a vis­it­ing 12-year-old.
For those who'd rather code than purl, Phillips shares MrRogers.R, the pro­gram he used to scrape the Neigh­bor­hood Archive for Mis­ter Rogers dai­ly sweater col­ors.
Then have a look at Rogers' sweaters as ren­dered by Phillips' fel­low data geek, Alan Joyce, who tin­kered with Phillips' code to pro­duce a gra­di­ent image.
Relat­ed Con­tent:
Mr. Rogers Takes Break­danc­ing Lessons from a 12-Year-Old (1985)
Mr. Rogers Intro­duces Kids to Exper­i­men­tal Elec­tron­ic Music by Bruce Haack & Esther Nel­son (1968)
Mis­ter Rogers Turns Kids On to Jazz with Help of a Young Wyn­ton Marsalis and Oth­er Jazz Leg­ends (1986)
Ayun Hal­l­i­day is an author, illus­tra­tor, the­ater mak­er and Chief Pri­ma­tol­o­gist of the East Vil­lage Inky zine. Her cur­rent project is The­ater of the Apes Sub-Adult Division's fast approach­ing pro­duc­tion of Ani­mal Farm at the Tank in New York City. Fol­low her @AyunHalliday.