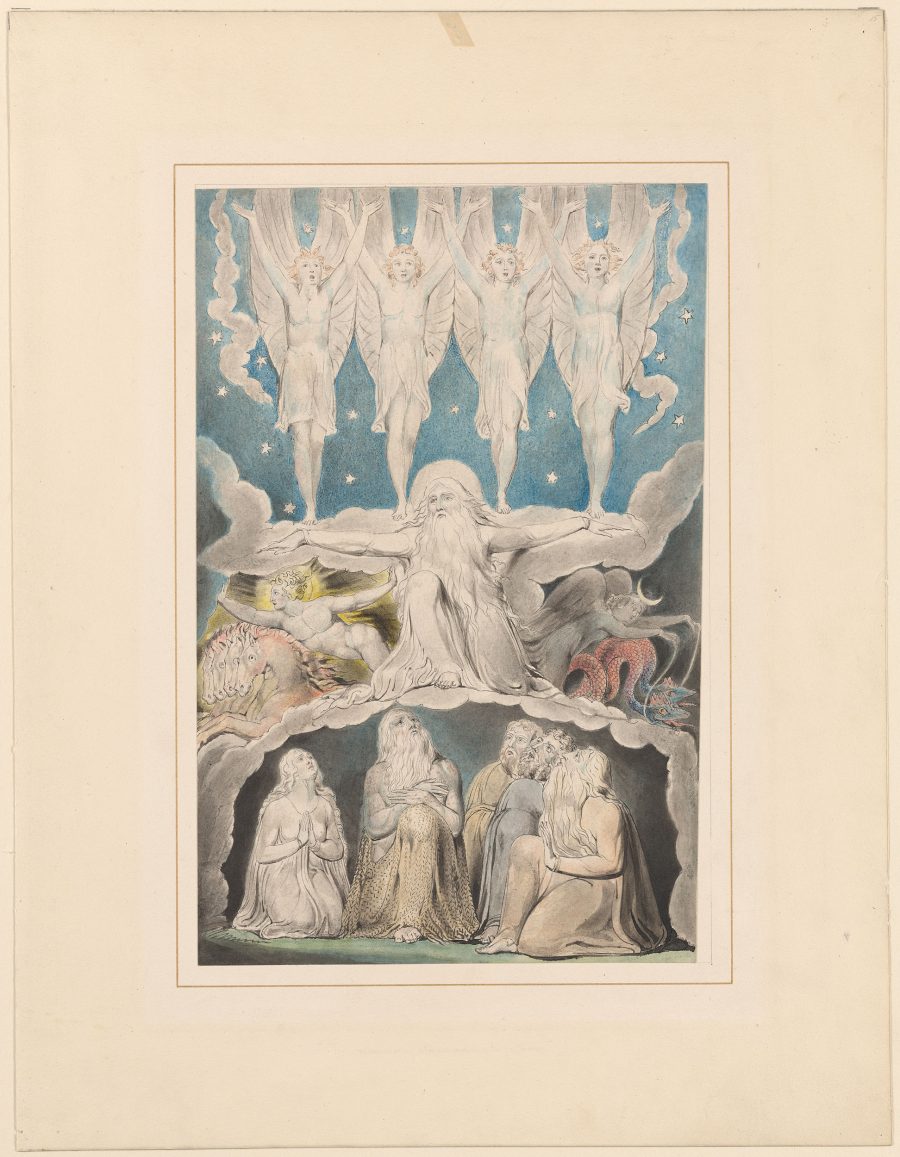 It's hard for the casual browser to know where to begin with a collection as vast as the master drawings belonging to the Morgan Library & Museum.
The Library's Drawings Online program gives the public free access to over 10,000 downloadable images, drawn primarily from—and in—the fifteenth through nineteenth centuries. Many images are fleshed out with inscriptions, information on provenance, biographical sketches of the artist, and, in over 2000 instances, images of the verso, or flip side of the paper.
Researchers and similarly informed seekers can browse by artist or school, but what if you don't quite know what you want?
You could tour the highlights, or better yet, bushwhack your way into the unknown by entering a random word or phrase into the "search drawings" function.
Knowing that the internet is crazy for cats, I made that my first search term, but the results were skewed by an 18th-century Dutch artist named Jacob Cats, whose work abounds with cows and sheep.
Caricaturist Al Hirschfeld's portrait of Kathleen Turner in the 1990 Broadway revival of Tennessee Williams' Cat on a Hot Tin Roof  is unavailable for viewing due to copyright restrictions. (It's easily viewable elsewhere…)
And the Where's Waldo-esque excitement I felt upon an anonymous artist's Mountain Landscape with Italian-Style Cloister faux-Bruegel dissipated when I realized this return owed more to the abbreviation of "catalogue" than any feline lurking in the pen-and-ink trees.
Next I entered the word "babies." I'm not sure why. There certainly were a lot of them, almost as many as I encounter on Facebook.
Returning to the pre-selected highlights page, I resolved to let the experts pick for me. I saw a charming rabbit family by John James Audubon and the old favorite by William Blake, top, but what really grabbed me was the first page's final selection: Honoré Daumier's Two Lawyers Conversing, circa 1862.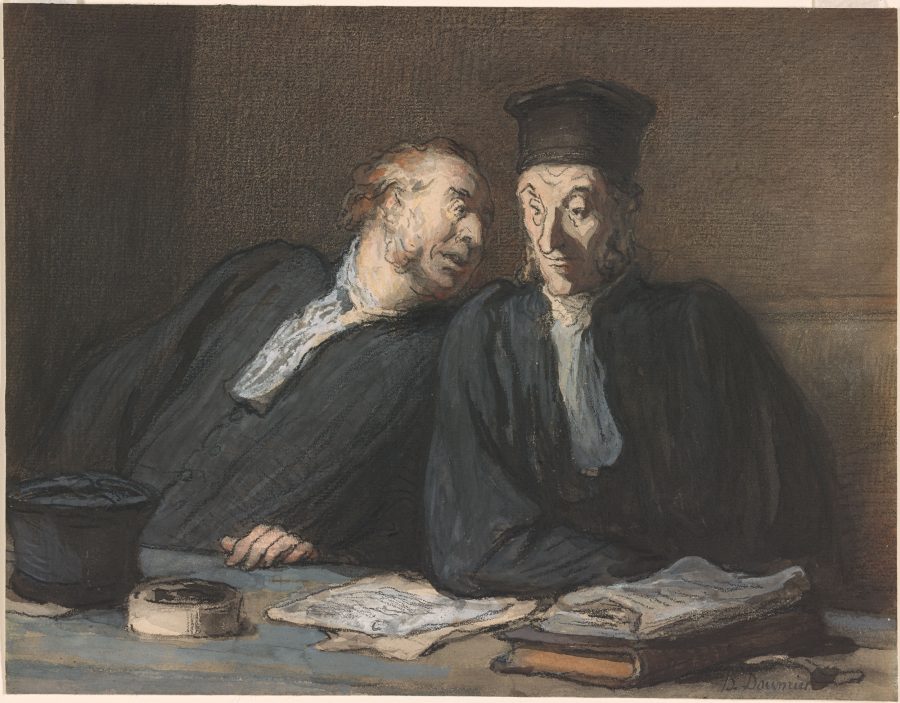 Part of the Morgan's recently closed Drawn to Greatness: Master Drawings from the Thaw Collection exhibit, the subjects' dress may be archaic, but their expressions are both humorous and evergreen. Lawyer. I had my search term.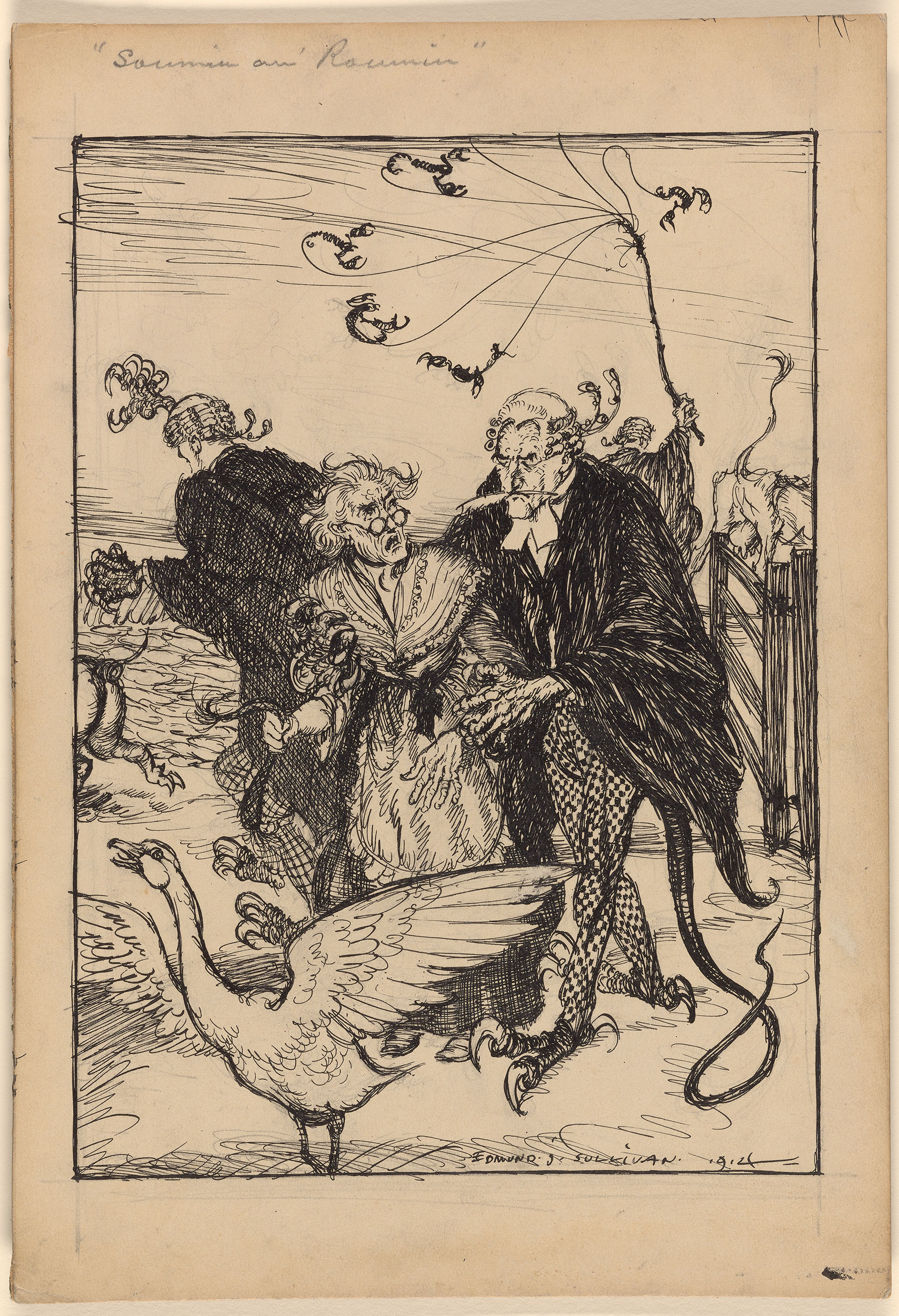 My favorite of the seven search results is illustrator Edmund J. Sullivan's Soumin an' Roumin from 1914. One of a dozen or so drawings Sullivan made for an updated edition of George Outram's Legal and Other Lyrics, it shows "an old woman in a farmyard surrounded by livestock fleeing three monstrous lawyers wearing wigs and robes and armed with hideous talons instead of hands and feet. One … chases a cow with a scourge, the thongs of which end in scorpions."
Download that one for all your lawyer friends or your lawyer spouse… upload it to a t-shirt if you're crafty.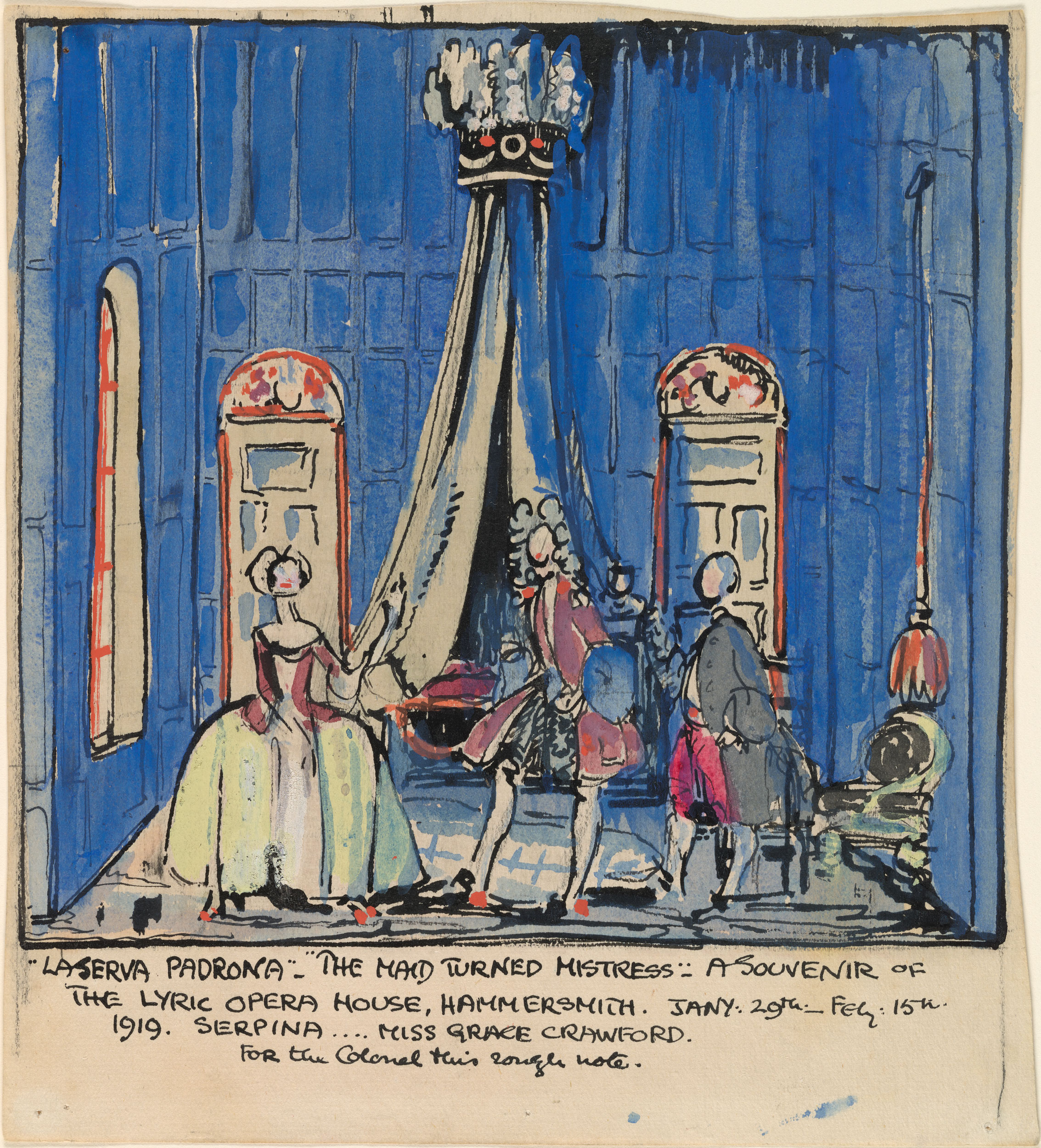 Claud Lovat Fraser's set design for Pergolesi's short comic opera La Serva Padrona (or The Maid Turned Mistress) at the Lyric Hammersmith doesn't depict any lawyers, to the best of my knowledge, but he himself was one—also a caricaturist, lampooning the literary and theatrical luminaries of his day, and a soldier whose life was cut short due to exposure to gas in World War I.
In addition to the Morgan's particularly well-fleshed-out artist bio for this work, the verso is a treat in the form of a printed announcement for the Chelsea Arts Club Costume Ball.
Browse the Morgan Library & Museum's Drawings Online in its entirety here, or narrow it down by artist, School of Art, or personal whim.
Related Content:
300+ Etchings by Rembrandt Now Free Online, Thanks to the Morgan Library & Museum
The British Library Puts 1,000,000 Images into the Public Domain, Making Them Free to Reuse & Remix
Download 2,500 Beautiful Woodblock Prints and Drawings by Japanese Masters (1600-1915)
1.8 Million Free Works of Art from World-Class Museums: A Meta List of Great Art Available Online
Ayun Halliday is an author, illustrator, theater maker and Chief Primatologist of the East Village Inky zine.  Join her New York City  on February 8, when she hosts Necromancers of the Public Domain, a variety show born of a single musty volume – this month: Masterpieces in Colour, Basten-Lepage. Follow her @AyunHalliday.