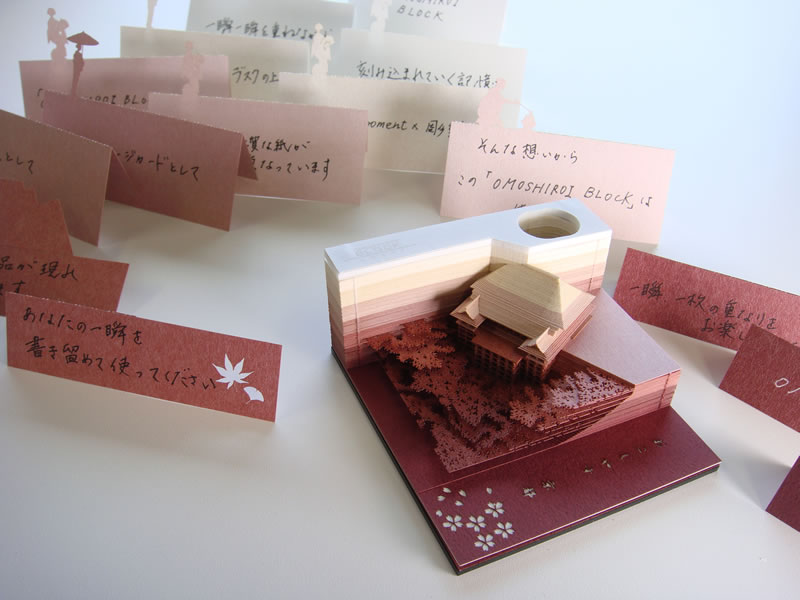 We've all had the experience, growing up, of using notepads for something other than their intended purpose: running our thumbs down their stacked-up pages and savoring the buzzing sound, turning them into flipbooks by painstakingly drawing a frame on each page, and even — in times of truly dire boredom — cutting them down into unusual sizes and shapes. Now, Japanese architectural model maker Triad has elevated that youthful impulse to great heights of aesthetic refinement with their lineup of Omoshiroi Blocks.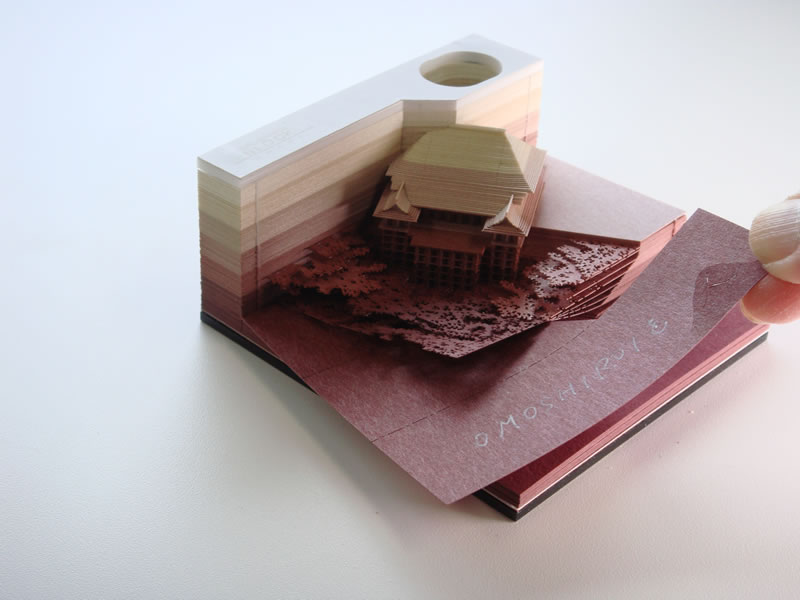 The Japanese word omoshiroi (面白い) can translate to "interesting," "fun," "amusing," or a whole host of other such descriptors that might come to the mind of someone who runs across an Omoshiroi Block in person, or even on the internet.
According to Spoon & Tamago, Triad uses "laser-cutting technology to create what is, at first, just a seemingly normal square cube of paper note cards. But as the note cards get used, an object begins to appear. And you'll have to exhaust the entire deck of cards to fully excavate the hidden object.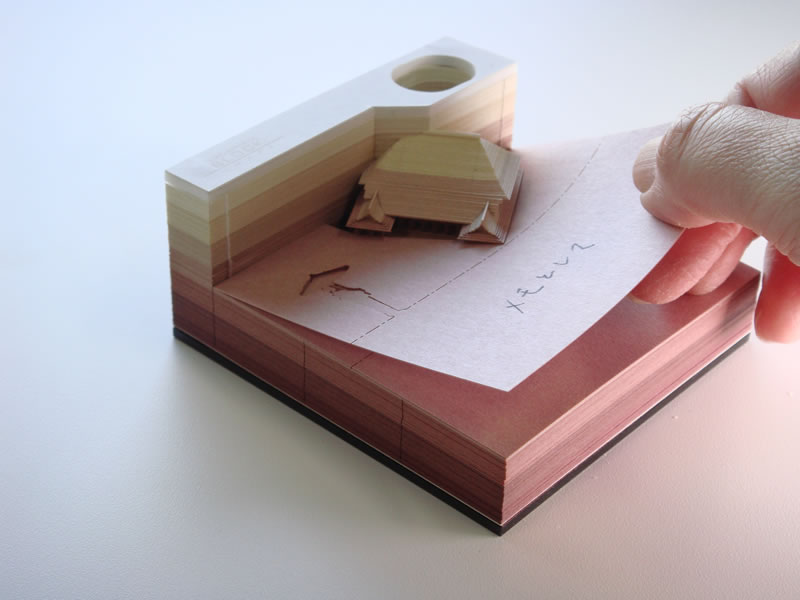 These objects include "various notable architectural sites in Japan like Kyoto's Kiyomizudera Temple, Tokyo's Asakusa Temple and Tokyo Tower. The blocks are composed of over 100 sheets of paper and each sheet is different from the next in the same way that individual moments stack up together to form a memory." Other three-dimensional entities excavatable from Omoshiroi Blocks include trains, cameras, and even the streetscape of Detroit, which includes the late John C. Portman Jr.'s Renaissance Center — the Tokyo Tower, you might say, of the Motor City.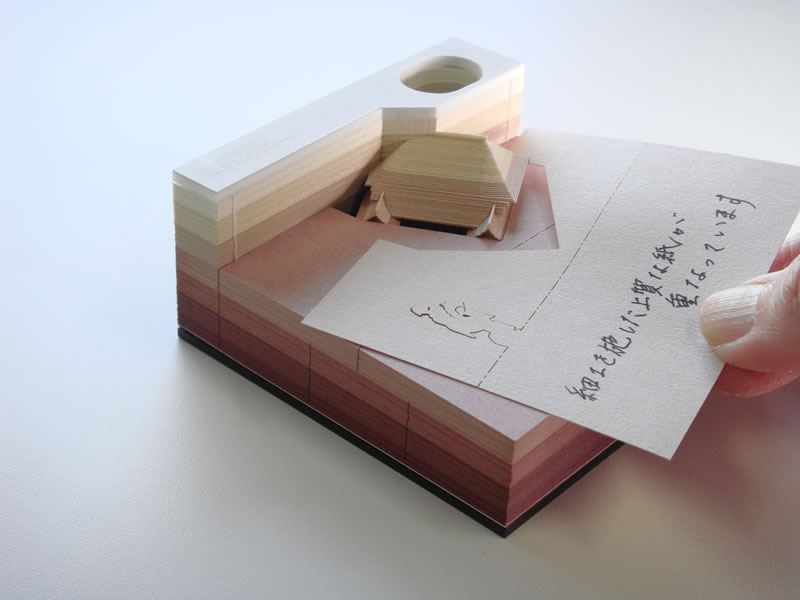 You can see most of these Omoshiroi Blocks, and others, on Triad's Instagram account. You may have no other option at the moment, since Triad's official site has recently been overwhelmed by visitors, presumably seeking a few of these recently-gone-viral blocks for themselves. Besides, notes their most recent Instagram post, "all items are out of stock. So, overseas shipping is not possible at this moment. Please wait for our online shop announcements to be updated."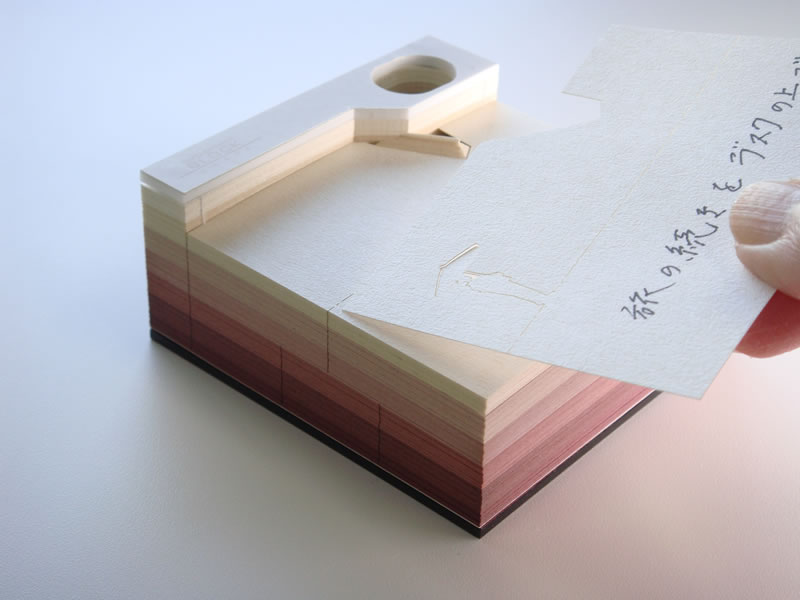 Until then, according to Spoon & Tamago, you might try your luck finding one at the Osaka branch of Tokyu Hands, Japan's most creative department store.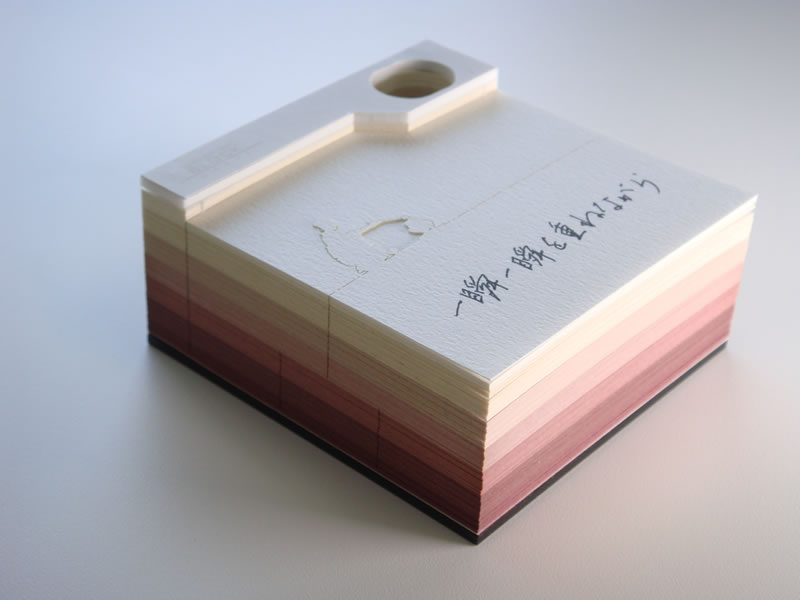 If you can't make it out there, rest assured that Triad will probably have their online shop up and running before this year's holiday season, thus providing you with an impressive gift option for the enthusiasts in your life of architecture, stationery, unconventional uses of technology, small-scale intricate craftsmanship, and the artifacts of Japanese culture — all fields in which Japan has spent hundreds, if not thousands of years excelling.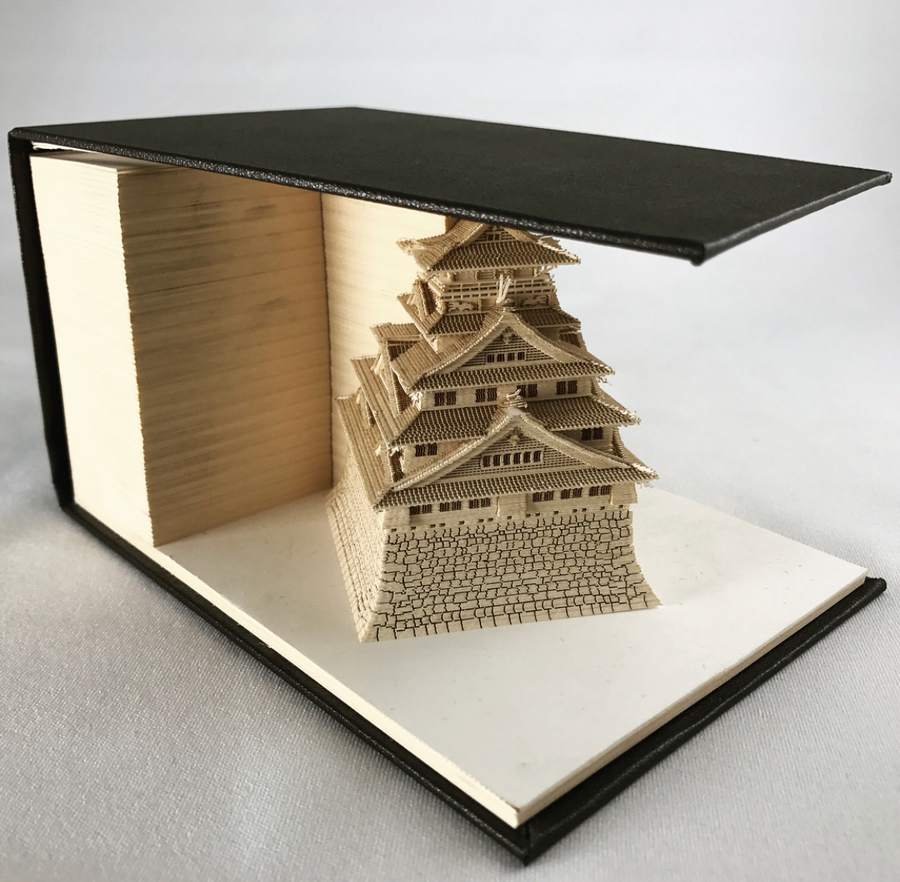 via Spoon and Tamago/ h/t @herhandsmyhands
Related Content:
Japanese Designers May Have Created the Most Accurate Map of Our World: See the AuthaGraph
Mesmerizing GIFs Illustrate the Art of Traditional Japanese Wood Joinery — All Done Without Screws, Nails, or Glue
The Making of Japanese Handmade Paper: A Short Film Documents an 800-Year-Old Tradition
The Art of Collotype: See a Near Extinct Printing Technique, as Lovingly Practiced by a Japanese Master Craftsman
Based in Seoul, Colin Marshall writes and broadcasts on cities and culture. His projects include the book The Stateless City: a Walk through 21st-Century Los Angeles and the video series The City in Cinema. Follow him on Twitter at @colinmarshall or on Facebook.